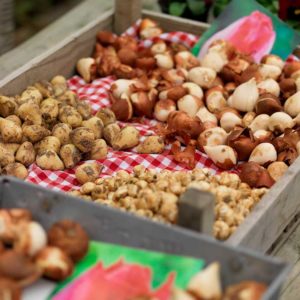 A few days ago the season changed from summer to fall. Just like that those hot days and warm nights of summer are exchanged for warm days and cool nights of early fall. Eventually, cool days and cold nights will take over for the next several weeks or months. With the arrival of fall on the calendar, it is a reminder to plant this fall for blooms next spring.
If you are a procrastinator like me it may seem rather advantageous to plan so far in advance. However, in this instance, planting planning now is necessary if you want blooms for next spring. Planning for next spring is much easier if you have an idea of what you would like to plant. Not sure where to start when it comes to fall bulb planting? Don't worry; I am happy to provide information on 10 different bulbs that are essential for fall planting.
Fall Planting Basics
Before we get into the list of essential fall bulbs let's cover a few planting basics:
Plant in fall when your temperatures are in the 60's during the day or lower.  A light frost will not negatively affect planting and is a good sign you are ready to plant. You don't want to wait too long in case the ground freezes solid–that makes it very difficult to plant.
Bulbs need soil that does not hold water for long periods. Check your soil quality and drainage. If you feel the soil quality is poor or not draining well you will want to amend it with organic matter.
Plant with the pointed end of the bulb facing towards the sky. If you are unsure which side of the bulb is the pointy end lay the bulb on its side. The bulb will reach for light and straighten itself out.
Make sure your temperatures are cold enough for the bulbs you want to plant. The majority of bulbs that are planted in the fall require 12-16 weeks of temperatures below 50 degrees during the day to produce a flower bud. If you don't have these cold temperatures you will need to refrigerate the bulbs in fall before planting and plant in early winter.
Bulbs are one of the easiest plants to grow, especially if you follow these quick tips listed above. Now that we know what to do to plant let's get into the details of what to plant and get this fall garden party started!
Top 10 Essential Fall Bulbs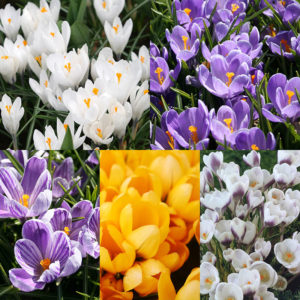 Crocuses are some of the first flowers to appear in spring. Their dainty cup-shaped flowers appear in shades of white, yellow, and purple. When shopping for crocus you will notice they are often listed as species crocus or giant crocus. There is a difference between the two types. Species crocuses tend to have smaller flowers which begin blooming first in spring. Giant crocuses have blooms that are a bit showier and start to appear as the species crocus are fading. For the longest bloom season, gardeners will want to plant a mix of species and giant crocus. Crocus are hardy in zones 3-8 – plant 2-3″ deep and 2″ apart. These easy to grow bulbs are essential to the spring garden because of their early bloom time. One thing to note about crocus is if you have squirrels or chipmunks in your yard they often steal these bulbs in fall. It is best to protect the bulbs with wire under the soil, a repellent or wait until right before the ground freezes to plant.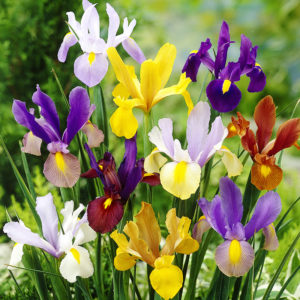 These unique spring-blooming bulbs often have speckles and spots in their blooms. Dutch Irises are either of the dwarf variety only growing 6-8″ tall or of the tall variety reaching heights of 24-36″.  Both Dwarf Dutch iris and Tall Dutch iris bloom in shades of purple, blue, white and yellow. Dwarf Dutch iris bloom early in spring shortly after crocus are done blooming whereas tall Dutch iris bloom near the end of spring along with the allium. Dwarf Dutch iris have a place in the rock garden or on the edge of a garden path where their intricacy can be seen close up. Tall Dutch iris can be mixed in with perennials or planted among other late spring-blooming bulbs. Both dwarf Dutch iris and tall Dutch iris are essential additions to the spring garden and help to add color early and late in the spring season.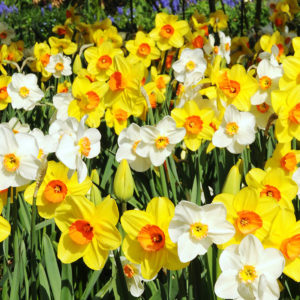 Daffodils are one of the most recognizable spring-blooming flower bulbs. They grow in a broad range of hardiness zones from 3-8 which means northern and southern gardeners will have success with daffodils. Deer and squirrels do not favor daffodils which is appealing. Within the many classifications of daffodils, you will see yellow, white, orange and even pink blooms starting in early spring and continuing through mid-spring. Some blooms are miniatures, while others are considered double blooms, which are full large and showy. Daffodils are the best fall-planted bulbs for beginner gardeners. If you don't know which variety to start with trying a package of mixed daffodils or the classic favorite, Dutch Master Daffodil.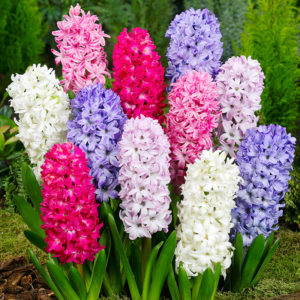 Sweetly scented clusters of blooms are the key feature of hyacinths. Known for their intoxicatingly fragrant blooms, hyacinths are essential to adding the essence of spring to your garden. Not only are hyacinths fragrant they come in an array of colors and shades. Popular hyacinth colors are light pink, light blue, and white. They also come in bold colors like true dark blue, amethyst purple and deep pink. Hyacinths are best planted on the edge of a border due to their compact stature. These mid-spring blooming favorites are fairly pest resistant and tend not to be eaten by deer or rabbits.

By far the most recognizable spring-blooming bulb is the tulip! Known for their large assortment of colors and flower shapes the tulips have stolen the spring garden show since the 1500s. A spring garden isn't complete without at least a few bunches of tulips planted in the garden. Classic favorites like red and yellow tulips bring a feeling of nostalgia. Fancier tulips such as parrot tulips, fringed tulips, and lily flowering tulips stop traffic. Tulips require cold temperatures to produce a flower bud, therefore, are best when planted in hardiness zones 3-7. They also require excellent drainage to grow well.  If you are new to planting with flower bulbs try planting a package of mixed tulips to start!

Meandering down a wooded path in spring and you may notice a sea of blue flowers. Squills are often used in wooded settings as well as planted throughout a lawn. These groundcover bulbs only reach 4″ in height making them perfect for adding color to naturalized areas. The star-shaped blooms are true blue in color. When planted in large groups of 100 or more squill bulbs you can create a sea of blue.

Fritillaria can also be called crown imperial or checkered lily depending on the variety, but most people know them by fritillaria. They have a tropical appearance but aren't meant to be grown in tropical climates. These spring bulbs grow best in hardiness zones 3-7. Soil that drains well is critical to successfully growing fritillaria. If your soil does not have adequate drainage you must add new planting mix to the area to increase the drainage. Crown Imperials come in three colors: yellow, orange and red and look best when planted in groupings of 3-5 bulbs. Other varieties of fritillaria such as Ivory Bells Fritillaria or Persica Fritillaria are tall with clusters of bell-shaped blooms on the flower stems. Fritillaria is not the easiest bulb to grow, but their unique blooms are worth the extra effort in fall to see their exquisite blooms in spring.

Another popular blue flower in spring that is similar to squills is muscari, also known as grape hyacinths. These true blue flowers have tiny clusters of blue flowers on their short 4-6″ stems. Great for naturalizing and planting in lawns they do spread naturally so be sure you are ok with them painting outside of the lines. When combined with Siberian squill, grape hyacinths can create a calming blue sea in your garden.

Popular late spring blooms are what allium bulb provides for spring. The most known varieties of allium are the types that have large purple ball-shaped blooms such as Purple Sensation Allium and Allium giganteum. However, allium can also be large round and white. They can also be short with clusters of airy white, blue, yellow or pink blooms. This diverse group of bulbs is essential to add to your late spring garden. They grow well in hardiness zones 4-9 as long as the soil they are planted in drains well.

If you need a flower that is offered in nearly every color of the rainbow, the bearded iris will fill that need. Showy blooms appear in late summer in colors from white, yellow, any shade of pink, purple, orange, red, true blue, and even almost black. These sun-loving bulbs are some of the last to bloom in spring and fill a critical bloom time in the late spring and early summer garden.  When bearded iris are planted with allium it makes a stunning late spring combination that can be mixed into a perennial border.
Decisions, Decisions, Decisions
Now that you know the most essential bulbs to plant this fall it is time to make some planting decisions. Tulips and daffodils are the most commonly planted bulbs in fall and their ease of growth makes them a sure winner in spring. If you are looking for something more unique try allium or fritillaria. If you can't decide on what to plant check out the collections for fall planting that Holland Bulb Farms has to offer. Many of these collections have an assortment of bulbs that make the decision on what to plant easier since you get a variety of bulbs for a lower price.