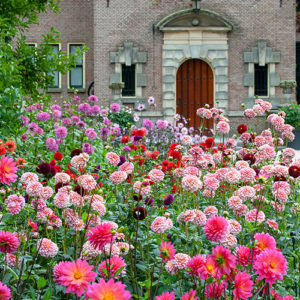 The dahlia is one of the most popular summer-blooming flower bulbs! New gardeners will love the bright colors, and ease of growing, as well as the large assortment of colors and bloom shapes to choose from. Experienced gardeners enjoy growing dahlias for the challenge of growing the biggest blooms possible.
Dahlias are native to Mexico, Central America, and Columbia and thrive in warm weather. With over 20,000 cultivars from 9 flower classifications there is a dahlia for every garden, as long as the garden has some sun. Some gardeners take their dahlia growing to the next level and enter them in contests where they are judged for the most perfect and largest blooms. Most people who grow dahlias just want to enjoy the big, bold blooms in their garden!
5 Tips for the Biggest and Boldest Dahlia Blooms
Take Care of the Tubers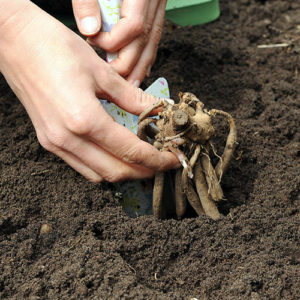 Before you can grow the biggest and best dahlia flowers be sure to take care of the tubers! Knowing when to plant, and how to properly care for the tubers underground before you see sprouts is essential to growing healthy dahlia plants. Dahlias are frost-sensitive bulbs so if they are planted in freezing, damp or cold soil they will rot before they even have a chance to grow. Be sure that your soil is warm enough (above 55 degrees) and that the danger of frost has passed in your area.
If you aren't able to plant your dahlia tubers until June you can start the tubers indoors in pots. Starting your dahlia tubers in pots is a good way to get a jump start on the growth. This will ensure optimal dahlia blooms and growth. No matter if you are starting your tubers directly in the ground or in pots keep the soil on the dry side until you see sprouts form above ground.
Sun, Sun and More Sun!
Dahlias need plenty of sun to produce the biggest and boldest blooms. When selecting a location for dahlia tubers be sure that the plants get at the very least 6 hours of direct sunlight. 8 hours or more of direct sunlight is ideal. South facing planting locations will provide the best chance for the largest blooms from your dahlia plants.
Even and Frequent Watering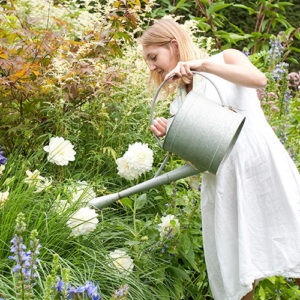 Dahlia tubers hold a tremendous amount of water, especially when they are dormant. When they are actively growing you will want to ensure they are not allowed to dry out, but also that the soil is not fully saturated. At the time of planting your dahlias place the tubers in a shallow hole of soil which will help keep water near the base of the plants to attain evenly moist soil.  Dahlias planted in containers will need more frequent, often daily watering.  Most often dahlias are planted in the ground during the peak of the growing season will need to be watered a couple times a week. When and how much you need to water your dahlias will depend on temperatures, local rainfall, and soil composition. If you are ever unsure if you need to water, the best way is to dig into the soil a little bit with your hand to see if it is dry.
Fertilize Frequently
One of the best things about flower bulbs is their ability to store energy in the bulbs for the blooms. This often means that the bulbs require little or no fertilizer, that does not mean that some flower bulbs will do much better when they are fertilized. Once your dahlias are starting to grow and you have about 6" of above-ground growth you will want to apply fertilizer on a regular basis. To start, use a fertilizer that is balanced such as a 10-10-10 or 15-15-15 fertilizer; this granular fertilizer will help get the dahlias off to a good start. When you see the first buds developing you will want to apply a fertilizer higher in phosphorus and lower in nitrogen. Dr. Earth Spectacular Bulb Food is a 3-14-2 high phosphorous fertilizer, which will encourage large, healthy blooms.
Prune Based on the Desired Outcome
Once your dahlias are starting to grow and form leaves, stems, and buds you will want to consider pruning them or not pruning them based on the desired outcome you would like. For gardeners growing large decorative dahlias or dinnerplate dahlias who want the largest blooms, my suggestion would be to prune off the side buds. What does it mean to prune the side buds? When the stems start to form multiple buds, any buds forming on the sides or laterals of the stem need to be removed, so that one central bud that remains on that stems gets all the energy. This helps the plant produce a larger flower. If the flower size is not important to you, but you want oodles of blooms to bring into your vases and enjoy in your garden, you will want to pinch out the "terminal" (center) bud growth to form a bushier plant. Bushier plants that have had the terminal bud removed will provide more blooms, but they may not be the maximum size as dahlia blooms that have been pruned to remove the side buds.
A Dahlia For Every Garden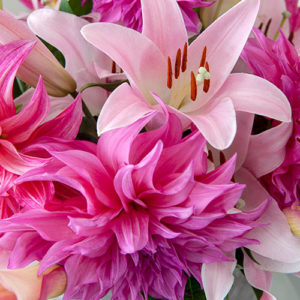 When it comes to selecting dahlias for your garden, as long as you have sun there is a dahlia for every location! If you don't have a lot of space for the large decorative dahlias or dinnerplate dahlias, smaller varieties like border dahlias, impression dahlias and pompon dahlias grow well in containers and smaller garden spaces. Large, showy decorative dahlias, and dinnerplate dahlias can be mixed into your perennial gardens, and also planted alone for a specimen plant. If you like to walk on the wild side of life unique cactus dahlias and ball dahlias may need to find a special place in your yard! Whatever color is your favorite, or shape you like there is a dahlia for you, and online retailers like Holland Bulb Farms and Tulip World have your needs covered when it comes to getting caught in a dahlia daydream and growing the biggest, boldest dahlias this summer!