A few quick spring garden tips. Some facts and tips may be new to you! Some are good reminders for the upcoming busy garden and flower season.
Quick and Easy Spring Flower and Garden Tips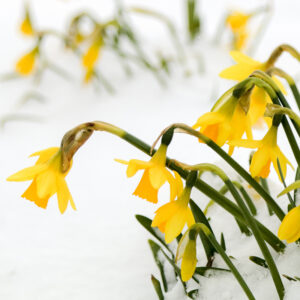 Established bulb plantings will emerge earlier than bulbs that were planted this past fall.
Bulbs like tulips and crocus open up their blooms in the sun and close in overcast and nighttime skies.
If your bulbs like tulips are emerging and the temps get cold, or snow happens no need to cover them. Nature will take care of the bulbs with no damage to the emerging flowers.
Protect your garden from hungry deer and rabbits by applying Liquid Fence to vulnerable areas. Re-apply after rain or snow.
Most bulbs and some perennials go dormant after blooming. Plan for the void they will leave in by planting summer blooming perennials and bulbs.
Peonies live for many decades, often 75+ years. They like to remain in the same location and don't tolerate transplanting well.
Divide spring bulbs like tulips and daffodils when they are finished blooming. If they don't bloom this spring transplant and divide in spring before the leaves disappear.
Avoid comparing your neighbor's flowers blooms and progress to yours. Minor differences in sun, soil, water, and fertilizer can make a world of difference.
Bloom colors can change from bud to new blooms to fading blooms.
Spring-blooming bulbs like tulips and daffodils need to be planted in the fall so they get the cold temperatures required to bloom. If you missed out on fall planting last year and have no blooms in spring plan ahead to plant this fall so next spring is full of blooms.
Soil temperature is as important as air temperature for new plantings.
Calla lilies, Canna Lilies, Caladiums, and Elephant Ears need a tremendous amount of heat in order to sprout. Plant outside when soil and air temperatures are above 70 degrees.
Temps over 75 degrees will cause spring blooming flowers like tulips to fade much quicker than cool temperatures.
When the tulips are finished blooming and the leaves begin to yellow it is now safe to remove the leaves.
Wait until the danger of frost has passed in your area to plant cold-sensitive flowers and vegetables.
Start flower and vegetable seeds 6-8 weeks before the danger of frost has passed. Or direct sow seeds in the garden after the danger of frost has passed. Follow seed packet instructions for each specific type for the best results.
Start bare root perennials in pots prior to planting in the ground. Planting bare roots in pots helps the roots and top growth establish more easily.
Take pictures of your tulips, daffodils, and other spring bulbs when they are growing. This is helpful when they are dormant in summer and fall and you are trying to remember where they were coming up.
Use a slow-release fertilizer when leaves emerge on your spring-flowering bulbs.
Patience is a virtue! Some bulbs take longer to sprout after initial planting as well as after a long winter season. Whenever you are unsure if they are going to grow gently dig in the soil to peek at the bulbs underground.
Spring is here and flowers bring lots of cheer! The tips above will help your garden grow and increase your garden smarts. If you learned something from these tips share them with friends and family.