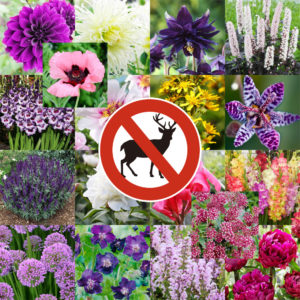 Doe a deer a female deer eating all my flowers! This may be your daily morning proclamation when looking at your backyard. Homeowners who have deer in their area know the nuisance these forest-dwelling creatures can be. Deer are becoming more and more accustomed to suburban and urban life and therefore are devouring more and more gardens throughout the United States. If you are struggling with deer in your garden I have some deer resistant planting ideas to help.
While it may be tempting to give up planting beautiful perennials and bulbs and go with fake plastic flowers, I advise against it. Instead of giving up the thought of having a beautiful yard a good solution is to plant bulbs and perennials that deer don't like.
Keep in mind that deer resistant does not mean 100% deer-proof. If a deer is really hungry, they will nibble on almost anything. Depending on the deer population you may want to plant deer-resistant plants along and use a deer repellant such as Liquid Fence.
If Bambi and her children frequent your yard as their own personal breakfast buffet I am here to help! Here are 5 ideas of bulbs and perennials that deer don't like.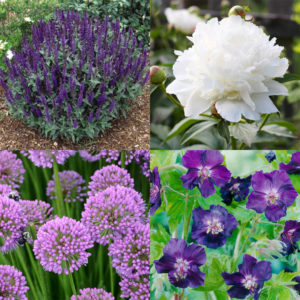 Easy to Grow Deer Resistant Planting Ideas
Millennium Allium | May Night Salvia | Raven Cranesbill | Shirley Temple Peony
This combination of perennials that are deer resistant is perfect for someone who wants low maintenance easy to grow plants. The perennials in this combination will bloom in late spring through mid-summer and have a varying range of heights.
First to bloom is the Shirley Temple Peony with showy 6" + fragrant and showy blooms. Peonies grow 3' tall with a similar spread, they are nice in the back of the border, or for foundation plantings. Peonies are also known to be long-lived perennials that once they are established require very little care.
Starting shortly after the peony finishes blooming will be the May Night Salvia and Raven Cranesbill. Both of these deep violet blooming perennials begin blooming in early summer. The May Night Salvia will continue to bloom on and off through the season if the spent blooms are removed. May Night Salvia mature at 18-24" tall and wide and look best planted in groups of 3. Raven Cranesbill will bloom through the summer and matures at 2' tall with a similar spread.
The last perennial to bloom in this combination of easy to grow combination is Millennium Allium which is the 2018 Perennial Plant of the Year! Unlike fall-planted alliums which bloom in late Spring and grow from a bulb, Millennium Allium grows from a root and blooms in mid-summer from July through August. The sphere-shaped purple blooms are illuminating. Maturing around 18" this easy to grow perennial can fit in most sunny perennial garden beds.
Shade Garden Deer Resistant Planting Ideas
Blue Wonder Toadlily | Chocoholic Snakeroot | The Rocket Ligularia | Black Barlow Columbine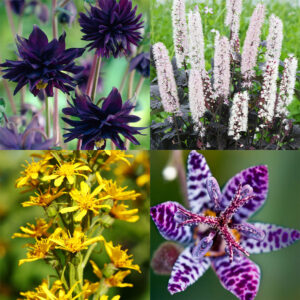 Deer like to hang out in shaded gardens just as much as they do in sunny gardens! While hosta are a popular choice for shade gardens due to their color and texture variations, they are also known as deer candy as deer love the tasty green foliage of hosta plants. The perennials suggested here combine varying heights and bloom times for a garden of color and interest from spring through summer.
Black Barlow Columbine has dainty nodding double blooms of deep dark purple. Columbine bloom mid-to-late spring and do well in partially shaded garden settings. Reaching heights of 12-15" there is plenty of space to mix a few Black Barlow Columbine into your shady garden borders.
The tall plants in this combination of shade plants that deer don't like are the Rocket Ligularia and Chocoholic Snakeroot. Both perennials have dark green/purple foliage and enjoy moist soils. The Rocket Ligularia has large bold leaves with bright yellow flowers mid-summer, it reaches heights of 3-5' making it perfect for the back of a shady garden corner. Chocoholic Snakeroot reaches a height of 4-6' with fine foliage and spikey light pink blooms. Snakeroot can be used as a standalone accent plant in your shade garden or planted in groups of 3 in the back of the garden.
Late in summer, it is often difficult to find an array of perennials blooming. However, the Blue Wonder Toadlily is a perennial that will bloom at the end of summer. Dainty and intricate blooms of white with blue spots are the main feature of this deer resistant perennial. Similar to the Black Barlow Columbine form, it is easy to sprinkle a few Blue Wonder Toadlily in your shaded garden areas.
Showy Blooms Deer Resistant Planting Ideas
Thomas Edison Dinnerplate Dahlia | Tsuki Nori No-Shisha Dahlia | Vista Hybrid Gladiolus | Raspberry Queen Oriental Poppy | Cora Louise Itoh Hybrid Peony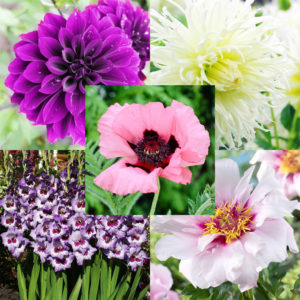 Big, bold bloom combinations keep the deer away with these 5 showy deer-resistant bulbs and perennials. In spring you can enjoy the showy blooms of oriental poppies and peonies. Both of these late spring blooming perennials are deer resistant and make a statement in the garden.
Raspberry Queen Oriental Poppy has bright pink blooms that sit upon an 18-24" mound of grey-green foliage. Cora Louise Itoh Hybrid is a long-blooming perennial that grows 3' tall. Like other peonies, Cora Louise Peony is perfect for foundation plantings as well as mixed into a perennial border. Deer stay away from this fragrant, and showy long-lived perennial.
Dahlias and gladiolus make excellent cut flowers due to their showy nature and bold blooms. The combination of dahlias and gladiolus will be safe from deer and even rabbit feasting. Thomas Edison Dinnerplate Dahlia has large, showy purple blooms mid-to-late summer.  When Thomas Edison Dahlia is grown with the exquisite Tsuki-Nori-No-Shisa Dahlia it makes a contrasting combination of showy cut flowers. Vista Gladiolus is another bulb that deer stay away from that have showy mid-summer blooms. The multi-colored blooms of Vista Gladiolus can be planted among perennials, as well as planted in combination with the purple and white dahlias mentioned above.
Pollinator Deer Resistant Planting Ideas
Butterfly Weed | The President Canna | Veitch's Blue Globe Thistle | Wyoming Canna | Kitten Around Catmint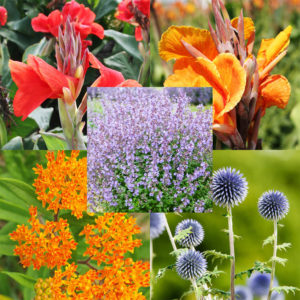 If you can attract bees, butterflies, and hummingbirds to your garden and keep the deer away that is a winning combination!
You will notice the blooms coming in early summer from the Kitten Around Catmint. Attract loads of friendly bumblebees to your garden with this low growing perennial with soft blue flowers. Kitten Around Catmint is compact, making it perfect for an edging plant or the front of the border.
When the catmint is ending its bloom cycle the Butterfly Weed will begin blooming with clusters of orange flowers that attract butterflies. Butterfly Weed grows approximately 18" tall and stays in a nice clump. Grow this native perennial in any sunny garden bed or border.
It's no secret that hummingbirds are attracted to canna lilies. The bright colors of red canna lilies such as The President Canna and orange blooms of Wyoming Canna are sure to attract hummingbirds while keeping the deer away. These two varieties of cannas grow tall reaching heights of 4-6'. Plant tall cannas in the back of a perennial garden bed or border.
Mid to late summer is a popular time for perennials that attract pollinators, and Veitch's Globe Thistle is one you don't want to miss out on. The spikey nature of this native perennial is not attractive to deer. However, the shape of the blooms is attractive to pollinators seeking nectar.
Full Sun Deer Resistant Planting Ideas
Parrot Gladiolus Mixture | Shell Pink Canna | Peter Brand Peony | Soulmate Swamp Milkweed |Ballerina Pink Salvia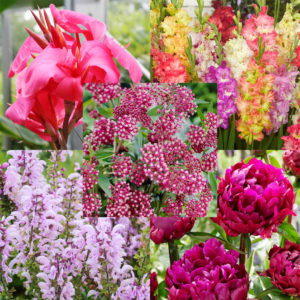 Full sun gardens are usually easier to plan for as many plants thrive in full sun. However, when deer are present this will limit the types of plants that you will plant. While the list is still pretty long in terms of deer-resistant plants that thrive in full sun here are 5 of my favorites; they coincidentally all have pink blooms.
Peonies are deer resistant perennials that grow in full sun. Peter Brand Peony is my choice for a full sun garden due to the bold pink blooms that tend to not need staking. The deep pink blooms are fully double and fragrant, making them very showy for indoors as cut flowers as well as part of the perennial garden outside.
For early summer color, the Ballerina Pink Salvia put on a display of soft pink blooms that deer don't like. Growing in a nice clump to 18" this sun-loving perennial can be planted with other deer-resistant salvia varieties like Crystal Blue Salvia and May Night Salvia.
Mid-summer will bring blooms from these three deer-resistant plants: Shell Pink Canna, Soulmate Swamp Milkweed, and Parrot Gladiolus Mix. The Shell Pink Canna Lilies have bright pink blooms accompanied large bold green leaves. Reaching mature heights of 24-36", Shell Pink Canna is perfect for areas you need a vertical accent.
Parrot Gladiolus love the sun, have interesting ruffled petals and are nice for vases. Gladiolus are commonly planted in rows in a large sunny area. Gladiolus grow just as well when mixed with perennial plants. These Parrot Gladiolus would look marvelous mixed with salvia, and swamp milkweed.
Another sun-loving perennial with pink blooms is the Soulmate Swamp Milkweed. This sun-loving favorite attracts butterflies and has vanilla-scented clusters of pink blooms.
 Deer Resistant Garden Planning
The list of deer-resistant perennials and bulbs is quite large. Even though only a little over 20 specific varieties were suggested above this should provide a good start to your garden plans. For more deer-resistant plants check our Holland Bulb Farms selection of Deer Resistant Bulbs and Perennials for spring planting.