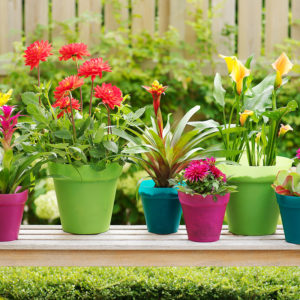 Blooming baskets, plentiful pots, and colorful containers are a simple way to add color to your home all season. The versatility of planting flowers and even vegetables in a container is appealing for gardeners of all skill levels and property types. For gardeners like me with a smaller city lot and a lot of shade, planting flowers and bulbs in containers and hanging baskets creates a welcoming and warm feeling.
For a few years, my sister lived in a condo in Chicago. When going out to brunch I would look around and admire the hanging baskets that were cascading with foliage and blooms over the balconies. My sister would also decorate her balcony with flowering containers, and I was fortunate to be able to help suggest some good plants for her pots. People in large cities often live in apartments and condos and may not have any yard or green spaces to plant in and in those cases, container gardening is a very popular choice. Homeowners with small spaces like me or folks in the big cities can enjoy their favorite annuals, perennials, and vegetables by planting in containers.
Regardless of the property type homeowners will be able to add curb appeal by filling hanging baskets and planters with blooms at the entry of their homes. Traditional container gardens are often planted with annuals and bedding plants purchased from a local garden center or home store. While planting annuals in containers can be appealing due to the long bloom time and the instant impact they offer, it can also become expensive planting pre-potted annual flowers in containers. Filling your containers with summer-blooming bulbs will provide a summer full of color, but does require more patience as it generally takes summer bulbs 4-6 weeks to sprout. Waiting for your summer-blooming bulbs to sprout is fun, exciting and can help you save some money on your container plants.
If you are new to planting in containers or growing bulbs in pots and need some container garden ideas don't worry! Here are suggestions of 7 flower bulbs that grow well in containers.
7 Bulbs to Plant in Pots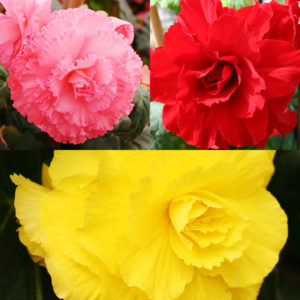 Container Gardening With Summer Bulbs
Planting in your baskets, and planters for summer blooms is fun, and also an effective way to add color high and low. The bulbs mentioned above will grow well in containers and can be planted alone in the container or used as an accent when mixed with perennials and annuals. I generally like to have a mix of bulbs, annuals, and perennials in my containers to get the most blooms, colors, and textures. During the hottest parts of summer, your patio planters and hanging baskets will need frequent water. So if you have summer vacation plans, it may be a good idea to find a friend or family member to keep your summer containers well hydrated. Fertilizing with a bulb food such as Espoma Bulb Food will help retain resources necessary for your summer blooming bulbs to continue putting their best blooms forward.
Container gardening is popular because most people, whether they live in apartment, condo, or house have some outdoor space available for a container or ten! Fill your baskets, patios, planters, and pots with summer blooming bulbs this summer for long-lasting impact! Once your baskets and planters are full of summer blooms share your photo's of your summer blooming bulbs in containers here with Holland Bulb Farms!