I never knew there was an entire website dedicated to a carpet of flowers. In fact, I never knew there was a carpet of flowers created like the one done biennially in Belgium. This isn't just your front door mat kind of carpet. This is an area that spans just a little more than 250 feet long and just short of 80 feet wide.
The amazing "flower carpet" festival of sorts takes place over a period of four days at Grande Place in Brussels during the middle of August every other year. This year's festival just ended on August 19th. The tradition began in 1971 by landscape architect E. Stautemans and had begun experimenting in the early 1950's with the idea of flower carpets by making rugs. During these experiments, he came to realize that one of the best flowers to use for this purpose was begonias, due to the blooms' robustness, resistance to weather and sunlight, and wide variety of colors. Since Belgium cultivates nearly 60 million begonia tubers each year and is recognized as the leading producer, it is extremely fitting that this event takes place on their own soil. The exhibit is officially open for viewing from 9 a.m. to 11 p.m. each day.
The preparation for this great event begins quite literally right after the previous one ends, nearly a year in advance. Scale models and drawings are created to develop a design, which often commemorates something of significance within the Belgian culture. Once the design has been completed, the flowers and color combinations are calculated to determine what will be needed to create the carpet. Hundreds of experienced gardeners armed with knee pads and motivation then put the flowers together in less than four hours directly on the cobblestone of the square without a layer of soil! The flowers are packed together, one at a time in an average of 300 blooms to every square meter, using a total of approximately 750,000 begonia flowers! This tightly-packing of the blooms insures that they will not be blown away by wind and also causes the flowers to last a bit longer as a "micro-climate" is created, keeping the flowers fresh.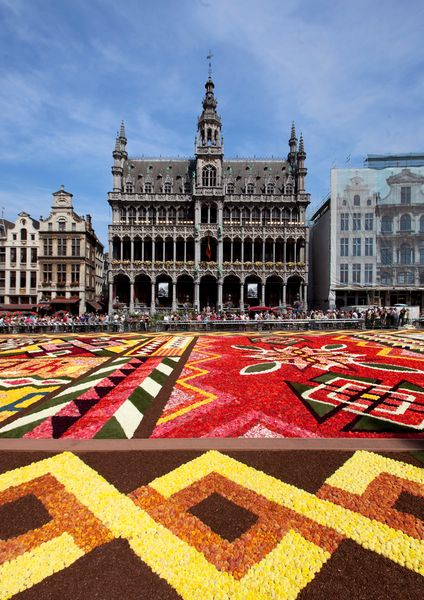 (Photos: Flower Carpet)
I find this truly impressive. Perhaps you could try your hand at your own "flower carpet" (on a much smaller scale, of course 😉 next summer from your beautiful spring planted begonia tubers. Hopefully someday I'll be able to see this flower carpet in person! For more photos, please visit the NBC News Photo Blog here.