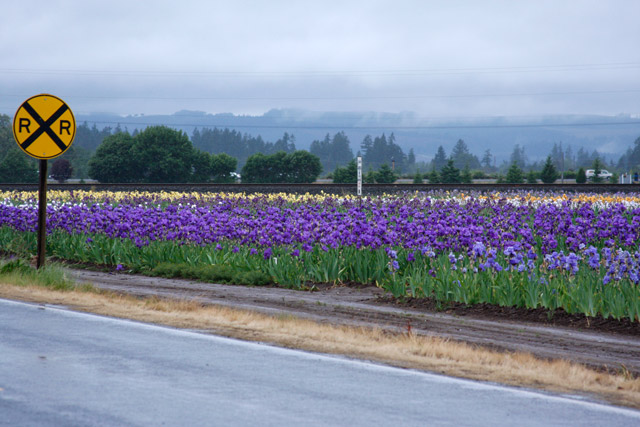 What started out as a conversation about "how crusty" our current Bearded Iris images, actually turned into an expedition to the Willamette Valley in beautiful Oregon to seek out new and Beautiful Iris at Schreiner's Gardens — a farm spanning 200 acres where the growth and cultivation of iris has been happening since 1925 !  Every year we plan for the next planting season at least 6 months ahead of time, like all other years we were talking about the Fall 2013 season in March 2013. In our weekly meeting our boss  asked about any pictures that needed to be updated for this Fall season, I spoke up and expressed my dislike of the bearded iris photos we had. The photos we used for each variety were over 6 years old, and we in the office refer to them as crusty, ie old and not eye-catching. Since no one likes "crusty" photos, the next logical step was to send myself (Jenny, the operations manager) and our graphic designer/photographer, Vanessa, to the Willamette Valley to take our own "crustless" bearded iris pictures + we'd get to scope out new varieties!
We decided that the best time to go would be the third week in May, which is the  peak bloom time for the Bearded Iris in Oregon. Our trip was a quick one, as we were only on Oregon soil for less than 30 hours.  We left Milwaukee on a Tuesday morning at 6:00 am and returned home on Thursday, also departing Oregon at 6:00 a.m., all for the love of beautiful Bearded Iris!  Rain was in the forecast, nearly a 100% chance for the entire time we were there; but we did not let it get us down. We planned to carry umbrellas and dress for the weather. We did not look at this as a negative, but rather a bonus because  the rain drops on the petals would add so much to the photos we were taking!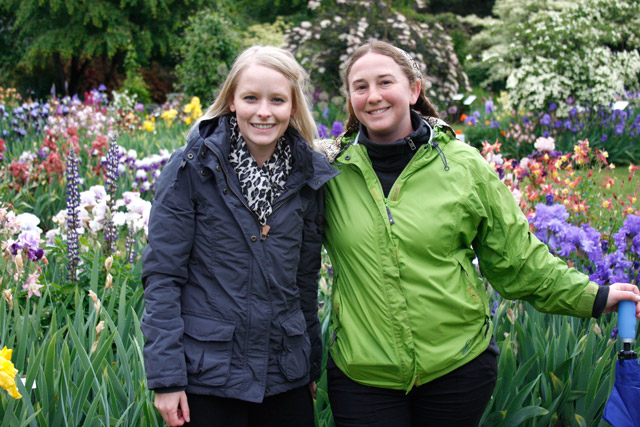 Neither me nor our graphic designer had ever been to Oregon, and although it was raining when we arrived, we were both taken away by the beauty of the trees and over all scenery on our way to the farm. When we arrived at the farm to take photos it was like being in a painting! The amount of color that was present throughout the more than 10 acres was unbelievable, it was not all from Bearded Iris, but perennials such as Columbine, Peonies, Allium, Hosta and so much more, that we're intermingled in all the Iris beds.  The first day we started taking pictures right away, going up and down the rows, in and out of the planting beds, taking as many photos as we could, before the rain had numbed our fingers!  The next day we had a full day ahead to take as many pictures as needed, even though it was raining, not one Bearded Iris was left out of our plan! As we were taking pictures on our second day, we started spotting varieties that we determined must be sold to our customers, as they were too beautiful for only us to enjoy them! Upon our return we sorted through the 2500+ photos to pick out our favorite varieties and chose 18 new varieties to sell for fall planting this year!
We are more than excited to be offering some new and improved bearded iris to our customers! And also, the journey to the Willamette Valley in Oregon has opened our eyes to not only the beauty of bearded iris, but amazing gardens! As a horticulturalist I remembered saying to myself "This IS how a garden should be planted" and hope that all gardeners can experience a similar place of wonderment!
Thankfully, we can share the beauty through these photos below, and it will almost be as if you are talking a walk with us through the gardens…
Thank you so much for letting us visit, Schreiner's, and keep up the amazing work in your gardens!
Have your own amazing garden photos to share? Enter them in our Monthly Photo Contest!