New to gardening with flower bulbs? If you need some inspiration on what to plant in your garden this year start with a garden collection. They contain an assortment of flower bulbs or perennials which allow you to try a variety of new plants. Many of the garden collections provide solutions to common garden problems such as finding deer-resistant bulbs, shade-loving perennials, and drought-tolerant perennials. For gardeners new to planting flower bulbs and bare-root perennials detailed below are four beginner-friendly garden ideas.
Four Beginner-Friendly Garden Ideas
The time to start planning for summer is now. If you aren't sure where to start these four beginner-friendly garden collections should help to guide you. Each of these garden collections can be grown in a wide range of areas, and are perfect for people new to flower gardening.
Deer Resistant Sun Garden Collection
I LOVE this garden collection because it solves multiple problems. First, all the perennials in this collection are deer resistant. Deer in the garden eating our beloved flowers is a huge problem for most gardeners. Secondly, it solves the problem of perennials that do well in sunny locations. It may seem like that is an easy problem to solve, however, these perennials can all really tolerate the sun and heat. This makes them more foolproof compared to other finicky perennials, which aren't the most beginner friendly. Lastly, and this is a definite bonus all 4 perennials in this collection attract pollinators. Therefore, you can know that deer won't eat these perennials, butterflies will be happy and a hot sunny day won't fry them out. We call that a win-win-win!
This grouping of perennials can be planted together in a close location as individual plants. The collection comes with one of each of the following perennials: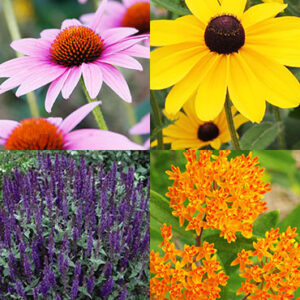 However, to fill a larger area we suggest buying 3-5 of the Deer Resistant Sun Garden Collection and planting each different type of perennial in groups of 3-5.
The perennials in this collection are shipped as bare roots. For best results, start bare-root perennials in small nursery pots. When the plants show above-ground growth, they can be transplanted directly into the garden. Additional helpful tips for success when growing bare-root perennials can be found here.
Shady Summer Days Perennial Garden
A common complaint from people who have a lot of shade is "I can't seem to get any color in the shade." Yes, it is true that garden locations such as the north side or east side don't provide as much sun, and therefore, certain plants won't grow well there. However, there are plenty of shade perennials that provide color and texture, which goes a long way in the shade garden.
The Shady Summer Days Perennial Garden offers several easy-to-grow shade perennials. It's great for adding color to a shaded garden corner or front yard. The collection comes with one package of each of the following: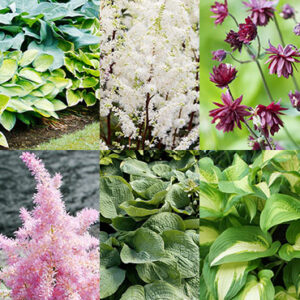 What makes this collection appealing is that the perennials included bloom at various times of the season. Therefore, you will have something blooming in the shade as early as mid-spring. The blooms continue through the summer with the astilbe that blooms mid-to-late season.
While hosta may seem boring to some, the hosta in this collection have pizazz! Yes, the deeply corrugated foliage on the Abiqua Drinking Gourd Hosta is super fun. The bright yellow center of the color festival hosta adds color and interest. With the mixed package of hosta, you are sure to get an assortment of easy-to-grow popular hosta varieties.
This collection covers approximately 10 square feet, and sure will help to brighten up the shaded parts of the garden.
Ultimate Garden Collection
Look at this collection as an Intro to Summer Flower Bulbs. If you have never planted summer flower bulbs like gladiolus, calla lilies, canna lilies, or dahlias, this collection is the perfect sampler to start with. Not only will it give you a variety of colorful summer flowers, but all of these bulbs are also rather easy to grow.
The Ultimate Garden Collection requires a full-sun location that gets 6-8+ hours of sunlight a day. The bulbs in this collection are winter hardy from zones 8-10. Therefore, if they are grown in colder climates they will have to be treated as a one-season-only plant. An alternative would be to dig up the bulbs and store them over winter, and then re-plant the following spring.
It will be worth it to plant these bulbs regardless of the hardiness zone. They will provide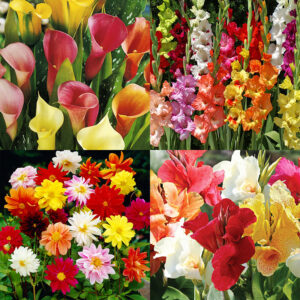 colorful flowers from mid-summer to frost. The bulbs in this collection attract butterflies and hummingbirds and make excellent cut flowers. With so much color, ease of growing, and other benefits, this is definitely a great beginner garden collection of bulbs. The Ultimate Summer Garden Collection comes with 1 package of the following:
Drought Tolerant Perennial Garden
Forget to water? Or have a tough planting location that the hose can't reach, this collection may be for you! While these perennials are drought tolerant once they have been established they will require regular watering in the early growth stages.
The Drought Tolerant Perennial Garden will require a sunny location that receives full  sun for 8+ hours. All four perennials included in the garden attract bees and butterflies to the garden. The perennials in this collection when the mature range in height from 18″ to 36″. The blooms appear in mid-to-late summer.
The Drought Tolerant Perennial Garden ships with one package of the following: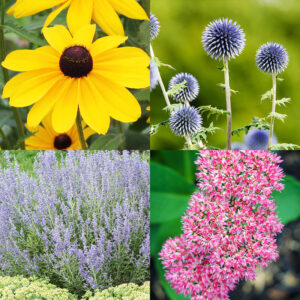 Plant all four perennials in a similar area and place the Russian Sage and Globe Thistle in the back of the planting area. The sedum and black-eyed Susan are shorter in stature and can be placed in the front of the planting arrangement. This group of four perennials will cover approximately 6-8 square feet.
Make Gardening Easy with a Garden Collection
I always rely on the garden collections from Holland Bulb Farms when I want to try new plants. Also, if I am unsure of what to plant a collection that comes with a variety of plants is such a fun way to try out new bulbs and perennials in the garden.
Mentioned above were only four of the 75+ Spring Planted Collections that Holland Bulb Farms offers for spring and summer planting. Be sure to check out the others if you are looking for an easy way to add color and fun to your summer garden.