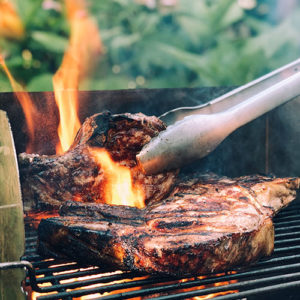 Mmmmm something smells good! It's smoky and savory—must be a grill! Summer days and nights mean it is time to roll out the grill, invite your friends and family over and share a meal! Family picnics, reunions, and casual gatherings often mean grilled food, fresh salads, and snacks. Salads and grilled items taste extra special when fresh herbs are added. If you are like me and like to cook and garden, then growing your own herbs for your summer meals and parties is a must-do to add to your garden list.
Fresh herbs are one of the easiest things you can grow in your garden. If you don't have room for a garden you can even grow herbs from seed in an herb kit in your kitchen. Holland Bulb Farms sells convenient herb kits that come with everything you need to get growing. The box for the herb kits doubles as a planter; also included in the herb kit are the seeds and a soil disc—a complete set up so you can easily grow your own herbs from seed.
Instructions on Growing Herbs from Seeds
It's easy to grow your own herbs from one of these herb kits, follow these easy instructions: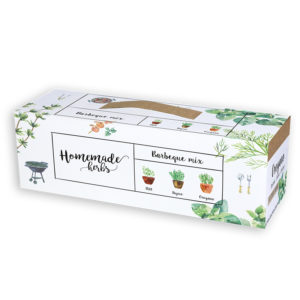 Place the box in the lid
Add the soil disc to the box
Add 6 oz of water to the soil disc
Once the soil has fluffed up remove 10% of the soil from box
Scatter the seeds over the soil
Sprinkle the remaining 10% of soil over the seeds
Spray the soil with water
Place the box in a bright location. Keep the soil moist, but not saturated.
Once the seeds sprout in the box you should move the box to direct sunlight.
Grilling With Herbs
In my household, I tend to do most of the cooking, and my husband does most of the grilling. I do however help with seasoning and prepping the grilled items, but leave the actual process of cooking meat on the grill to him. In summer I like to use herbs as much as possible when cooking and grilling. Herbs can be used to season meat like chicken, fish, steak or pork. Fresh herbs such as basil, oregano, and thyme are excellent for adding to salads, and delicious when used in a marinade.
Holland Bulb Farms sells an herb kit that is perfect for those summer grill outs, called the Homemade Herb Kit- Barbeque Mix. In the kit, you will get 1 Oregano Herb Kit, 1 Dill Herb Kit, and 1 Thyme Herb Kit. These 3 herbs can be used for grilled items as well as in salads.
Herbed Grilled Chicken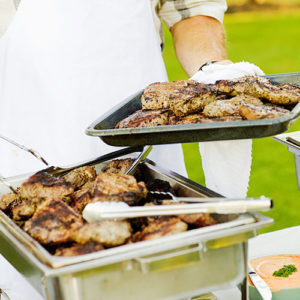 1 pound boneless skinless chicken breast or thighs (whichever you prefer)
¼ cup olive oil
Juice from 1 lemon
Salt and Pepper to Taste
3 cloves garlic minced
1-2 tsp of fresh thyme
1 Tblsp fresh oregano
Combine olive oil, lemon juice, salt, pepper, garlic, oregano, and thyme together in a bowl. Add chicken and marinade for at least 45 minutes. Grill chicken for 15-20 minutes, flipping once the chicken is cooked halfway through. Use a meat thermometer to check that the chicken is cooked to 165 F
Herbs for Summer Salads

I love a good potato salad in summer! Almost anytime we are cooking on the grill or go to a family gathering there is potato salad involved. I have only attempted to make potato salad one time, and it turned out ok, but I don't think I boiled the potatoes for as long as I should have, as the texture of the taters in the salad was more like apples. Last summer I had a family gathering to attend so I decided to switch up my potato salad and use cauliflower in place of the potatoes. I was happy with the results of using cauliflower in place of potatoes as it tasted delicious and was low in carbohydrates. If you want to keep your summer salad low carb but love potato salad, give the Cauliflower Dill Potato Salad a try!
Cauliflower Dill "Potato" Salad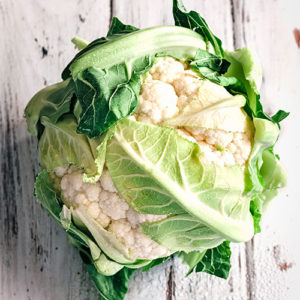 Main Ingredients
1 head of cauliflower
3 stalks celery diced
1 small onion diced
6 radishes sliced thin
6 hardboiled eggs sliced
Creamy Sauce Ingredients
1/2 cup mayonnaise
1/4 cup sour cream or Greek yogurt
1 tsp Dijon mustard
2 Tbsp fresh dill
1 tsp salt
½ tsp pepper
1 tsp paprika
Boil water and cook cauliflower until tender, but not mushy. Once cauliflower is cooked to desired tenderness drain the water from the pot and rinse cauliflower with cold water and let sit to cool for 15-20 minutes.
While cauliflower is cooking, prep the creamy sauce, and chop vegetables. To prep the creamy sauce: combine mayonnaise, sour cream or Greek yogurt, mustard, salt, pepper, and fresh dill. Whisk together the ingredients for the creamy sauce in a separate bowl. Chop celery, onion, radishes, and slice (4) hard-boiled eggs. Combine celery, onion, radishes, and 4 of the hard-boiled eggs (reserve 2 of the hard-boiled eggs for the top of the salad) in a large bowl.  Add cauliflower to the celery, onion, radish and egg mixture. Finally, add the creamy white sauce to the large bowl that has the cauliflower and other vegetables. Mix all of these ingredients together. Once everything is mixed well, add the remaining slices of hard-boiled eggs to the top of the salad. Sprinkle with fresh dill and paprika for a colorful presentation.
Barbeques are better with fresh herbs!
Whether you are hosting a grill out or attending a family picnic including fresh herbs in your meals will add freshness and flavor. Homemade Herb Kits make it easy to grow your own herbs no matter the size of garden you have. Even people who don't have their own garden space can easily grow herbs indoors with a homemade herb kit! Add some freshness to your meals and wow your guest by adding fresh herbs to your grilled items and salads this summer!