Get Fragrant Blooms for Inside and Outside for up to 90 days!
My favorite online flower bulb supplier, Holland Bulb Farms, has released its top 24 fall-planted flower bulbs for cutting gardens and scented gardens. 12 fall planted bulb varieties were selected as the best for cut flowers. 12 flower fall planted bulb varieties were selected as the best for fragrance. I was curious to see if any of my favorite spring flowers for vases and cut flowers made the list.
My favorite cut flowers that made the list were Plena Rosea Peony, Robustus Pink Foxtail Lily, and Crème Upstar Double Tulips! I know those favorites of mine do seem a bit on the pink side. In spring I like the soft pastel pink blooms; it is nice to have something soft after a long winter. I don't have a ton of room in my house for multiple vases, so it is nice to have flowers that are appealing outside in the yard as well. This is where the fragrant flowers appeal to me – strolling through the yard with my dogs, smelling the sweet scent of Minnow Daffodils and Purple Pride Hyacinths all on a warm spring day—that's what life is all about! To view Holland Bulb Farm's complete list of 24 Top Cut Flower and Fragrant Blooms click here.
Having flowers in your garden you can cut and bring into a vase is a blessing. Cut flowers add beauty to your home, and can make a nice affordable gift for a neighbor. If you are lucky you may end up with a flower that is good for vases and fragrant, like the Daydream Darwin Hybrid Tulip. If you prefer fragrance over cut flowers, several varieties of daffodils and all hyacinths are the perfect fall planted bulb to appease your beak!
What if I told you that having cut flowers and fragrant flowers next spring was completely easy and affordable? If you want nearly 90 days of blooms that can be used for cut flowers or enjoyed outside with fragrance, check out this complete collection of fragrant and cut flowers from Holland Bulb Farms.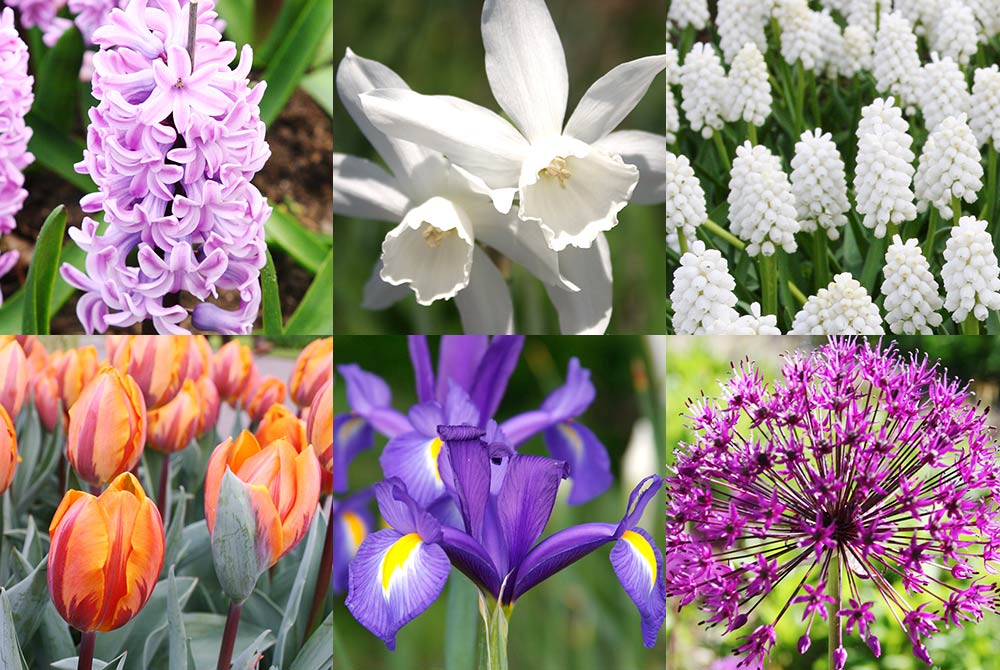 Early Spring Fragrance
Holland Bulb Farms's new collection has bulbs that will start blooming early in the season – March or April depending on your location, perfect for cutting and fragrance. Purple Pride Hyacinths are fragrant, and are a sure way to smell that spring has arrived. When thinking of muscari, most think of the traditional blue grape hyacinth, but this low to the ground bulb also comes in pink and white! White Muscari will bloom in early to mid-spring, is fragrant and also can be used in indoor arrangements.
Mid-Spring Fragrance
While those early blooms are still putting on a display some of the traditional mid-spring blooms will appear. Mid-spring will again vary by region, in northern cold climates, mid-spring is generally late April to early May, while in southern more moderate climates mid-spring is often late March into early April.
Mid-spring is a perfect time to bring in some flowers from your garden. This collection of fragrant blooms from Holland Bulb Farms has two lovely mid-spring blooming flowers; Princess Irene Tulip and Thalia Daffodil. Princess Irene Tulips make a great cut flower and are fragrant—what a splendid surprise! The Thalia Daffodil is a fragrant variety, that also will look nice in a vase. I don't know about you, but if I can have a flower that does well in a vase and is fragrant I consider that a win!
Mid-spring is when the majority of fall-planted bulbs are putting on their show. More than likely you will find other flowers in your yard that can be brought in for cut flowers, or that provide fragrance. Combine blooms from your yard in shades of yellow, purple and orange with the Princess Irene Tulips. The Thalia Daffodil will go well with any solid color in a vase, but my favorite combination consists of Thalia Daffodils with hot pink Don Quichotte tulips; get this Sweet and Sassy combination here!
Late Spring Fragrance
Towards the end of Spring, it can feel bittersweet. Bitter because so many flowers are done blooming. Sweet because summer is around the corner! To end the spring bonanza of blooms this collection from Holland Bulb Farms has Blue Diamond Tall Dutch Iris and Purple Sensation Allium. These tall reliable perennials are not only a nice reminder that spring isn't over, but they do very well in a bouquet or floral arrangement. Add some yellow tulips or yellow dutch iris to your purple sensation allium and blue diamond dutch iris display for a bold, cheery and fun flower arrangement.
Best Fragrant and Cut Flowers
Buying bouquets of flowers for your vases is a nice treat but can get expensive after a while. A more affordable way to ensure beautiful vases and containers of flowers is to grow your own flowers from bulbs. If bringing the blooms into your home isn't your thing, but you love the sweet scent of flowers plant fragrant flowers in your garden. Not sure where to start? This list of over 50 fragrant flowers includes daffodils, tulips, muscari, and hyacinths some of the most sweetly scented blooms in spring.
Fragrant flowers, as well as flowers for your vases, is easy to attain in spring. From the lists and suggestions above you should have plenty of inspiration to get your senses activated with beautiful blooms in spring!