Believe it or not, the spring planting season is just around the corner (this is definitely harder for some of us to believe than others!). In order to help turn all of our thoughts ahead to the days when the snow will disappear and the ground will thaw — yes, it WILL happen! — I will be featuring another one of my favorite spring planted bulbs or perennials each week. This garden selection will then become Holland Bulb Farm's Bulb Bargain for that one day ONLY. They'll also be featuring a unique shipping deal each week with the bargain which will also last for that one day only — it's a great chance to try something new or stock up on one of your faves! Check back each week or sign up for their newsletter to be notified each time I feature something different!
While most avid gardeners are familiar with the ever-popular columbine perennial, not quite as many are familiar with it in this dramatic hue. Elegant, mysterious, and enchanting, the Black Barlow Columbine is a wonder to behold. Striking when used alone and sensational among bright whites and pinks, this charmer is one not to miss in your woodland spaces or partially-shaded perennial garden.
Dramatic presence: The deep hues of this flower have been all the rage in the gardening world as of late. An intensely deep purple appearing almost black is anything but gloomy, especially when allowed to make its statement among other brighter colors. This boldness comes in stark contrast with the delicate nature of the typical columbine foliage which forms an orderly mound at the base. Perfect for covering the ground in the more shaded areas of your landscape, the bright green leaves will add interest and texture long after the flowers have faded.
Natural elegance: Perhaps one of the reasons that columbine have historically been such a favorite among herbaceous perennials is their ability to grow in just about any amount of light while still retaining their beauty. While striving in dappled shade, the columbine is often found in woodland type areas and does extremely well when planted in borders and under deciduous trees. However, the intricacies and delicate nature of the blooms causes it to also be right at home in the more formal perennial garden. The exquisite, unmatched color of this delicate bloom on the Black Barlow only add to its elegance, making it the perfect choice for just about any application.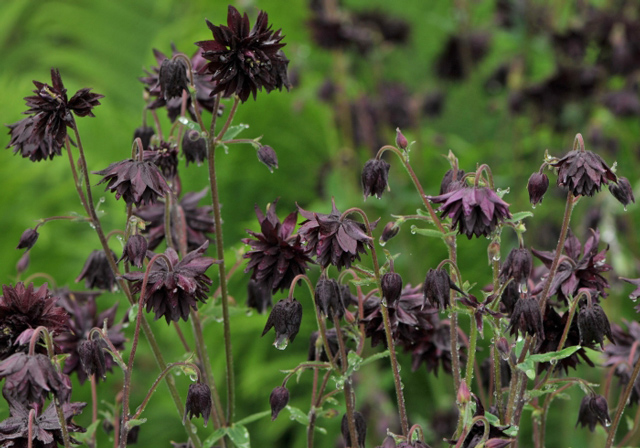 (Source: GardenWeb user Juanitals)
Each spring I scan my landscape and try to find some place to put another Barlow Columbine — perhaps I'll have to start giving them away instead!