Believe it or not, the spring planting season is just around the corner (this is definitely harder for some of us to believe than others!). In order to help turn all of our thoughts ahead to the days when the snow will disappear and the ground will thaw — yes, it WILL happen! — I will be featuring another one of my favorite spring planted bulbs or perennials each week. This garden selection will then become Holland Bulb Farm's Bulb Bargain for that one day ONLY. They'll also be featuring a unique shipping deal each week with the bargain which will also last for that one day only — it's a great chance to try something new or stock up on one of your faves! Check back each week or sign up for their newsletter to be notified each time I feature something different!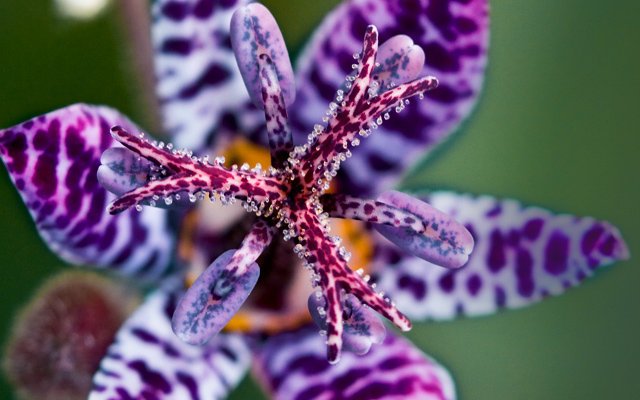 So just what am I loving about this mid-sized, shade loving wonder?
Exotic in habit and color: It is no surprise that the Blue Wonder Toad Lily is one of the most popular items Holland Bulb Farms offers on their website. The creamy white petals of this Japanese Toad Lily (Tricyrtis) are reminiscent of an orchid and are freckled with deep violet and midnight blue shades, setting off the purple anthers which extend from its center. The plant itself looks extremely delicate with thin stems and bright green foliage of alternating leaves. Appearing in August and September, not only are the blooms of this perennial alluring, they also remain for weeks in late summer when most perennials have long since finished their show!
Versatile in application and use: Not many perennials can be classified as both wet and drought tolerant, but this charming one fits the bill. The Blue Wonder Toad Lily will grow magnificently in those hard-to-fill shaded areas but also tolerates locations which receive partial sunlight through the day. And we're not the only ones who admire these flowers! Butterflies love them too — how many shade-loving plants can you say that about? Additionally, the orchid-like flowers make this perennial fantastic when used as an accent or "stand alone" plant but its foliage habit is delicate enough to also be used in larger masses — think about the look you're going for when laying out your garden space. Looks amazing when used among green, shade-loving plants with lots of texture, such as ferns or big-leafed hostas.
Bridget's Garden Tips: This perennial is somewhat like me in that it tends to take a little while to wake up from its deep winter slumber, so keep this in mind and be patient in the spring. Also, this little guy can sometimes benefit from a good trim (cutting back nearly half of the plant) in early June. This will help to keep the foliage denser and fresher!
(Source: Rand & Meg's Garden Paradise)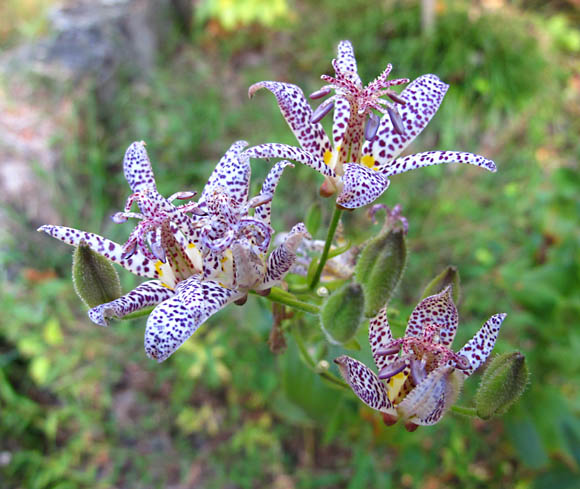 Oh how I can't wait to see these poke through in the spring…