Believe it or not, the spring planting season is just around the corner (this is definitely harder for some of us to believe than others!). In order to help turn all of our thoughts ahead to the days when the snow will disappear and the ground will thaw — yes, it WILL happen! — I will be featuring another one of my favorite spring planted bulbs or perennials each week. This garden selection will then become Holland Bulb Farm's Bulb Bargain for that one day ONLY. They'll also be featuring a unique shipping deal each week with the bargain which will also last for that one day only — it's a great chance to try something new or stock up on one of your faves! Check back each week or sign up for their newsletter to be notified each time I feature something different!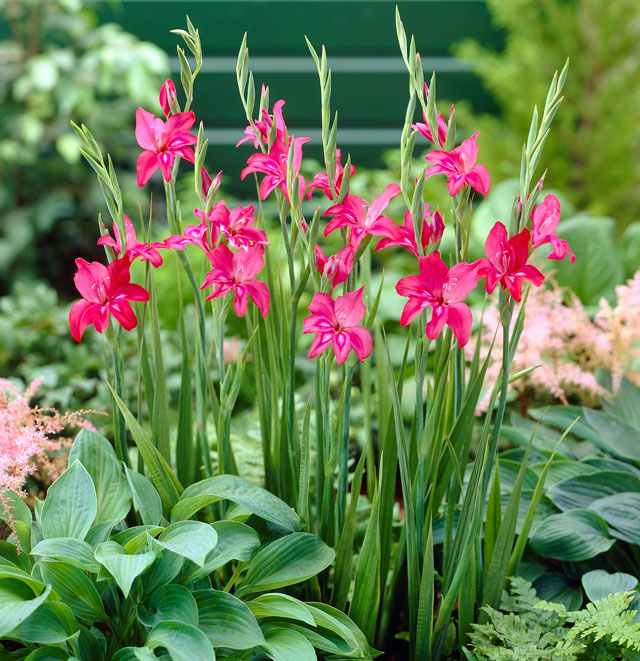 Definitely charming and extremely beautiful, today's featured bargain is truly one of my faves in the spring-planting bulb world. The Charming Beauty Miniature Gladiolus is not only elegant and feminine but it is also versatile in use and hardy in northern areas, such as the upper Midwest!
Unmatched feminine elegance: With its narrow leaves and thin, upright stems, the habit of the Charming Beauty is about as graceful as they come in the summer garden. The vivid pink petals are each adorned with a white throat, bleeding into the center only adding more dimension to the plant as a whole. Perhaps the best news about these blooms is that they tend to last longer than their large cousins — sometimes 3-4 weeks!
Incredible versatility and hardiness: It is rare to find such a delicate-looking bloom that grows on stems as sturdy as those of the hardy Miniature Gladiolus. These stems make this plant fantastic for use in cutting gardens and also help hold the flowers high above other plants and perennials with less height. And the best quality yet of this beauty? Unlike the more common Hybrid or Dutch Gladiolus, these bulbs are hardy all the way up to zone 5 — and sometimes 4 if well-protected. Who says those of us in the north can't have any fun? 😉
Plant just a few or a bunch…I'm sure you'll find a sunny place to tuck these charmers!