To gear up for fall planting and to get everyone excited, each week I'll feature one of my favorite fall planted bulbs and it will become Holland Bulb Farm's Bulb Bargain for that one day ONLY. They'll also be featuring a unique shipping deal each week with the bargain, so it's the perfect opportunity to scoop up a new bulb you've been wanting to plant. Keep checking back or sign up for their newsletter to be notified each week of the deal.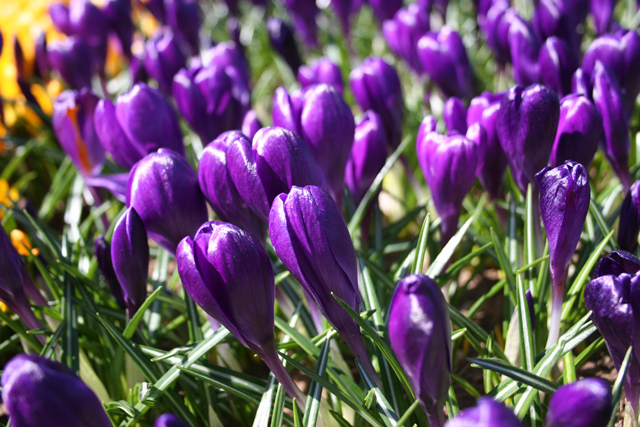 Lawns are not just for lush grass, but also adorable blooming flowers, known as Crocus!
There is always that one day in Spring where everything looks more vibrant than the day before, almost like you are wearing HD vision glasses! But you are not wearing any special lenses, the view you are seeing is through the naked eye and a phenomenon known as "Spring!"
Most people do love a lush green carpet of grass especially after a long winter, but why not add some more color and fun to your yard and plant crocus in your lawn? Planting a mix of giant crocus throughout various sections of your lawn is easy. Follow these steps to attain a patchwork of beautiful yellow, purple, and white cup shaped crocus blooms:
Make sure the area in your grass has good drainage and receives at least 4 hours of sun per day.
Since Crocus are smaller blooms you will need more of them to make an impact. To ensure they make an impact we suggest planting 10-15 per square foot.
Plant 2" deep using a shovel or bulb auger. If using a shovel, you will want to dig up the soil and grass leaving it all one piece, as you will be placing the grass and soil back in that same spot. If using a bulb augur you can insert the auger into the soil, place the bulb in the ground and place the "plug" of soil you just removed back in place.
Once the bulbs are planted you will not have to do anything to the area until Spring.
Crocus are one of the first bulbs to emerge in Spring, do not mow your lawn when they are blooming. You will not be able to mow your lawn until 4-6 weeks after they are done blooming, once the leaves have yellowed it is safe.
If you have a large property planting crocus in your lawn can be a project that you work on for several years, adding more and more to each area. You may be apprehensive about not being able to mow your lawn for some time in spring, however the colorful blooms in your lawn will be worth dealing with slightly longer  grass for the beginning of Spring.
(Source: The Beginner Gardener)