Believe it or not, the spring planting season is just around the corner (this is definitely harder for some of us to believe than others!). In order to help turn all of our thoughts ahead to the days when the snow will disappear and the ground will thaw — yes, it WILL happen! — I will be featuring another one of my favorite spring planted bulbs or perennials each week. This garden selection will then become Holland Bulb Farm's Bulb Bargain for that one day ONLY. They'll also be featuring a unique shipping deal each week with the bargain which will also last for that one day only — it's a great chance to try something new or stock up on one of your faves! Check back each week or sign up for their newsletter to be notified each time I feature something different!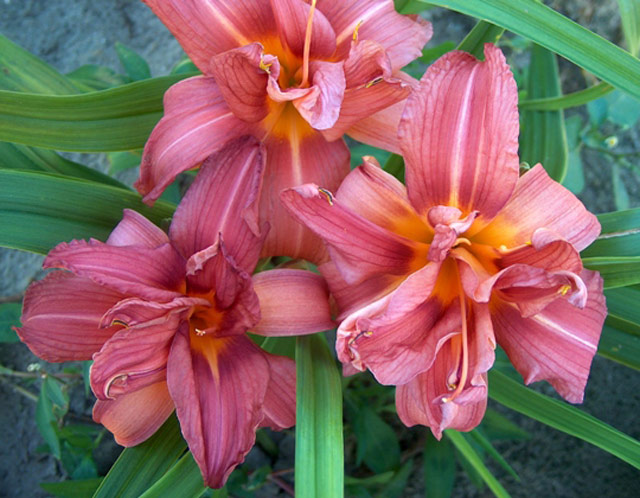 The amount of different daylily varieties is almost uncountable, reports say there are of 40-60,000 cultivated varieties in existence. With the immense number of hundreds of thousands of daylily varieties to choose from it can be difficult to decide which one or how many you should have in your garden!  I hope to make that decision easier by telling you a little about one of my favorite daylilies the Double Passion Daylily!
This hardy perennial daylily has blooms up to 6" in diameter! Since the blooms have double the petals they really make a statement.  Often these blooms are described as lavender pink; but from my experience they are more of a peachy, salmon pink color. The blooms are highlighted with yellow in what is referred to as the throat of the bloom (center of the bloom).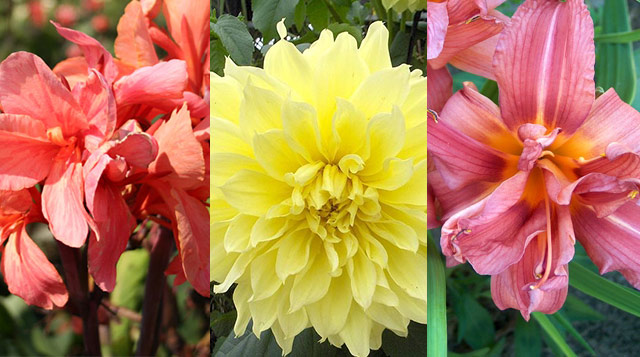 My favorite planting combination with the Double Passion Daylily combines a mix of perennials and summer flowering bulbs, for a cheerful and inviting garden combination. In a mixed border or perennial bed, I like to plant City of Portland Cannas in the very back of the planting bed, and Kelvin Floodlight Dahlias in the front of the cannas, or on the side next to the cannas. These taller flowering summer blooming bulbs will provide a nice backdrop and lots of seasonal color for my daylilies. In front of the cannas and dahlias, I plant a several groups of Double Passion Daylilies. This combination is great for full sun and provides an entire summer worth of blooms!