Believe it or not, the spring planting season is just around the corner (this is definitely harder for some of us to believe than others!). In order to help turn all of our thoughts ahead to the days when the snow will disappear and the ground will thaw — yes, it WILL happen! — I will be featuring another one of my favorite spring planted bulbs or perennials each week. This garden selection will then become Holland Bulb Farm's Bulb Bargain for that one day ONLY. They'll also be featuring a unique shipping deal each week with the bargain which will also last for that one day only — it's a great chance to try something new or stock up on one of your faves! Check back each week or sign up for their newsletter to be notified each time I feature something different!
This week's bulb bargain is a garden favorite throughout the world!  Elephant Ears grow rapidly in tropical climates, are loved for their HUGE leaves, and are also considered as an important food source in parts of Asia. The bulbs themselves are often used in the same way potatoes are in Western cooking; however, here in the states, we prefer to plant Elephant Ears for their ornamental landscape value rather than eat them 🙂
The large leaves are a bit of a novelty but can also be quite functional when planted in the right place. These towering plants will grow large enough to create a nice screen or border planting in the warmer months of the year.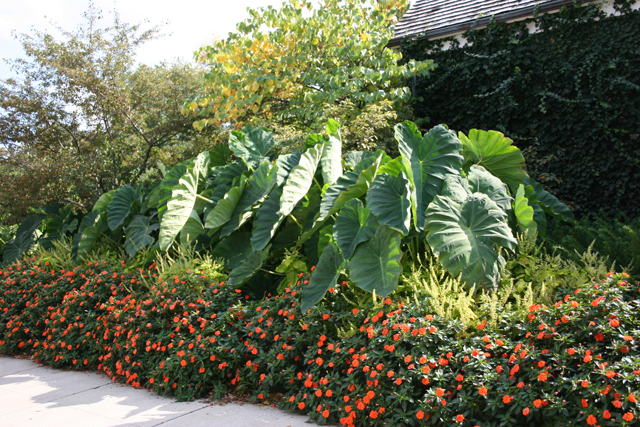 Since I live in an area where Elephant Ears are not hardy, I prefer to plant them in containers.  I have been using these bulbs in containers for the last 10 years — I really enjoy the tropical look they add to my Midwestern garden. These giants make an excellent accent in summer containers but are also dramatic enough to stand on their own. An added bonus of planting Elephant Ears in containers is the ease of transportation. If grown in  a small enough container, these can easily be picked up and moved indoors for the winter months — just pick a warm, sunny window! Once the plant gets larger, transplant to a large container and consider placing it on a wheeled tray to enable this indoor over-wintering process. The Elephant Ear plant may go slightly dormant during this time but will most likely retain the majority of its leaves. Once the sun and spring weather return in the spring, the plant can be brought back outside to enjoy the natural warmth!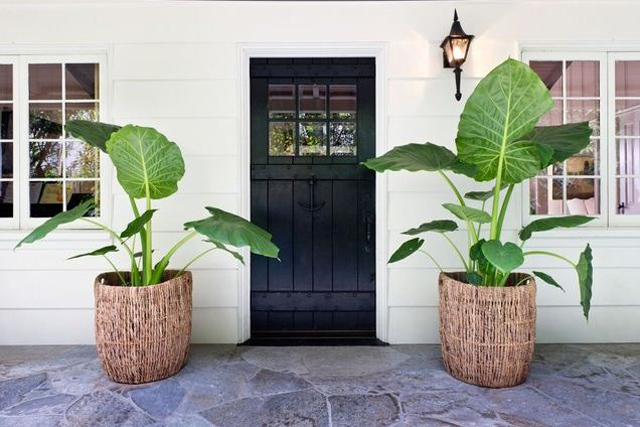 (Source: Gilded Mint)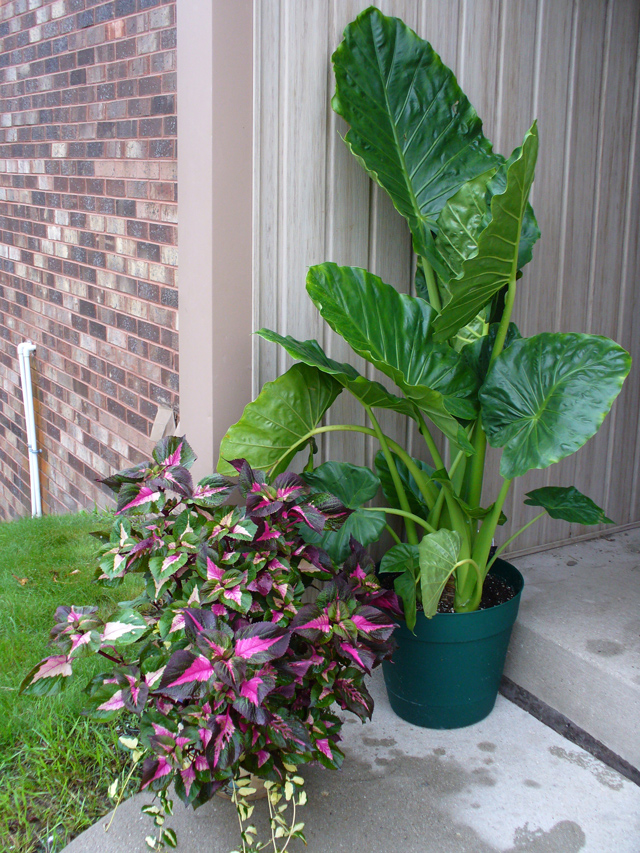 (Upright Elephant Ears also work well in containers)
As if the beauty and enormous presence of this titan were not enough, the leaves of the Elephant Ear offer lots of potential for some really fun projects. For instance, the Elephant Ear has a special purpose for those of you who love arts and crafts, as well as watching the birds. These colossal leaves can be used to make a bird bath cast — a great DIY project for the kids, the grandchildren or simply yourself! Check out this blog for step by step instructions.
P.S. – Sometimes the bulb of the Elephant Ear can be somewhat tricky to figure out. Not sure which end of the Elephant Ear goes up when planting? Click here to learn!