They say good things come in small packages, and we couldn't agree more when it comes to the quality Minnow Daffodil! This Mid-Spring blooming daffodil is a real charmer, with its clear white petals and lemon yellow cup, on dainty 5" stems. Don't forget this garden gem is fragrant; here are some of our favorite Minnow Daffodil planting combinations for all gardens!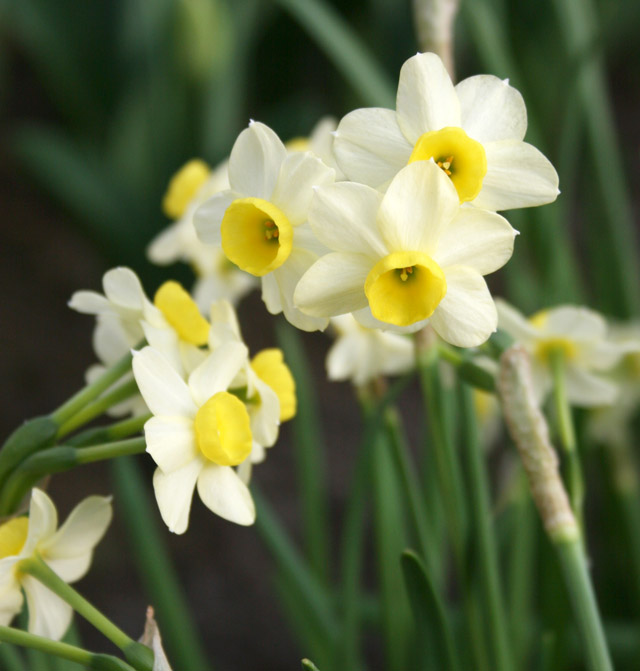 3 Minnow Daffodil Planting Combinations
Daffodil Mini Madness
Minnow Daffodils, Tete A Tete Daffodils and Rip Van Winkle Daffodils
This combination of miniature daffodils is absolutely adorable! Miniature daffodils work great planted in rock gardens, but also make a great border plant. This mixture will add color and texture to your Spring garden and extend the bloom time, as the Tete A Tete Daffodils will be the first to bloom, followed by Rip Van Winkle, and lastly the Minnow Daffodils, all bloom times will have a bit of crossover.
Sweet Dreams Spring Garden
Minnow Daffodils, Blue Jacket Hyacinths and Daydream Darwin Hybrid Tulips
This mid-Spring blooming combination is sure to be a pleasant surprise not only to your eyes but also to your nose! The majority of the fragrance will come from the Blue Jacket Hyacinths, but don't forget the sweet scent of the Minnow Daffodils and Daydream Tulips! If planting in a border, plant the minnow daffodils in front, in clusters of 5-7 bulbs per hole, behind the daffodils a nice row of Blue Jacket Hyacinths will help to compliment the white and yellow blooms of the daffodils. For added height and warmth the Daydream Daffodils should be at the back of the planting area, planted 5 bulbs per hole. All will bloom in mid-Spring for a sweet and dreamy combination!
Southern Charm Daffodil and Tulip Garden
Lilac Wonder Botanical Tulips and Minnow Daffodils
A unique combination of Spring blooming bulbs that are both deer resistant and great for warm climates. Botanical tulips are some of the best tulips for Southern states and warm climates; most other tulips are difficult to grow in Southern states and warm climates.  The Lilac Wonder and Minnow Daffodils make a charming pair, perfect for Spring gardens and naturalized areas.