Believe it or not, the spring planting season is just around the corner (this is definitely harder for some of us to believe than others!). In order to help turn all of our thoughts ahead to the days when the snow will disappear and the ground will thaw — yes, it WILL happen! — I will be featuring another one of my favorite spring planted bulbs or perennials each week. This garden selection will then become Holland Bulb Farm's Bulb Bargain for that one day ONLY. They'll also be featuring a unique shipping deal each week with the bargain which will also last for that one day only — it's a great chance to try something new or stock up on one of your faves! Check back each week or sign up for their newsletter to be notified each time I feature something different!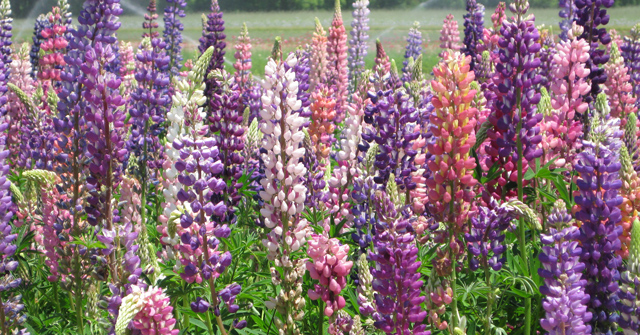 Top five. That's what I have to say about this one: definitely one of my top five fave plants of all time is the Lupine — and considering how much I love things that grow, this is really saying something. These Russell Hybrid Mix Lupines could make me smile even on the gloomiest of days not only for their striking appearance and ability to attract desired pollinators, but also for the sentimental attachment I have to them. Also one of my mom's favorite, the Lupine was one of the first perennials I truly noticed as a child and still remember harvesting the seeds at the end of each summer.
Striking appearance and habit:  The blooms, which appear in countless hues, form in large torch-like spike on top of 24-30″ flowers stems. Many of the individual pea-shaped flowers which make up this bloom are bi-colored, giving it fantastic texture and depth. The intense colors and unique shape of the Russell Hybrid Mix Lupines cause them to really stand out whether it is used in the back of a border garden or planted amongst other sun-loving perennials in the cottage garden — they look marvelous when paired with bearded iris!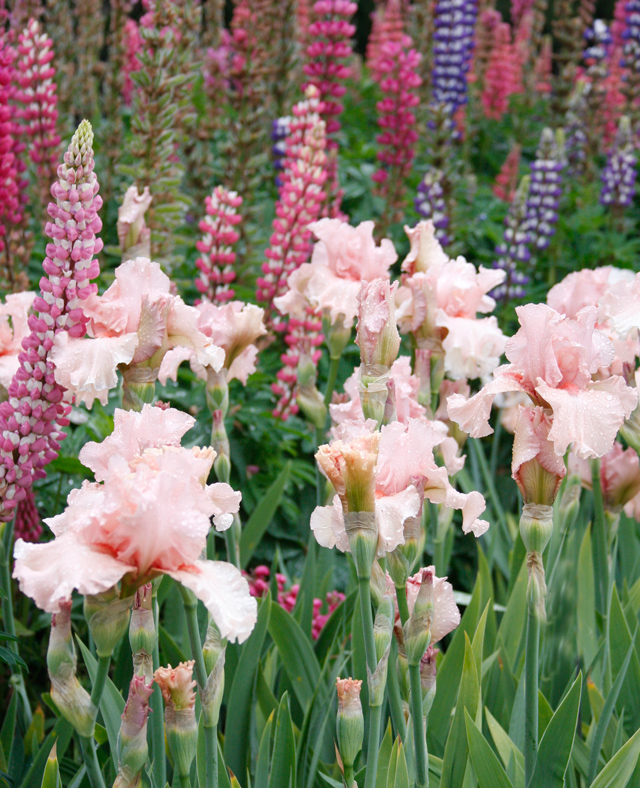 Incredible naturalizer: Amazing "re-seeders", lupines do an excellent job of propagating all by themselves. After the flowers have faded, noticeable seed pods will form in their place. If not removed, these pods will break open, dropping their seeds into the earth surrounding the plant. For this reason, care should be taken when selecting where to plant your lupine, as you will want to leave enough room so that thinning is not immediately necessary. Because of this prolific nature, these plants work fabulously in more informal landscape where plants are allowed to behave naturally. This goes hand-in-hand with the fact that deer rarely bother these perennials! On the flip-side, they are greatly enjoyed by hummingbirds, butterflies and bumblebees — and who couldn't use more of those in their yard??
Bridget's Tip: If wanting to harvest the seeds of the Russell Hybrid Lupine, allow the pods to remain on the plant until they have dried and begun to turn brown, being careful not to wait too long to the point where they split open themselves. Carefully remove the pods and open them to expose the seeds inside. Separate the seeds from the pods and spread out in a single layer in a cool, dry place. Store them in these conditions until the following spring. Get a jump-start on the growing season by planting them indoors 6-8 weeks prior to the last frost and then move outside when warm enough!