Late November is an exciting time of the year, and could arguably be the most wonderful time. It's the beginning of the holiday season, with the ever popular Thanksgiving kicking off the season. Thanksgiving is a time to gather with family and friends, enjoy a meal together and reflect on the past year while thinking about the future. It's not a holiday for gifts, other than host gifts like a lovely amaryllis or bulb garden but very shortly after Thanksgiving, the excitement of doorbusters, deals, incredible offers, and low prices begins.
Many retailers, both online and brick and mortar businesses offer Black Friday Deals and are promptly followed up by Cyber Monday Specials. If you like deals and getting your shopping done early, this 4 day stretch of sales, savings and stuffing is an extended holiday in itself. Between Black Friday and Cyber Monday is Small Business Saturday, a day dedicated to supporting small local businesses that was started by American Express in 2010. Though the other days may be better known for their unbelievable deals, Small Business Saturday is my favorite part of this 4 day stretch of events!

Of course, Holland Bulb Farms is one of my top small businesses to support! Holland Bulb Farms's business is online-based and it does not have a physical storefront, but that does not mean it's a huge corporation. Holland Bulb Farms has a great reputation for quality bulbs, superior customer service, and amazing flower bulb information and they are able to accomplish all of this with a team of only 15 people.  The team of people at this flower bulb company may be small, but they are dedicated to serving the garden world with excellence.
Behind the mission that this team is set out to accomplish is Holland Bulb Farms's owner Jon Studer. I was able to interview Jon about small businesses and Holland Bulb Farms, but first some Holland Bulb Farms history for you. In 1995 Jon began working with his father in law Arthur Van Zanten at Holland Beauty Corporation. Holland Beauty was established in 1975 and is another small business operating with a small team. In the early days of their partnership, Jon and Art would travel to other small businesses such as garden centers and hardware stores to sell retail-ready flower bulbs. Small businesses supporting small businesses for growth is what Holland Beauty built their business on. Art would even make seasonal trips to small garden centers to do free informative flower bulb workshops; that is what I call customer service at its finest! In the early 2000s, online shopping was growing at an exponential rate and that's when Jon saw the need to bring flower bulbs to retail customers directly through the web via Holland Bulb Farms. In the fall of 2004 Holland Bulb Farms launched with a limited selection of fall-planted flower bulbs shipping to the 48 continental United States.
The first several years of operation for Holland Bulb Farms were about expanding their product selection for spring and fall planting, while always retaining superior customer service. Jon always stresses to the folks answering the phones at Holland Bulb Farms to treat the customer like they are your mother or grandmother. As a small business Jon and the team at Holland Bulb Farms recognize how important their customers are, and will always put the customers first.
"The flowers are beautiful! I've been buying from Holland Bulb Farms for three years and the plants are unique and definitely something none of the big box stores have for sale. I love the customer service too! They are the most friendly and helpful people in retail hands down. Any issues with your plants and they will take care of it immediately. I wouldn't buy from anyone else!"

-MJ P.
By 2009 Holland Bulb Farms had added a limited selection of bare root perennials to their spring selection and launched this very blog, the Bulb Blog! Since then their spring planting bare root perennial selection has grown to over 150 unique varieties. For fall planting Holland Bulb Farms offers more than standard fall-planted bulbs like tulips and daffodils; in 2012 they began selling bare root perennials for fall planting. Each season this small business adds 20 or more new items. The growth doesn't stop at the traditional bulb seasons of spring and fall; over the past 5 years Holland Bulb Farms has expanded their holiday offerings into pre-planted flower bulb gardens, top size unique amaryllis bulbs, and even waxed amaryllis.
Growing, evolving and trying new products are the key to Holland Bulb Farms's success.  Jon isn't afraid of trying new products to offer to his customers. In 2015 Holland Bulb Farms offered bare root roses for the spring planting season. Even though Holland Bulb Farms received several requests for roses, they learned that bare root roses are more labor intensive to ship while maintaining quality. Therefore after one season with bare root roses, Jon and the Holland Bulb Farms team determined if they weren't going to be able to offer healthy roses to their customers it was best that they stick to what they know best, and that is flower bulbs and bare root perennials! The future is looking bright for Holland Bulb Farms who is sticking to its dedication to customers by continuing to offer online chat service, email replies within 24 hours and friendly helpful customer service representatives.
Interview with Holland Bulb Farms Owner Jon Studer
What is your favorite thing about being a small business owner?
I really enjoy the ability as a business owner to take a simple idea that I feel will benefit our company, and begin to map out a process from start to finish to see if it will work.  This could be a way to streamline how we ship out daily orders, or maybe a new way to reach our community of gardeners and customers to educate them better on our products. It is very rewarding to see ideas myself or team members have brought to my attention become part of the business, which ultimately, can help sales grow or processes in our company become better.  Not every new idea works, and I have seen some of my brilliant plans come crashing down, but the good news is as a leader of our team, I will never give up and always keep striving for growth for our company and better ways to connect with our gardening community.
What is your favorite flower bulb?
I absolutely love Darwin Hybrid Tulips.  They have strong sturdy stems with HUGE bright flowers.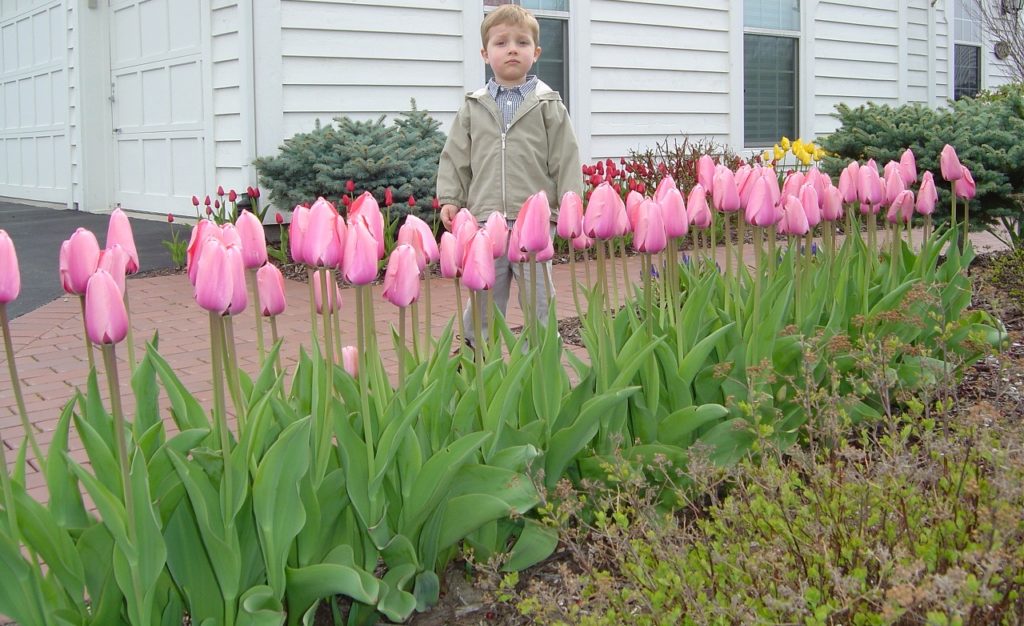 Jon's son Jacob when he was 3 years old standing by HUGE Darwin Hybrid Tulips
Over the 14+ years, Holland Bulb Farms has been in business what is the craziest new product you have added to the Holland Bulb Farms selection?
We have had many unique bulbs or plants over the years, but I think recently we have just started Waxing our own amaryllis in-house.  I never could have imagined 15 years ago that I would be dipping amaryllis in special hot wax! As these fun and unique trends come around we want to make sure we can offer these items to our customers.
During this time of thanks, what are you most thankful for?
I am most thankful for my wife and kids (Jacob 17 and Adriana 14).  They have always been supportive of my dreams and goals to grow our company.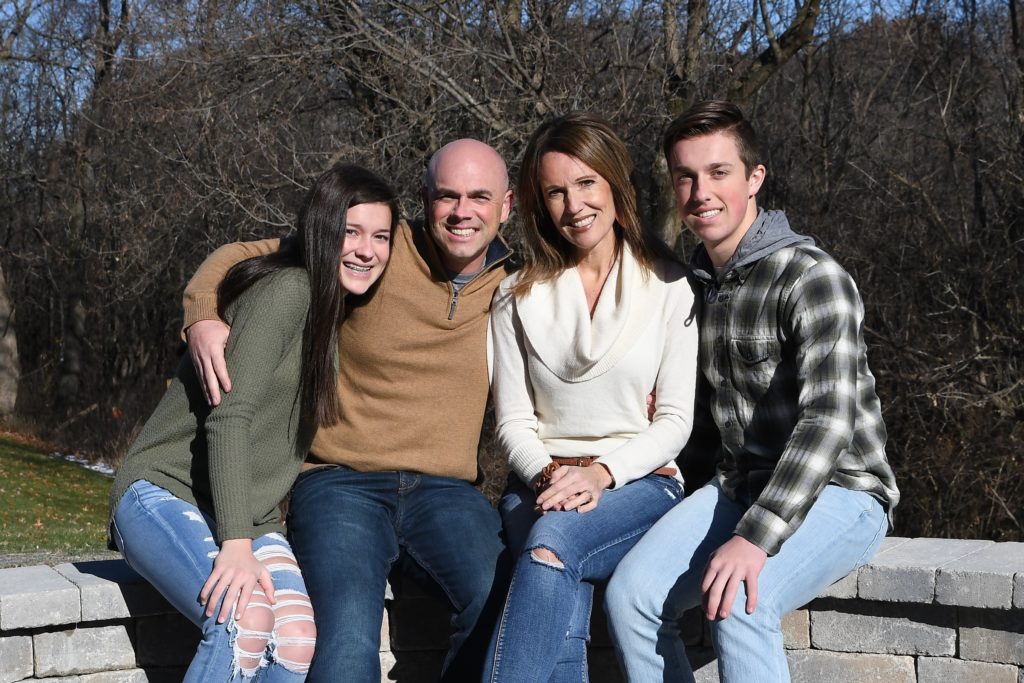 What is your favorite Thanksgiving Day side dish?
Mashed potatoes and gravy
Why are small businesses important?
I feel strongly that small businesses are the backbone of our country.  Every single day of our lives, we have direct or indirect contact with a small business.
Any special message for the upcoming holiday season you would like to send to the Holland Bulb Farms customers?
I want to personally say THANK YOU to each and every single customer, who has ordered our products online or over the phone.  We will continue to do everything possible, to supply you with the absolute best products for your garden, and offer you the highest level of customer support in our industry.  Have a wonderful Thanksgiving and upcoming Christmas!
I'd like to thank Jon for Holland Bulb Farms and answering my interview questions! It's encouraging to hear from a small business owner who truly cares about his customers, employees, family, and innovations. As the holiday season gets underway I hope you will consider shopping small, and supporting small and local businesses for your holiday shopping needs, as Jon stated they are the backbone of our country!