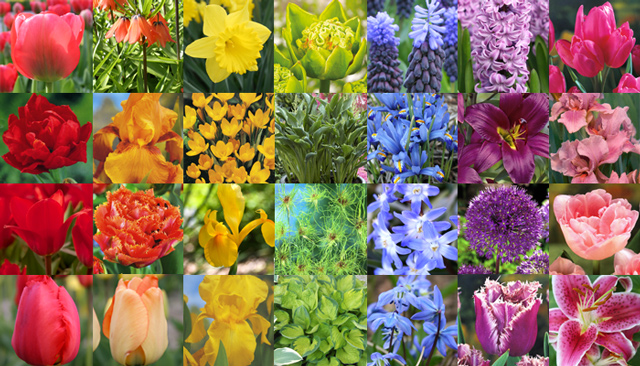 Are you passionate about purple? Gung-ho for green? Whimsical about white? Have you ever considered planting a monochromatic garden? This fall could be the season to try it! Creating a monochromatic garden (that is, one of all the same bloom color) can make quite an impact. Keeping a color consistent throughout your garden can be extremely pleasing on the eyes and almost have a soothing effect through the simplicity it conveys.
Keep in mind that I am not talking about planting all of the same type  but rather a variety of plants and flower bulbs with similar bloom colors. For instance, you can achieve an all-blue spring garden by planting a combination of Scilla, Ruby Giant Crocus, Glory of the Snow, Muscari, Wild Hyacinth, and Harmony Dwarf Iris. The blue hues do not all have to be of the same level of boldness (in fact, the effect looks even better if they slightly differ from lights to dark). It all depends on the look you are going for! Planting a wide range of blooms from light to dark will have a more noticeable, bolder effect while planting a combination of blooms with only slightly varying brightness will create a much more subtle impact. Also, don't forget that foliage color can also contribute to the monochromatic look you're going for! For example, an all-green garden can most definitely benefit from the use of hostas, caladiums, or elephant ears. An all-red or all-purple garden can be accented by
plants the produce more burgundy leaves.
When planning your "monochromatic garden", you will want to consider the space you are attempting to fill and the goal you are trying to achieve. Are all of these plants going to be planted in the same garden bed? If so, the sky is the limit on the number of different varieties you can use. Having everything bloom in one bed adds to the cohesiveness of the design, even if you are growing multiple varieties of plants and flower bulbs. Do you have smaller "pockets" of open space throughout your landscape you are trying to fill? If so, try to keep your selections to three different varieties as this will be more visually pleasing. Planting plants and flower bulbs of all of the same color in smaller pockets throughout your garden is what we call repetition. Doing so greatly helps to "tie" all aspects of your yard together, giving your eye something to recognize no matter what view of the landscape you have.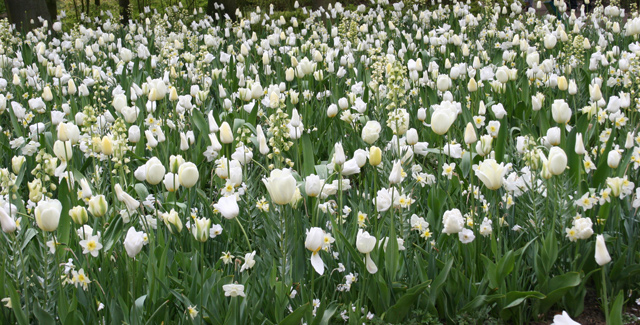 Not sure you're ready for a garden all of one color? Using fall planted plants and bulbs (which bloom in the spring) is a great way to try it since the spring flower bulbs have a relatively short bloom time (2-4 weeks). If you're not sold on the idea of a solid color look, you can rest easy knowing that come summertime, you can change it!  Don't know where to start? Try these collections pre-created by Holland Bulb Farms which all feature plants and bulbs of a single color or create your own using the search bar and typing in the color you'd like to focus on. For even more ideas, check out this article by Fine Gardening which explore a few other creative ways to use color in your garden. The possibilities are endless!