Garden Planning Made Easy with Easy Complete Garden Collections
No matter your gardening skill level you may have failed at growing a certain plant, and if you haven't failed you will eventually have something that doesn't grow for you! Gardening isn't always easy, but it is always worth it, no matter the outcome. If you find gardening and planting to be difficult, or deciding what to plant to be difficult, I am here to help make the decision of what to plant easier for you! You still have to do the hard work to plant the bulbs and roots and take care of them once they are growing, but I am here to help with the first part of planting, which is planning.
I have designed several Complete Easy Gardens for Holland Bulb Farms; they all come with planting plans for easy garden planning! This series of blog posts will include a new Easy Complete Garden Collection each week. The first garden collection plan in the series is the Easy Complete Shade Garden.  Continue reading to find out which plants are included in the collection, as well as planting tips and advice for each garden plan.
The Easy Complete Shade Garden is designed for approximately 50 square feet, however, you may need to adjust the plan based on the size area you have. Getting color in shaded garden areas can be a challenge, and having color multiple times throughout spring and summer can be even more difficult. The Easy Complete Shade Garden has perennials and bulbs that offer interest in their blooms or foliage starting in spring all the way through late summer. Of course, all the perennials and bulbs in this collection are easy to grow, you have to do the hard work of planting them, but it will be worth it when you have months of color in your shade garden.
Spring Interest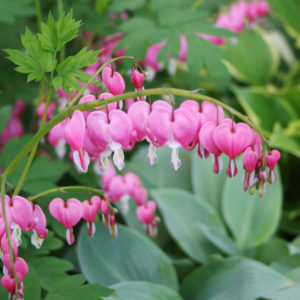 3 Pink Bleeding Hearts Blooming in mid to late spring these perennial favorites have pink heart-shaped blooms that bring feelings of nostalgia. Plant the 3 Bleeding Hearts in the back of the planting area, as they mature at 3' tall, and are fast to grow to mature height in spring. When planting each root you will want to space the bleeding hearts 2-3' from each other. Bleeding Hearts require well-drained soil for the best results. Prepare the hole with Kelp Meal at the time of planting to improve drainage and to add nutrients to the soil. Bleeding Hearts go dormant in the hottest parts of summer, so planting perennials and bulbs in front of the bleeding hearts helps to fill the void left when the bleeding hearts go dormant.
Summer Interest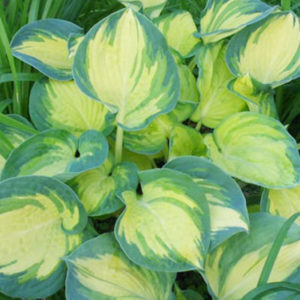 6 Beach Boy Hosta Hosta are one of the most popular shade and foliage plants. Foliage plants are a useful addition to any garden plan as the color and texture they provide is always present, unlike flowering plants. Beach Boy Hosta is a small hosta that has blueish green and yellow leaves. Growing 12-14" wide, with a height of 14-16" Beach Boy Hosta is a nice plant to place in front of a shaded border. In the Easy Complete Shade Garden, the Beach Boy Hosta should be planted in front of the Honorine Jobert Anemone and spaced 6-9" from each other.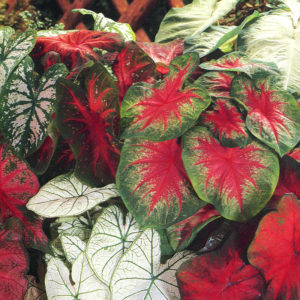 10 Mixed Caladium Caladium bulbs are another popular foliage plant. Their leaves can be green and white, red and white, pink and white, green and pink, red and pink and any other combination mentioned above! Caladium bulbs need a lot of heat to get growing, but once they start are a colorful addition to your shaded garden borders. Each caladium bulb should be planted about 6-9" from each other, and in the Easy Complete Shade Garden, they can be planted in the very front of the border to fill in empty spaces.
Late Summer Interest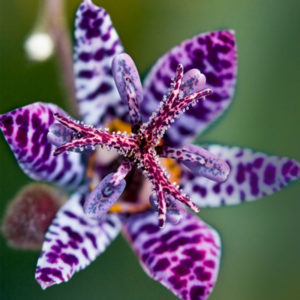 3 Blue Wonder Toad Lily Toadlily are on the top of my list for favorite perennials! Although the flowers may be small in size, they are huge in detail! The spotted purple blooms are unique and intricate. Blue Wonder Toadlily blooms in late summer which is another great feature of this shade perennial. In the Easy Complete Shade Garden, the 3 Blue Wonder Toadlily are the center of the planting area and fill in between the groupings of Beach Boy Hosta. Space each Blue Wonder Toadlily 9-12" from each other, as well as 9-12" from the Honorine Jobert Anemone they are growing in front of.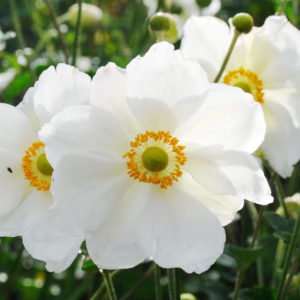 5 Honorine Jobert Anemone Summer flowering anemones are a nice addition to the partially shaded garden as they bloom late in the summer. These upright perennials have showy 2-3" diameter white blooms with bright yellow centers. In this Easy Shade Garden, you will plant the Honorine Jobert Anemone in front of the Bleeding Hearts, as they will be reaching their full potential for growth and blooms at the time that the Bleeding Hearts are starting to go dormant. This anemone prefers a part shade location, so be sure the planting area receives dappled shade or 4-6 hours of direct sunlight at some point in the day.
Any area that receives 4-6 hours of sun will be an ideal location for this
Easy Complete Shade Garden
! Feel free to use or modify this
planting guide
to work with your space requirements; also, if you feel like adding additional shade-loving plants to this grouping and your space allows for it, I encourage it! Next in the Complete Easy Garden Collection series is the Easy Complete Sun Garden, it will be filled with bulbs and perennials that bloom from spring through early fall for a complete garden of blooms, color, and texture!