Garden Planning Made Easy for your Sunny Summer Garden
Oh, the sun a powerful force of earth! The powerful and mighty sun is essential to all forms of life on earth. Humans need the sun to get the proper amount of vitamin D, which is important for healthy bones and a healthy immune system; it has also been known to help combat depression.
Trees, shrubs, grass, vines, herbaceous perennials and flower bulbs need the sun for photosynthesis. The cells in the leaves, stems, flowers and roots need the sun to work with carbon to produce (sugar) food energy which is essential for growth. Without the sun, we would not have any plants. Therefore this giant ball of hydrogen and helium in the sky is critical to all living beings.
If you are fortunate to have a full to part sun property for gardening, the sky is the limit on what you can plant — or at least it seems that way to me, because as a gardener with a lot of shade in my yard I have a bit of a case of sun envy going on. With so many choices for sun-loving bulbs and perennials, it can be a problem to decide which plants to choose. Therefore, I am here to help you make your sunny garden come to life in spring, summer and early fall with this Easy Complete Sun Garden. Continue reading to find out which plants are included in the garden, as well as how to plant and care for each of these plants.
This garden is designed to cover 50 square feet. You may need to modify the number of plants based on the amount of space you have, but this should be a good guide. Full sun areas are areas in your garden that receive a minimum of 6 hours of direct sun per day. This garden features sun-loving perennials that are easy to grow, and bloom at various times throughout the year!
Spring Interest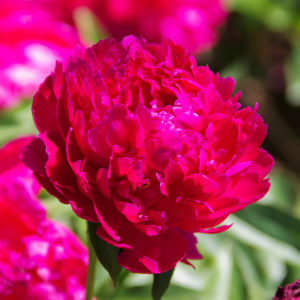 3 Karl Rosenfeld Peony: Along with tulips, lilacs, and bleeding hearts I can't think of a more nostalgic spring blooming plant than the peony. Although peonies may look like a small shrub, their non-woody stems make them a herbaceous perennial. The shrubby habit of peonies makes for an excellent backdrop in perennial gardens. Dark green leaves in summer provide a lush backdrop for summer blooming perennials. The large, showy and often fragrant blooms are the main draw of peony plants. For this Easy Complete Sun Garden any herbaceous peony will work as the 3 tall plants in the back of the space. I chose Karl Rosenfeld Peony for this garden because of the bold, bright cherry pink blooms in late spring. I personally like the darker and bolder peony blooms of Karl Rosenfeld compared to the lighter color blooms of Sarah Bernhardt Peony, or Shirley Temple Peony. However, if a light pink peony, coral peony or white peony would fit better in your garden, you may use those in place of Karl Rosenfeld Peony.
It may take the Karl Rosenfeld Peony you plant as a bare root 2-3 seasons to produce a full plant loaded with blooms, but when it does you will be able to enjoy the bold cherry pink blooms for decades! After the blooms are finished in spring, peonies are relatively low maintenance. The main maintenance you will need to keep up with when it comes to your peonies is to cut the leaves and stems back in fall. Since peonies are susceptible to Botrytis blight which causes black spots on the leaves and stems, you will need to clean up the area around the peonies in fall. When you are cutting back your peonies be sure to remove any fallen leaves or plant debris from the peonies to prevent spreading the Botrytis spores for future years.
Karl Rosenfeld Peony Quick Facts: Grows 2.5-3' tall and wide. Blooms in late Spring to Early Summer. Hardy in Zones 3-8. Can be planted in Spring or Fall.
Early Summer Interest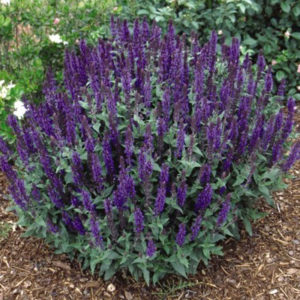 6 May Night Salvia: Salvia are popular perennials known for long bloom times and as blooms that attract pollinators like hummingbirds, bees and butterflies.  Most salvia varieties will have pink, purple or blue blooms that first appear in the beginning of summer. May Night Salvia, the 1997 Perennial Plant of the Year has a proven record of being a reliable perennial for sunny gardens. In the Easy Complete Sun Garden, the 6 May Night Salvia are planted in the middle of the planting bed in groups of 3 on each side.  When the salvia first begin blooming in early Summer, the entire plant will be covered with vibrant blue/violet blooms. Once those blooms begin to fade you will want to remove the spent flowers; by removing the spent flowers you will encourage more blooms to form throughout the rest of summer.
May Night Salvia Quick Facts: Grows 18-24" tall with a spread of 15-18". Blooms in Early Summer.  Hardy in zones 3-8. Deer and Rabbit Resistant. Attracts bees, butterflies and hummingbirds.
Mid-Summer Interest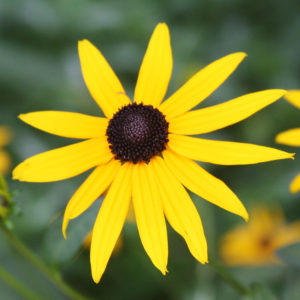 5 Black Eyed Susan: Taking center stage in the Easy Complete Sun Garden is a popular free blooming perennial known as Black Eyed Susan.  Black Eyed Susan are native to the United States and can be found in prairies, meadows, savannas and at the woods edge in nearly every state.  These easy to grow perennials tolerate moist and dry soils as long as the soil drains well. The yellow star-shaped blooms have a brown center. Once your Black Eyed Susan begin blooming in mid-summer they will continue to put on a show into late summer. In the Easy Complete Sun Garden you will plant the 5 Black Eyed Susan in front and center in between the two groups of Autumn Joy Sedum.
Black Eyed Susan Quick Facts: Grows 18-24" tall with a spread of 12-18". Blooms in mid-summer through late summer. Hardy in zones  3-9. Attracts pollinators like bees and butterflies.
Late Summer Interest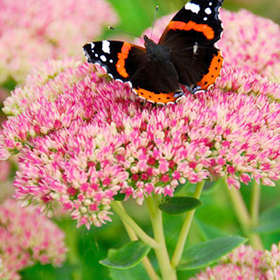 6 Autumn Joy Sedum: Easy to grow are the words that best describe the Autumn Joy Sedum.  Sedum are drought tolerant when established, which certainly adds to the ease of growth and maintenance for them. In late summer greenish white blooms form on the Autumn Joy Sedum, as the weeks go on the blooms mature to light pink and finally finish as a rusty rosy red color in fall. Thriving in a full sun location with dry soil, these low maintenance perennials are perfect for a sunny perennial garden. In the Easy Complete Sun Garden the Autumn Joy Sedum are planted in front in groups of 3 plants on each end. They will be blooming at the same time as the Black Eyed Susan which take up the front and middle of the planting bed. Your late summer garden will have an explosion of color and texture with the combination of Black Eyed Susan and Autumn Joy Sedum decorating the front of the bed.
Autumn Joy Sedum Quick Facts: Grows 15-18" tall with a 12-18" spread.  Blooms in late summer. Hardy in zones 3-10. Attracts pollinators like bees and butterflies. Low maintenance, drought tolerant.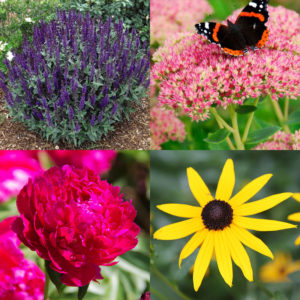 If good day sunshine is how you describe your garden, then this Easy Complete Sun Garden may be what you need to add 3 season interest to your yard. A full sun area means that the area gets at least 6 hours of direct sunlight per day, southern and western facing parts of your yard are typically going to be considered full sun depending on the number of trees near your home.  The Easy Complete Sun Garden covers approximately 50 square feet but can be modified for a larger or smaller area by adding or taking away some of the perennials in the garden. Click here to download our garden plan. This low maintenance garden is everything you need to enjoy blooms from May to September in your sunny garden spaces!