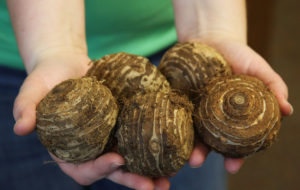 The first plant I ever rescued from the brink of death was an elephant ear. During the summer of 2006, I was getting ready to move into my first apartment. Prior to moving out, I bought an elephant ear plant on 75% off clearance at the garden center where I worked. I didn't want to plant it before I moved so, unfortunately, the plant sat on my parents' front steps for several weeks in summer. It was at this time that this baby elephant ear had a near-death experience. When September rolled around, I moved into my first apartment and brought the helpless elephant ear with me. I was determined to revive the poor elephant ear that I had neglected.
This particular elephant ear was an upright elephant ear. These have upright glossy leaves and can be grown in the ground or in pots. Since it was nearing the end of the planting season in Wisconsin and I lived in an apartment I didn't want to plant the elephant ear in the ground so I found a decorative 12" diameter glazed pot, planted the elephant ear and kept it in the sunniest location I could find in my apartment.
While it was a slow start my now revived elephant ear made it through the winter and even put on a little growth. Reviving this elephant ear was my first taste of playing plant doctor and bringing a plant from the brink of death back to life—I was successful in this endeavor. I do not suggest neglecting your plants just so you can play doctor, but if this does happen, you may find yourself feeling good about your plant saving efforts just like I did. Nearly 15 years later I still have the original elephant ear plant and have even split it up into other plants.
Elephant Ears will always have a special place in my heart and garden due to my revival efforts. They are exciting and add tropical flair in even the coldest of climates. Plant hybridizers are coming out with new and exciting varieties of elephant ears every year that have different colored leaves, stems, and veins. Holland Bulb Farms is offering a few new varieties of Elephant Ears for the 2020 season and I am excited to tell you more about them.
Classic Elephant Ear Types
The traditional types of elephant ears like Colocasia esculenta (Elephant Ear) and Alocasia odora (Upright Elephant Ear) are commonly known among people who garden with flower bulbs. Both Elephant Ears and Upright Elephant Ears grow from bulbs. However, the shape of the bulbs is different as well as some key features of each of these types of elephant ears. To better understand some of the new varieties of elephant ears it is important to know a little about the basics of common elephant ear plants.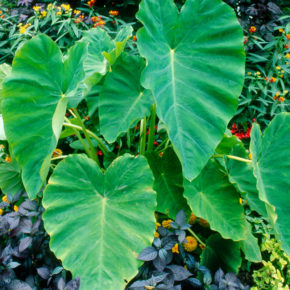 Colocasia esculenta
Commonly known as Elephant Ears these bulbs grow from large oval bulbs that resemble a highly textured coconut. The bulbs have rings around them all the way to the top. These rings are helpful to indicate which side should be planted facing up. If you get an elephant ear and don't know which side faces up, the side that should be planted up resembles a bullseye. On the bottom side of the bulb, you may notice dried roots that are from last year. If you can't tell which side is up it is always safe to plant the bulb on its side, it will straighten itself out.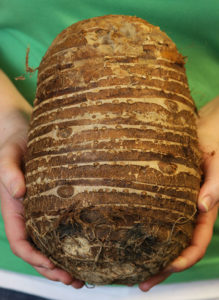 Elephant Ears have large leaves that can span up to 12"+ across. They hang downward and have a velvety appearance. The mature size of an elephant ear plant during the growing season depends on the planting location and hardiness zone they are grown in. Elephant Ears being grown in a hot and humid climate such as Florida will be much larger than an elephant ear grown in a cold climate such as Minnesota. Gardeners in cold climates can certainly still enjoy elephant ears in their garden during the summer months, however, they may only grow 3-4' tall and wide. Southern gardeners can expect their elephant ear plants to grow 5' tall and wide.
Another factor in how large your elephant ear plant will grow is the size of the bulb. The larger the bulb the larger the elephant ear will grow the first growing season. Therefore if you want the largest plant possible for your climate it is best to start with a Jumbo Elephant Ear as this will produce a more robust plant.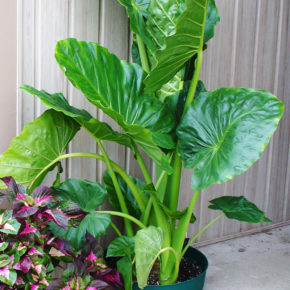 Alocasia odora
The other popular elephant ear is commonly known as the Upright Elephant Ear. The bulb on an upright elephant ear is cylindrical in shape. The crown of the bulb, where the leaves will come from is more defined on upright elephant ears making it more straightforward regarding which side should be planted towards the sky.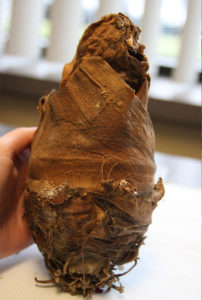 Upright Elephant Ear plants have large leaves that can be as wide and as long as 12" or more in the right conditions. The leaves face upward and are glossy, unlike the elephant ear which has leaves that hang down and are velvety. Alocasia Elephant Ears can also get rather large in the proper growing conditions. Warm and tropical climates are ideal growing areas for upright elephant ears. In warm and humid climates, they can grow 6' tall. In northern or moderate climates elephant ears will reach 4' or more by the end of summer.
Both types of traditional elephant ears can be utilized in the landscape to add a tropical touch. Elephant Ears can be planted in the ground in a garden border or bed, and they also work well in a large container. Gardeners in warm climates will enjoy the perennial nature of elephant ears. Gardeners in cold climates shouldn't shy away from elephant ears as they can be planted in containers and brought indoors during winter. There are new varieties with colorful foliage and stems that should also be considered when planning your landscape this spring.
Exciting Elephant Ear Varieties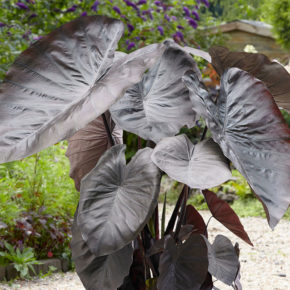 Dark foliage in the landscape adds dimension and contrast. Diamond Head Elephant Ear is an exciting new hybrid elephant ear. The foliage is a deep purple – almost black. While the color of the leaves is exciting the size of the leaves which can grow well over 12" wide and long makes this mammoth a standout in the garden. To get the best color out of the Diamond Head Elephant Ear site selection when planting is important. A full to part sun location is necessary to bring out the color of the foliage in the Diamond Head Elephant Ear. If planted in shade the leaves will take on a green hue with not as much purple showing through. The sensitive leaves can see damage if the soil is dry, or the location receives strong damaging winds. Soil that is consistently moist, a location sheltered from the wind along with sunshine will make the Diamond Head Elephant Ear perform it's best.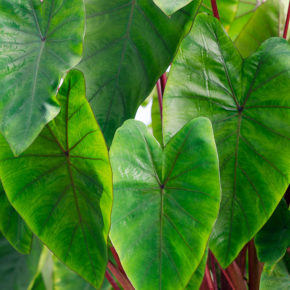 Fruity green and red leaves remind me of an oversized rhubarb plant on the Hawaiian Punch Elephant Ear. Red stems and leaf veins on this elephant ear will add a punch of color to the landscape. The foliage is semi-glossy with leaves that hang down. Hawaiian Punch Elephant Ear has a compact habit growing 3-4' with a spread of 2-3' making it perfect for patio planters. This tropical plant can also be added to water gardens like ponds or near the edge of a pond, as the soil elephant ears are planted in should be moist. If you don't have a wet area in your garden you can still plant Hawaiian Punch Elephant Ear, just be sure the soil is kept evenly moist and not allowed to dry out, this can lead to scorched leaves.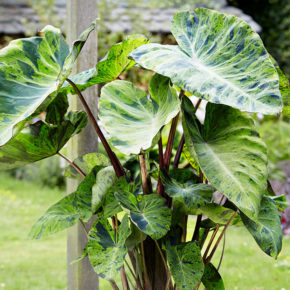 Mojito Elephant Ear is a refreshing new variety with speckled foliage.  Mojito Elephant Ear will take the form of a traditional elephant ear growing an average of 4-6' in height. The dark purple nearly black speckles on Mojito Elephant Ear will have the most color in when planted in a full to partial shade setting. Like most other elephant ears consistent moisture is key to keeping the foliage healthy. Plant Mojito Elephant Ear in a container garden as a vertical accent. Mojito Elephant Ear can also be added to your garden beds and works well in areas that receive extra moisture.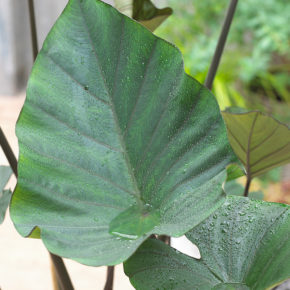 The teacup elephant ear isn't the size of the teacup – it will grow much larger than a teacup. However, the leaves on this unique elephant are shaped like a teacup. The leaves are smaller than most traditional elephant ears however they are still of good size and very showy. The leaves face upward and fold in giving a cup-like appearance, perfect for gathering rain. The stems on the Tea Cup Elephant Ear are a deep red to near black. Reaching heights of 5-6' tall in warm and humid conditions, the Tea Cup Elephant Ear adds a touch of whimsy to your garden.
Larger Than Life Tropical Garden Favorites
Elephant Ears add a tropical feel to even the coldest of climates. The bold texture of the large leaves stands out against fine-textured plants to add contrast. These garden giants will get your friends and family talking with their larger than life traits. With the new and exciting foliage and stem variations available on elephant ears, it may be difficult to choose which elephant ear to add to your garden. Elephant Ears can be planted in garden beds, water features, and patio planters and there is room to add more than one elephant ear to your garden if you can't decide. Once your elephant ears start growing in your garden they are easy to care for. All they ask for is regular water, sunshine and some warmth–isn't that what we all want 🙂