It's the most wonderful time of the year…for planting flower bulbs! Fall planting season is upon us, as the coldest areas of the United States will begin planting their tulips, daffodils, hyacinths, allium and other jewels of the spring garden.  As usual Holland Bulb Farms is offering some new and exciting bulbs and perennials for the 2016 fall planting season, from more mixed packages, to exclusive tulips, and exciting sun and shade perennials.  We are really excited to get this garden party started.
A garden party should always start with a proper introduction of some of its most revered guests; allow us to take this moment to introduce some of our favorite new bulbs and perennials for the fall planting season.
Bridget's Favorite Perennial for 2016: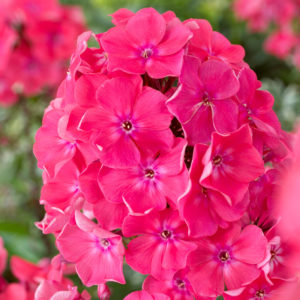 Watermelon Punch is a newer variety from Jan Verchoor in Holland and is adored for its compact growth habit of only 18" tall and 18" wide. The compact size and late blooms of this garden phlox make it a must have for any sunny perennial garden. Tall garden phlox are a summer favorite and can be planted in the spring or fall planting season; planting this bare root perennial in fall will lead to a more established plant the following spring and summer, as it will have more time through winter to establish its roots leaving more energy in spring for leaf and flower growth.
Bridget's Favorite Spring Blooming Bulb for 2016: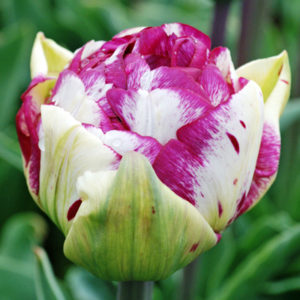 I am a true sucker when it comes to anything purple, I just can't resist, which makes the Jericho Double Tulip my new favorite for 2016 fall planting. It's going to be a long winter waiting for the 4-6" diameter fully double purple and white splattered blooms of this Jericho Double Tulips to open up and show their beautiful blooms. Holland Bulb Farms is the exclusive flower bulb retailer in the United States offering Jericho Double Tulips for 2016 planting.  If you want your Spring 2017 tulip garden to stand out amongst the rest be sure to add this fancy and frilly tulip to your fall planting plans.
Being a gardener it makes it hard to choose our favorites sometime, if it were possible we would plant all the bulbs in the world and have infinite garden parties. If you would like to read more on the newest varieties, as well as some solid planting advice for the 2016 fall planting season be sure to check out this our latest article from the Milwaukee Journal Sentinel that includes an interview with our friend  Jenny San Filippo, the horticulturalist and operations manager at Holland Bulb Farms.  Wishing you all the very best fall planting season, and for a bounty of blooms to follow after the deep sleep of winter!