Plan now for cut flowers all summer!
The impact flowers have on the world cannot be diminished. Flowers play an important role in almost all major life events; weddings, holidays, new life as well as end of life celebrations. The beauty and intricacy that flowers provide are astounding. Flowers should not be reserved only for the big moments in life, but should be a part of everyday life as well. A simple vase of flowers on the dinner table adds life to an important gathering with the people you care about the most. A hand-picked bouquet of flowers from your children or grandchildren is a well-thought way to show their love for you!
Purchasing bouquets of flowers from your local florist or grocery store can be rather expensive if you are planning to have fresh flowers on a daily or weekly basis. A more affordable and fun way to have fresh cut flowers in your vases at home is to plant a cut flower garden! In almost all 50 states it is possible to have flowers in your vases from April through September fresh cut from your garden. Continue reading to find out what bulbs and perennials to plant to have fresh cut flowers from spring through fall.
April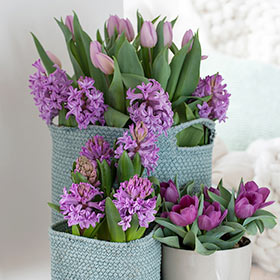 April is an exciting time for flowers many fall planted bulbs like crocus and daffodils are just starting to bloom. If you plan ahead and plant this fall you can enjoy those spring favorites next spring. Spring planted perennials that bloom in spring can be planted now and though you may not see the blooms this year, you will be able to enjoy the blooms for years! The best choices for April blooms for your vases would be to plant fall planted bulbs like daffodils, tulips, hyacinths, and muscari. Since these items are planted in fall you can preorder your fall planted bulbs in spring or summer from Holland Bulb Farms or Tulip World, and plant in September, October or November.
May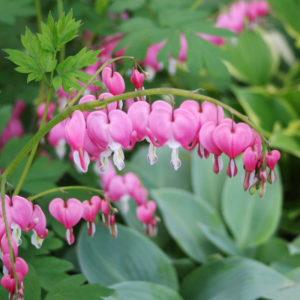 One of the prettiest months of the year in many areas of the United States is the month of May! Many fall planted bulbs like tulips, allium and bearded iris put on their best display in May. There are several spring-planted perennials that bloom in May as well. If you are planting in spring or fall you can prepare for blooms in May to bring into your vases. Peonies can be planted in fall or spring and are some of the best cut flowers for vases. Bleeding hearts start blooming in April in some locations and warmer spring seasons but are most likely to be blooming for the majority of locations in May. Bleeding Hearts are great perennials for shade, but they are also unique cut flowers for your vases. Another shade loving favorite that blooms in May and makes a delightful cut flower are Lily of the Valley. These groundcover perennials have fragrant bell-shaped blooms that look rather dainty in a simple vase with water.
June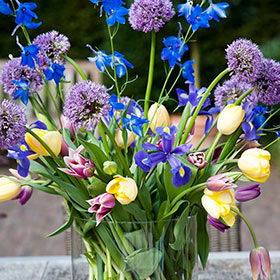 June is where it starts getting exciting! June is a prosperous time for blooms and many of the spring planted bulbs and perennials will begin blooming in June! Some favorites for cut flowers in the month of June are Siberian Iris, Veronica, and Asiatic Lilies. Veronica can be creeping or upright in form, but for the best-cut flower varieties, you will want to select an upright variety of Veronica. Very Van Gogh Veronica, Perfectly Picasso Veronica and Enchanted Indigo Veronica are bright and bold varieties of Veronica with an upright habit and spike-shaped blooms. The pink, purple or blue blooms of these varieties make them the perfect vertical accent in a fresh cut bouquet of flowers. Siberian Iris are cold hardy perennials, with unique blooms and attractive foliage. The blue, purple, pink or white blooms of Siberian Iris appear in early to mid-June and compliment other June flowering perennials like coreopsis and lilies.
July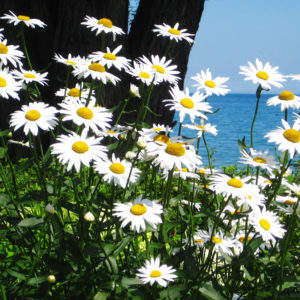 July could be considered the peak of summer for many people across the United States. Family vacations, get-togethers and relaxation time is what July is all about, especially after all the hard work that was put in spring. Rewarding yourself with a vase of fresh blooms is a great way to celebrate the fun and relaxing month of July. Bulbs and perennials that bloom in July are often listed as mid-summer blooming. Some perennials that can be planted this spring that make great cut flowers are Black Eyed Susan, Shasta Daisies and Coneflower. In July many summer blooming bulbs start to bloom in July including Oriental Lilies, Orienpet Lilies, Calla Lilies, Gladiolus, and Dahlias. July offers many options for your vases from the natural prairie combination of coneflower, shasta daisy and black-eyed Susan to the more bold choice of dahlias and lilies.
August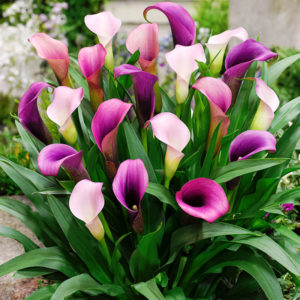 The last month of summer for most before school starts back up again. This month is often one of the hottest months of summer. Calla lilies, dahlias and gladiolus need the heat to grow and produce the best blooms. If your dahlias, gladiolus and calla lilies didn't begin to bloom in July they should be blooming at full strength by August! Popular perennials that bloom in August and make great cut flowers are Liatris and Phlox. If you planted black-eyed susan, coneflower or shasta daisy for your July cut flower blooms they most likely will still be producing through the month of August.
September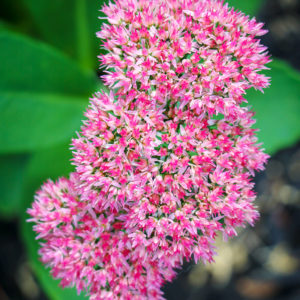 September is the last month of summer according to the meteorological calendar but it often feels like summer ends in August. Bringing fresh cut flowers into your home for your vases and bouquets is a wonderful way to extend the summer feeling! Your dahlias should still be producing blooms through September and are going to be your best bet for cut flowers. Goldquell Rudbeckia is a late-blooming variety of Rudbeckia that looks splendid in a vase! Autumn Joy Sedum and Ornamental Grasses put on their best show late in summer. The dried flowers of the Autumn Joy Sedum when combined with the plumes of ornamental grasses like Heavy Metal Switch Grass or Gracillimus Miscanthus create a rustic bouquet in September.
Plant a cutting garden
Flowers blooming in vases or given as bouquets bring life and joy to people and places. Dedicating a space at your property for a cut flower garden is one way to ensure you have flowers for your vases from April to September. If you don't have a large area to dedicate solely to cut flowers you can always plant the flowers listed here throughout your perennial and annual beds. Another thing to consider when planning your cut flower garden is to plan for the green in your vases and bouquets. Plant hosta, and ferns in the shaded parts of your garden to use as a green filler in your vases and bouquets against the colorful blooms you will add to the arrangement.  Planning for your vases can be done in spring and fall to ensure you have months worth of blooms to enjoy in your vases and bouquets!