As some of my regular readers have noticed, the Bulb Blog recently got a face-lift! My graphic designer has put in lots of long hours to give this site a new look and I am so proud of the new design. I'm hoping you'll find it pleasant to read and a little more user-friendly. (As always, if you have any comments about the design or use of the site, feel free to email me!) Not only did my blog get an updated look, but so did the Holland Bulb Farms website. In celebration of these recent changes, I decided to blog about "garden makeovers".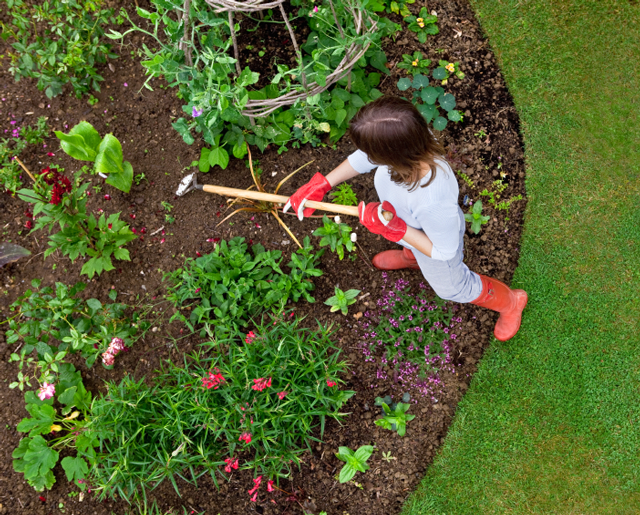 If you're anything like me, your yard is a constant work in progress. More often than not, I'll get done with tending to one area of the landscape only to turn around and see a huge thistle rearing it's ugly head in a bed I just finished weeding  the day before. Regardless of how much time I have spent in my flower beds, there always seems to be that one (or sometimes two or three 🙂 area of our yard that still isn't quite what I'd like it to be. But yet, thinking about tearing the whole thing out and starting over? That sounds way too involved. If I'm honest with myself, I have to face the facts: if it's not a project I can get done during a two-hour period while my girlies are napping, it's not going to happen.
The way I get over this hurtle is to think of my "garden makeover" in smaller terms. For instance, this spring I found myself staring at the front of our house, wishing I could remove the large, overgrown yews, add topsoil to bring the area up to grade, amend the existing soil, and plant the dream landscape design I've had in my head since the day we moved in. I found myself rather frustrated and disappointed when I realized I neither had the money nor the time for a big-scale makeover such as this. How happy I was, however, when I realized there were much smaller projects which I could afford and did have time for which made a big improvement. The following are some ideas for small ways you can make a big difference to that eye-sore area of your yard:
Weed, weed, weed. I know it sounds a little bit like a no-brainer, but sometimes I find myself just letting an area go, even to the point of not caring about the weeds that are growing, simply because I don't feel it's worth caring about. So the area may not be exactly what you want it to be, but it'll only look worse if you allow it to be overtaken by thistles, dandelions, and clover.
Mulch. It is absolutely amazing what a fresh layer of mulch can do for an area! Just the smell of freshly laid mulch is enough to put me in a good mood (ok, so I've never claimed NOT to be a nature freak…). One thing to be careful in this regard, however, is "over mulching". Too much mulch can cause problems for plants by not allowing enough air and moisture to the root systems. If adding mulch will bring the depth to more than 2″ for perennial areas and 3″ for tree and shrub areas, remove the old mulch first and toss it in your compost pile before adding more.
Prune. This kind of goes along the same lines of weeding, but is just as important. Again, just because that planting bed doesn't have the plants you desire or the shape you seek, doesn't mean you can't keep it looking somewhat cared for in the meantime. Most "leggy" shrubs will greatly benefit from a "rejuvenation pruning" by cutting it back to within
6″ of the ground once every few years.

Plant annuals. Whether your area receives sun or shade, there are plenty of options for bright splashes of color you can achieve through the use of annuals (plants that only live one season). Sure, they won't come back next year but they'll make a huge impact this growing season and if you re-do the bed next year, you'll have nothing to worry about transplanting later.

Re-edge. Sometimes all a planting bed needs to look a little better is a more defined edge. If you have some kind of plastic or metal edging in place, it could probably benefit from an adjustment. Dig it out and replace it. If you have a naturally-edged bed, take a flat shovel with a sharp edge or a sod knife and re-dig the boundary. Again, it is amazing what a difference this will make.
Add planted containers to the area. Planter boxes, pots, and just about anything else you can think of that will hold soil and plants are a fun and easy way to renovate an area. The great thing about using containers in the landscape is that they can be moved at any time (most of them) for a new look and you can change out the plants/fillers based on the season. I use the pots in the front of our house year round: redtwig dogwood branches with evergreen bows in the winter, bulbs in the spring, bright tropical annuals in the summer, and curly willow with gourds and pumpkins in the fall.
The next time you get down about that less-than-perfect spot in your landscape, take a step back and think about the little things that you can do right now to improve it. If we all waited until we had enough time and money, none of us would have anything worth looking at in our yards!
Have a comment to share with other readers? Feel free to post below. Have a question specifically for Bridget? Feel free to email her at bridget@bulbblog.com!