It is the season for family, food, friends, sharing, caring and more than likely also the season for gift giving. Thanksgiving meals with family to holiday parties with co-workers and family, there always seem to be a reason to celebrate. While gift giving is not always required on these special occasions, it is a nice gesture to show appreciation for your loved one's hard work. Chocolate, cookies, cheese, and wine can make lovely gifts but can be a bit over-gifted. If you really want to impress your gift recipients this holiday season give them the gift of blooming bulbs with a Living Garden!
Now you may be wondering what is a Living Garden?  Living Gardens are pre-planted miniature gardens growing in pots shipped to your door. Holland Bulb Farms is the exclusive provider of Living Gardens flower bulb gardens, and offer an assortment of bulb gardens for indoor blooms. These bulb gardens are ready to grow and bloom within weeks of receiving them. Little skill or effort is required to have a lovely blooming garden on your table, mantle or office.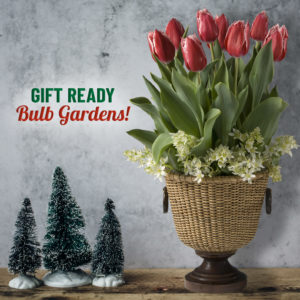 I am at the age where most people I need to buy holiday gifts for are difficult to shop for.  Grandparents, and parents as they age can be challenging to shop for, as they generally have everything they need or are even trying to downsize. As you get older, your siblings and in-laws can also fall into the "they have everything they want already" category, or the "I only see them twice a year, and don't really know what they are into" category. These categories of gift recipients can also apply to people like co-workers, your kid's teachers, the mail carrier, hair stylist or any other adult you want to get a gift for this holiday. The beauty of Living Gardens is not only the flowers they produce but the fact that they make a wonderful gift for the hard to shop for people in your life. Only you know the people in your life you need to shop for, but if you are trying to make a decision or need a little guidance, listed below are my favorite indoor Living Gardens to give as gifts this holiday season.
Holiday Gifts for Grandparents
Grandparents are some of the most special people in the world! Although they may not always be in their grandchildren's lives on a daily basis, they have a huge impact on their grandchildren's lives and views of the world. With so much to learn and so many opportunities for grandparents to spoil their grandchildren, it's no wonder they know how to bring joy to their families. The joy grandparents bring to their children can be reciprocated with my top Living Garden gift choice: Full of Joy Potted Bulb Garden.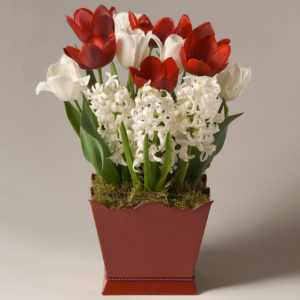 You can ship this bulb garden directly to your grandparent's home. Or if you are fortunate to see your grandparents or want to get a gift from the little ones to their grandparent's you can ship it directly to your home and wrap it up for holiday giving.  When the Full of Joy potted bulb garden arrives in its decorative red container let the joy and excitement begin. This potted bulb garden may have a few sprouts peeking through the thin layer of moss but will be growing and blooming in a couple of weeks.  When the Full of Joy bulb garden does begin to bloom, your grandparent's can expect to see blooms of fragrant white hyacinths, red tulips, and white tulips. All bulbs that are planted in the bulb garden should start to sprout, grow and bloom at approximately the same time, for a truly joyful holiday gift. If you still aren't convinced this is the best gift for grandparents I polled some of the grandmothers who work at Holland Bulb Farms on which bulb garden they would most want to receive. The Full of Joy Bulb Garden won the poll by a landslide! Even further proof that to bring even more joy into your grandparent's life, the Full of Joy Bulb Garden has the seal of approval from grandmothers!
Holiday Gifts for Parents
While I said grandparents are some of the most special people in the world, I did not mean to exclude parents from this special group of people. Young parents are learning every day how to raise their children. Older parents who may also be grandparents are wise and have learned a lot through the years. Without our parent's love, wisdom and guidance most of us wouldn't be the people we are today. What better way to celebrate the amazing things our parents have done for us than with an explosion of love and appreciation than with a Velvet Dynamite Bulb Garden!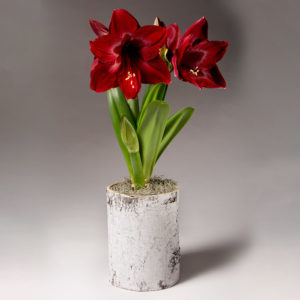 I am fortunate to have a couple of family gatherings to attend for the holidays. My parents host our family for the Thanksgiving and Christmas family celebrations at their house. Since my mom loves to bake and my dad loves to cook, and they have a newly remodeled kitchen they truly enjoy having company.  I also know they enjoy watching the amaryllis bloom that I have gifted them in the past, I will get text messages from my mom showing me pictures of the blooms. My dad will let me know that the amaryllis bloomed more than once, and how he couldn't believe how large the blooms were. Based on the feedback from my parents, I know that the Velvet Dynamite potted bulb garden will be a huge hit with your parents! Be a good son or daughter and show up this Thanksgiving with a potted Velvet Dynamite Bulb Garden. If you can't be there for Thanksgiving due to other family obligations you can always mail a Velvet Dynamite bulb garden directly to them, as a way to show your love from afar! There is a good chance that when you visit for Christmas, Hanukah, Kwanza or other holiday gatherings that the Velvet Dynamite Amaryllis will be blooming at that time!
Holiday Gifts for Teachers

Teachers are another group of special people; they often act as parents to hundreds if not thousands of children over the course of their careers.  I am fortunate to have several friends and family members who are in the teaching profession. These teachers in my life are very hard working, caring and creative people.  Teachers make the world a better, smarter and brighter place! With how much teachers light up the world, the Bright Spark Potted Bulb Garden is my top choice of gifts for teachers this year.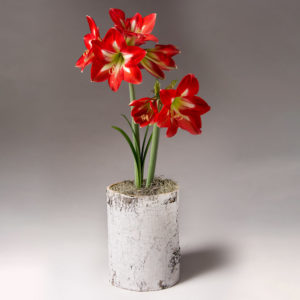 My favorite thing about the Bright Spark Potted Bulb Garden is the super cute container that the amaryllis bulb is planted in. The container looks like a paperbark birch tree, which is one of the most beautiful trees in winter! The stunning red and white Bright Spark Amaryllis really stands out in the white birch planter! Give this gift to teachers in December before winter break, and by the time they return in the New Year, they will have a new set of blooms to look forward to! To give thanks and show appreciation this holiday season be sure to let your child's teacher know how important their caring of and teaching your children is to you.
Holiday Gifts for Service Workers

In a way, we all provide some type of service to someone. However, there are some people in the world who provide a daily or weekly service that make our lives a little easier. One example of a service worker you may want to consider giving a gift to this year is your garbage man or woman.  Most people have the luxury of placing their garbage at the curb, leaving for work and coming home to find it is gone. Someone had to pick up that garbage that may be heavy, wet or smelly.  These people who manage our waste need to be appreciated, a blooming garden is one way to show your appreciation.  The mail doesn't really stop for much, maybe a few holidays here and there, but in general your mail carrier stops by your house daily. When the temps are above 90 and you are inside your air-conditioned home, or when the temps are below 10 and you are all cozied up by the fire, they are out delivering the mail. Weather doesn't stop this service, the show must go on, and for that, it is a good idea to show your appreciation.  What about your hair stylist that not only makes you look amazing and beautiful but acts as a counselor! Oh, the stories they must hear—that deserves a gift this holiday season!  The nurse that takes care of your children, your dentist that keeps your smile bright, or even the manager of your apartment. If there are special people in your life providing a service that makes your days, and weeks go easier give back with the gift of a potted bulb garden.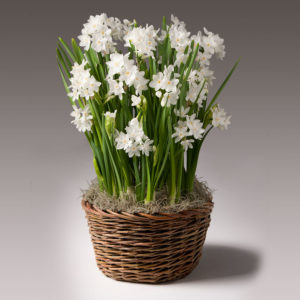 Paperwhites are a classic favorite with their beautiful white blooms and fragrance.  The Paperwhites Potted Bulb Garden is my pick for the perfect gift to give the service workers in your life. This pre-planted bulb garden arrives in a wicker container with 10 Ziva Paperwhites planted and ready to grow. Paperwhites are easy to grow, which is an added bonus to this potted bulb garden. You may not know the gardening ability of these service workers in your life, so giving an easy to grow bulb garden full of paperwhites is a good decision.
Holiday Gifts for Gardeners

Your gardening friends and family can also be any of the people mentioned above. Perhaps your grandma spends her spare time in the garden. Maybe your dad looks forward to the end of winter to get back into the garden.  Your teacher friends may find relief from the stresses of teaching by spending time digging in the dirt. Maybe your service worker friend is your landscaper or gardener.  Maybe you are the gardener and the gift is for your favorite gardening buddy or a treat for yourself! Either way if you have a person who is passionate about gardening the Ultimate Potted Bulb Garden is something they can really dig, without doing any digging;)
If your friend or family member who gardens lives in a cold climate, they will appreciate the plethora of blooms this Ultimate Potted Bulb Garden provides! For the lucky folks who live in warm climates, they may have flowers blooming outside but you can amaze them with a huge wicker basket of blooms in their home, blooms from flowers that don't grow in their climate!  With the largest variety of any of the Living Gardens potted bulb gardens, this gift does not disappoint! Early blooming tulips and daffodils like Early Glory Tulips and Topolino Daffodils are the first to appear in the potted bulb garden. The blooms don't stop there, Pink Diamond Tulips, Marathon Champion Tulips, Bridal Crown Daffodils, and Blue Star Hyacinth finish the show bursting forth with blooms for weeks in your friends home. Accenting all the spring blooming bulb favorites are White Scilla with their dainty blooms. This explosion of blooms in the Ultimate Potted Bulb Garden is really the best way to the wow, impress and amaze the gardening friends in your life.
With all this knowledge of what to get the people who have everything they need in their life, your holiday shopping just got easier. You can be comfy in your pajamas shopping online with Holland Bulb Farms getting everyone the gift of Blooming Bulbs this season! These easy to grow gifts are really a caring way to show your appreciation for your loved ones, friends and people who make your days, years and weeks special!
P.S. Because you are special to me my gift to you is free shipping for any order of $30 or more on Holland Bulb Farms use code: BBLG30