Fall is a Time for Activity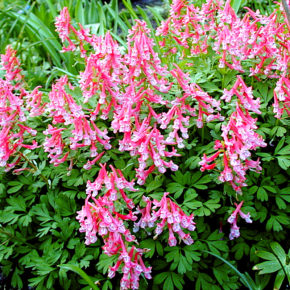 Fall is a special and magical time of the year for outdoor activities. Casual outdoor activities with your family like a visit to the pumpkin patch, apple orchard or, a crisp fall hike are a great way to enjoy the season. One of my favorite outdoor activities is planting flower bulbs, trees, shrubs, and bare root perennials. Perhaps the cooler temperatures make outdoor activities such as planting bare root perennials appealing. The appeal could be in the scent of leaves and morning dew on the grass permeating the atmosphere. The work you put in this fall can reap big rewards for the next year if you plan your plantings correctly.
Poppies, Peonies, Daylilies and Tall Phlox planted in fall
Planting your fall-planted bulbs at the same time as bare root perennials can help ease the work for planting the following spring. Peonies, Poppies, Daylilies and Tall Garden Phlox are 4 easy to grow bare root perennials to plant in fall. They will grow and bloom the following spring and summer season.
Nostalgic Peonies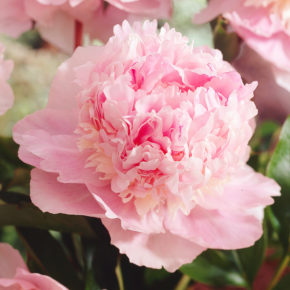 I have known peonies for as long as I have known what flowers were. The home I grew up in always had pink peonies in spring that grew under my bedroom window. Peonies fill in garden spaces and sometimes act a bit shrub-like even though their foliage does die back in winter like most herbaceous perennials. They are long-lived perennials that can thrive in the same location for 75+ years. Peony flowers bloom in shades of pink, white, red, peach, and yellow. Their highly scented flowers make for great cut flowers to bring into your vases and bouquets.
To plant peonies this fall dig a hole that is 2-3 times wider than that of the root you are planting. Peonies are sensitive to their planting depth and if planted too deep they will rot. The proper planting depth for bare root peonies is 1-2″ deep.  If you are applying fresh mulch to the planting area you will want to plant the peony no more than 1″ deep. After the initial planting, water the soil around the planting area to help the soil settle. Additional water in fall is more than likely unnecessary as rain typically provides enough moisture in fall for the roots over winter.
Bright & Bold Oriental Poppies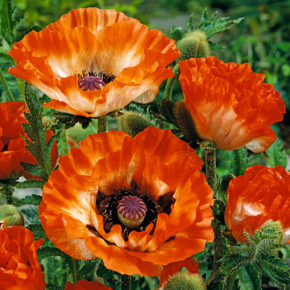 Oriental Poppies are true garden gems with their large, showy, vibrant, and papery blooms. Poppies bloom in mid to late spring at the same time as allium, and late blooming tulips. Similar to your fall-planted bulbs, poppies will go dormant a few weeks after blooming once summer temperatures arrive. Oriental poppies are perennial and will re-appear the following spring.
To ensure success with your oriental poppy roots dig the planting hole about 1-2" deep.  Spread the roots out under the ground, and cover the root portion with soil. The crown of the plant and any sprouts should be at or above ground level. Poppies require good drainage, especially over the winter months. It is important that you amend your soil to ensure good drainage. Provide a layer of natural mulch to protect the roots from fluctuating temperatures and moisture. Fluctuating temperatures and moisture can be detrimental to the survival of the poppy roots upon establishment.
Easy to Grow Daylilies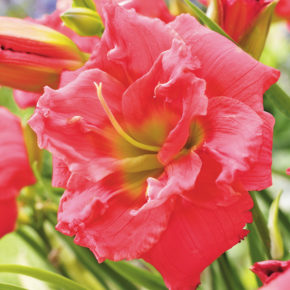 Bare root daylilies are a great perennial to start with if you are new to gardening with bare roots; they are very forgiving and easy to grow. Daylily roots can be planted in the fall or spring months and will perform well planted during either planting season. By planting in the fall months the daylilies will be a bit more established in spring when they are prepared to grow. Fall planting will yield a happier and more floriferous plant for their first growing season.
Daylilies should be planted with their roots 1-2" below the soil surface. Spread the roots out upon planting to encourage a strong and healthy root system. Healthy roots are the foundation of any healthy plant. The crown and any sprouts should be just above the soil surface. Plant daylilies in a full sun area and prepare for a bounty of mid-summer blooms the following season.
Tall Phlox for Late Season Blooms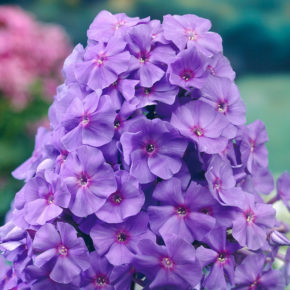 Late summer can be a slower time for blooms in the garden. Many perennials put on a show mid-summer and are now preparing to rest. Tall garden phlox is a wonderful full sun perennial that can help extend the bloom season a bit past mid-summer. Tall garden phlox feature clusters of bright and showy flowers, often in pink, purple, and shades of white. Growing 36" or more in height, tall garden phlox are great for planting in the back of the border. For the biggest impact plant tall phlox in groups of 3-5 plants.
Plant your tall garden phlox 1-2" below the soil surface. Spread the roots out, with the crown of the plant at or slightly above ground level. Backfill the hole with soil. Add a light layer of mulch to protect the newly planted roots for winter.
Prepare, Plan and Plant Bare Root Perennials this Fall
Having a plan goes a long way not only in life but in the garden. By planning and preparing your spring and summer gardens of bulbs and perennials this fall, you can save a lot of work the following year. In addition to saving yourself some work, you will be able to enjoy a bounty of blooms for a much longer time.
As with all fall plantings, water only after the initial planting, prepare your soil to make sure you have adequate drainage. Natural mulch makes a big impact on the health and happiness of your fall-planted bulbs and perennials. Now, get out there and enjoy the crisp autumn air at the pumpkin patch, apple orchard, or in your own private at-home garden oasis.