January is one of the last months I think of as a time to be in the garden. Perhaps it's the cold and bare landscape of the state of Wisconsin that I live in that prevents me from gardening. However, not all people are located in a frozen tundra. Yet, for many gardeners in the United States, the winter months often have little to no garden-related activities going on. It does not need to be this way! Winter garden ideas and plans can take place year-round.
Garden related activities are stress-relieving and mood-boosting–two things we need to make it through the cold winter months. If you find yourself missing your garden here are some ways for you to continue gardening in January.
Winter Garden Ideas and Plans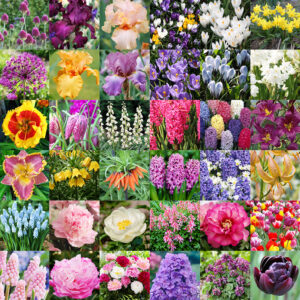 Plant Spring Blooming Bulbs
Bulbs such as tulips and daffodils that bloom in spring should be planted in fall, so this suggestion may have you scratching your head. However, successfully planting bulbs that bloom in spring during the month of January is still possible.
Gardeners in warm hardiness zones like zones 7, 8, 9, and 10 can still squeeze in a few fall-plantings even in January. Spring-blooming bulbs that grow well in warm climates can be planted in January and will grow this spring. Daffodils, allium, and crocus are all spring bulbs that grow well in warm climates. Planting late in January does pose some concerns like will they bloom this spring? That will all depend on local temperatures, however, many spring-blooming bulbs are perennials. Even if they don't bloom this spring they will return for years and bloom the following spring.
Gardeners in cold locations where planting outdoors in January isn't possible can still try to force spring-blooming bulbs. Forcing bulbs does require at least 12 weeks of cold temperatures to see blooms, however, that means they will get blooms later in spring. While they won't be enjoying blooms right away forcing bulbs for indoor blooms is an excellent way to beat the winter blues.
Grow an Herb Garden
Herb kits that come with seeds soil and a container can be grown year-round, including in the winter months. Gardeners who enjoy cooking will find fresh herbs grown from their herb gardens to be a refreshing delight to their home-cooked meals. For those that enjoy a warm cup of tea herbs for tea can be grown inside your home this winter. For instructions on how to grow herbs in your home this January check out this instructional video.
Plan Your Spring Garden
A coping mechanism that has been used for years by gardeners in cold climates is planning for spring. Whether it is thumbing through garden catalogs or drawing a plan on paper–dreaming and planning for spring in winter months helps make the winter months go by faster.
Garden seeds begin shipping in early February and can be planted indoors shortly after they arrive. Purchasing your seeds knowing they will arrive soon brings excitement and anticipation in early winter months like January and February.
Planning what you are going to plant this spring early not only helps beat the winter blues but gives you an advantage in your garden. The earlier you plan your spring garden items and the earlier you will be able to plant. Reserving your spring-planted bulbs and perennials early in the season ensures you will get your order in time for planting. Ordering early also helps to ensure the varieties you like most are still available and not sold out by the time peak season for planting occurs in spring. Cheer yourself up this winter with the best garden-related activity: shopping for flower bulbs! 
Garden Even in the Cold of Winter
Gardening is healthy and therapeutic, therefore, it should be practiced as often as possible. Don't let the cold and dark months of winter get you down! Plan, plant and prepare for the coming spring. If planning and planting won't work, you can always order an indoor bulb garden to help add spring cheer to your home!