2019 Pantone Color of the Year: Living Coral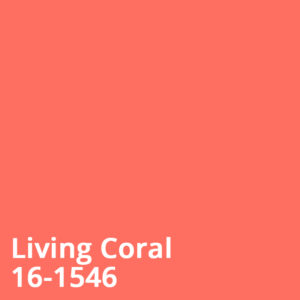 We are already a little over a month into 2019 and like all new years, the newness of the year tends to fade pretty quickly. Often resolutions are abandoned by this time of the year. It is easy for that "New Year, New Me" feeling to fade away as the days and weeks go by. However, we should not give up on celebrating the New Year so quickly, February is still very much part of the newest part of the year. Until we are 50% through the calendar year, one could say that the new year should still be celebrated. As we get further into 2019 I would like to take a moment to recognize and celebrate the 2019 Pantone Color of the Year: Living Coral!
You may ask what is the Pantone color of the year?  The Pantone color system helps industries such as printing, design, paint, and plastics have a uniform system of matching colors used in design and products.  According to the Pantone website for the past 20 years, their color of the year has influenced fashion, home, and industrial design, packaging and marketing. Therefore, the color of the year can be used as an influence in garden design, including incorporating it into your home garden beds, containers, and baskets!
Living Coral has been named the 2019 Pantone Color of the year; it is described by Pantone as "An animating and life-affirming coral hue with a golden undertone that energizes and enlivens with a softer edge."  Living Coral was selected based on our ever-changing social climate "In reaction to the onslaught of digital technology and social media increasingly embedding into daily life, we are seeking authentic and immersive experiences that enable connection and intimacy."
I can't think of a more authentic and immersive experience than digging into the soil, planting bulbs and roots! Waiting for the bulbs and roots to sprout, and then waiting for blooms to appear—if that isn't living I don't know what is!
If you want to enjoy life a little more, get back to nature and add some energy to your garden try planting any of these 15 Coral Flowers to represent Living Coral the 2019 Pantone Color of the Year. Please note some of these flowers aren't a 100% match with Living Coral, mainly because nature produced them so they aren't going to match perfectly.  However, they capture the overall essence and feel of Living Coral.
Top 15 Living Coral Flowers