Moms, grandmas, and great grandmas are superheroes to the world! They bring us into the world, feed us, dress us, care for us and often put our lives before theirs. Mother figures deserve to be celebrated every day. But, there is one special day of the year that we celebrate all the motherly figures that are important in our lives, and that day is Mother's Day!
From the years I spent working at garden centers I can recall many a Mother's Day weekend being some of the busiest weekends of the year. Yes, we would certainly sell trees and shrubs as mother's day gift items. However, the most popular Mother's Day Gift item in the garden center is the lush, and beautiful hanging baskets. This route of gifting hanging baskets for your mother's day gift giving generally always produces a smile from mom or grandma. But, if you want to switch up the gift giving for Mother's day this year I have a few suggestions of gifts that the gardening mom will love that aren't hanging baskets.
Mother's Day Gardening Gift Ideas

A potted bulb garden gift from Holland Bulb Farms is my top choice for a unique Mother's Day gift. I like the idea of giving a potted bulb garden to mom or grandma because they are easy to grow and no gardening experience is necessary. These potted bulb gardens are shipped directly to your mom's house so if you live far away, you can still give her the gift of flowers delivered to her doorstep. The Living Gardens potted bulb gardens are ready to grow, and also easy to grow. The potted bulb gardens are shipped in a dormant state with popular spring-blooming bulbs ready to start growing once she adds water & sun to the garden! Perfect for moms and grandmas of all gardening levels and interests!

Does your mom love to cook? Or perhaps she starts her day off with an energizing cup of tea, and ends it with a relaxing cup of tea? These ready to grow herb kits make a perfect gift for the mom who likes to cook and grow her own herbs. They are complete with everything needed to start growing herbs for cooking or tea in your home. They come complete with seeds and soil, and the box they come in can be used as a planter. She can start her herb garden on Mother's day and within weeks have fresh herbs to add to salads, sauces or other savory dishes. If mom enjoys herbal teas the Homemade Herb Kits are available as a set, and she can have Energizing Tea Herbs or Relaxing Tea Herbs, or maybe one of each! Busy moms will love this Homemade Herb kit as a gift as they are easy to get growing and require little work once the seeds sprout.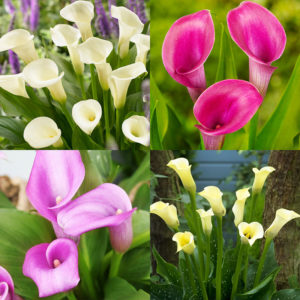 The "Lady's Favorite Calla Collection" features an assortment of calla lily bulbs that will bloom as beautiful calla flowers! Calla lilies make for some of the BEST cut flowers, which means mom can bring these beauties into the home mid-summer when they start to bloom. Calla lilies grow well in full sun to part shade. They can be grown in pots, so if mom or grandma doesn't have a place to plant them in the ground, no worries! She can fill a couple of planters with the bulbs for mid-summer blooms!

If your mom likes nature and the environment she will love the idea of attracting hummingbirds around her home. Another easy to grow item that is suited to spaces of all sizes is the Hummingbird Vertical Garden. Sold and shipped as a kit, this garden comes with seeds and the hanging growing bag needed to start attracting hummingbirds to your yard. Fill the bag with soil and water and hang from your railing, wall or any other upright place in the garden. Within weeks your mom will enjoy flowers in an assortment of colors that are sure to attract beautiful hummingbirds to your home! This mother's day gift is also nice because it makes a good project for mom and kids to work on and grow together!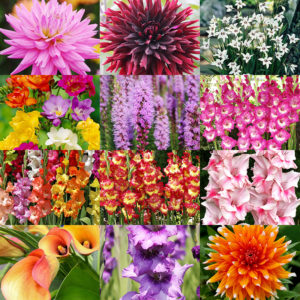 For the mom that LOVES to spend her time digging in the dirt, this summer cut flower garden is the ticket! With over 193 bulbs to enjoy in this complete collection, that means she will enjoy at least 193 flowers this summer when the bulbs and perennials start blooming! Make this gift a family affair, and get the whole family to help plant and take care of the garden.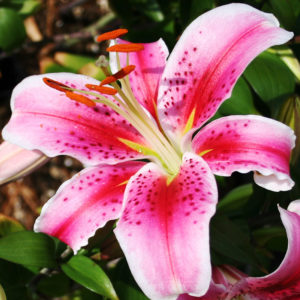 Does your mom enjoy sweet fragrances from candles and perfumes? If you are nodding your head yes, she will certainly enjoy the sweet fragrance that the popular Stargazer Lilies emit mid-summer. These easy to grow bulbs are a nice gift for the mom who is new to gardening but loves the beauty of flowers. Growing best in full sun to partial shade, Stargazer Lilies have a place in almost any mom's garden!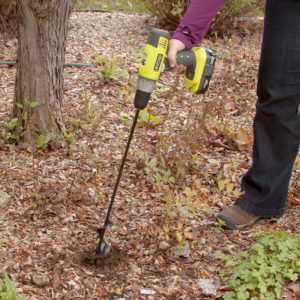 This gift may not be suited for all mom's but can be a really nice way to help your mom's work in the garden easier! This auger for planting bulbs attaches to any electric or cordless drill for easy planting. It can also be used to pull difficult weeds in the garden. If your mom is resourceful and enjoys planting and tidying up her yard, this bulb auger will help make her yard work that much easier!
No matter how much time your mom spends in the garden a flower related gift will show you how much your love grows every day for mom or grandma! If you aren't sure if any of the suggestions above will work for your mom you can always go with a
garden gift card
. However, if you go the route of a
garden gift card
I highly suggest gifting it in a handmade card–believe me the extra effort will go a long way!