Oh my, Mount Hood, what a sight to see!  I was fortunate enough to utter these words twice this past year. The first time was when I was visiting family in Oregon; we got an overhead view of Mount Hood from the plane as we entered the Portland Airport and then an up close view as we drove down Hwy 26 from Portland, OR to Bend, OR. If you are fortunate enough to live within view of this natural beauty be sure to enjoy and appreciate it! If you are like me and don't get to see mountains often, be sure to add a trip to Oregon to your bucket list so that you may experience the beauty of Mount Hood up close and personal!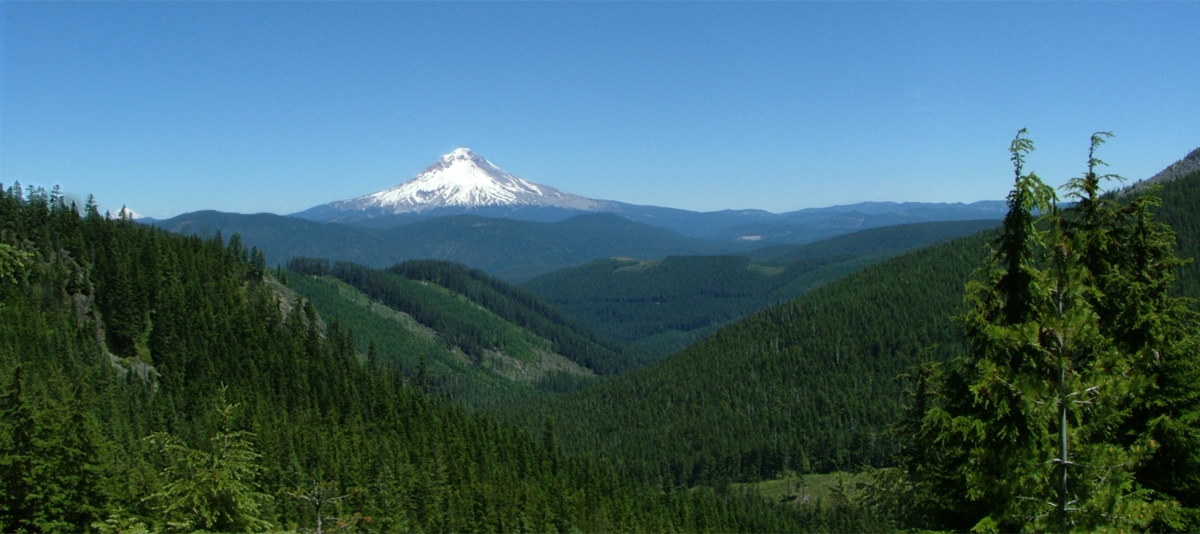 The second time I said "Oh my, Mount Hood, what a sight to see!" was in my front yard here in Milwaukee, WI. This time I was not referring to the natural wonder of Mount Hood in Oregon (I don't have THAT good of vision) I was looking at the beaming beauties known as Mount Hood Daffodils. In fall of 2015 I planted several "bouquets" of Mount Hood Daffodils in a front planting area that is currently only occupied by various hosta in the Spring and Summer months. When the Mount Hood Daffodils first appeared on April 18th, I thought maybe there was a mix up with the package because they didn't emerge pure white like the snow atop of the famous Mount Hood; they had a yellow trumpet surrounded by white petals. Since I know that flowers sometimes don't play by rules and can either change color or differ from what they should look like, I didn't panic—heck they were beautiful. What is there to panic about? Beautiful flowers in my garden are always ok with me!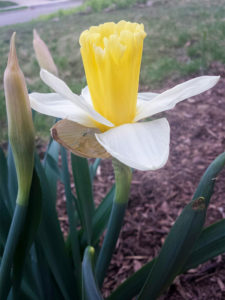 I continued to enjoy the Mount Hood daffodils in my front yard for several weeks, and after the first initial 3 or 4 days of the blooms opening the flowers started changing. What emerged like a fried egg, (a bloom with a yellow center surrounded by white) had transformed into a beautiful pristine white daffodil as pure as the snow I had seen on Mount Hood on my travels to Oregon in February.  The tall 18" trumpets of white graced our front planting area with blooms for 4 weeks solid, lasting all the way into mid-May. While we had a pleasant spring with fairly moderate temperatures, I believe the Mount Hood Daffodils lasted as long as they did due to the healthy and robust bulbs they came from.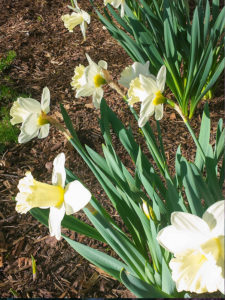 My plan for planting this fall is to add some companion bulbs in the planting area where the Mount Hood Daffodils are located. While there is plenty of time and I am a procrastinator, I don't have my plans for what to plant in this area set yet, I do think that a backdrop of Bleeding Hearts behind the Mount Hood Daffodils and a border of Grape Hyacinths in front of the daffodils would be a lovely and traditional spring garden scene.  When I make my final decision you will see what I have come up with when they start blooming in April or May of 2017! Until then my garden plan will be a cliff hanger!
Want to see how you can plant these flowers? Check out our video below