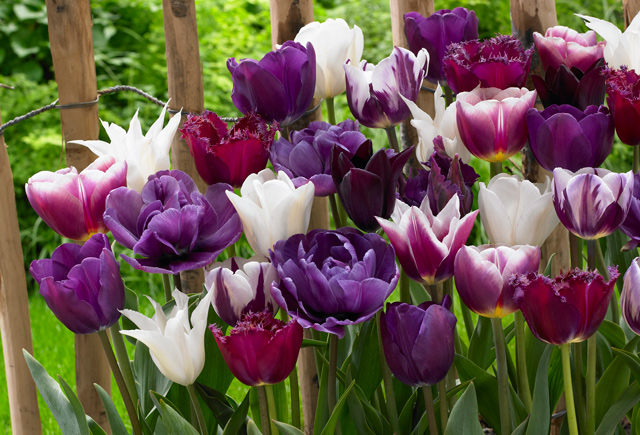 As hard as it is to believe, the fall season is just around the corner. Personally, I have to admit that I'm ready for it. This summer has been one hot spell after another and I'm getting a bit tired of living in a somewhat stale atmosphere due to the constant air conditioning (not to mention the constant whirr of the window units we're forced to rely upon in our 1920's colonial).
To be honest, autumn is by far my most favorite season. My only complaint about this season is that it is much too short. There are so many characteristics about this time of year that I anticipate as summer draws to a close: cooler nights (perfect "sleeping weather", as my father always says), lots of sunny days, gorgeous color on the trees, pleasantly-scented candles, fires in the fireplace, pumpkin spice lattes…the list could go on. One of my favorite things about anticipating the months of September, October, and November, however, is the thrill of adding fall-planted bulbs and root starts to my gardens. There's nothing like a clear, crisp autumn day spent digging in the dirt before the snow flies. And the best part: I then get to reap the benefits of my labor in the spring with little to no energy expended on my part! I wanted to share with you a few of the relatively new items I'm looking forward to planting during this most glorious time of the year:
Louisiana Dutch Iris
blooms in early summer, grows 18-24″ tall in full to part sun
Never before has there been an iris so tried and true to handle
wet soils!
These Louisiana Iris can practically grow in shallow standing water and make excellent selections for water garden areas along ponds and streams. The vibrant colors make sure they'll be noticed.
Now can you see why I'm excited? So many wonderful things about fall…and so many amazing options to plant! What are you looking forward to planting this fall most?