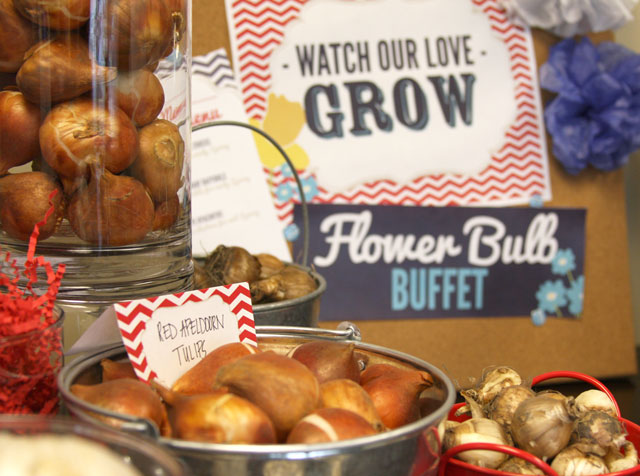 We've all been there at the weddings, the showers, the corporate events and seminars. And the "thank you for coming" gifts or favors always seem to run in the same vein: a cheaply made bag with a company logo, a useless decoration inscribed with the bride and groom's names, a small bottle of lotion emanating a scent you can barely stomach. While all of these gifts are nice gestures and no-doubt caused an extra dose of effort by the organizer of the event, they are all, in my opinion, somewhat a waste of time and effort.
A recent new trend in "event planning" is the distribution of flower bulbs as the favor of "thank you for coming" gift!  Now THAT'S something we can all use! This works especially well for events occuring during the fall months as the fall-planted bulbs are the easiest to grow in most areas and look the "prettiest" in bulb form :). Here a few ideas on how you can incorporate the idea of "bulb giving" in your next event:
Package a single large or several smaller bulbs in a gift bag for favors at your wedding, bridal or baby shower! Bulbs make excellent little gifts when packaged into small gossamer bags of a color matching the wedding or shower theme. Or, purchase small boxes similar to Chinese takeout containers and fill them with tissue paper prior to placing the bulbs inside. You can even use bulbs which will produce a bloom similar to the event color, such as red for the true love at a wedding or light pink or blue for the gender of the soon-to-arrive little one. What could be nicer than reminding your guests about your wedding or baby next spring when their bulbs burst forth in bloom?! The flower bulbs that work the best for these applications are larger bulbs such as tulips and daffodils or smaller bulbs such as crocus or dutch iris. Stay away from hyacinth as these bulbs produce a dust that causes many people's skin to itch. For the lowest price per bulbs, look for those sold in bulk or value packages.
Give bulbs to each attendant of your next corporate event, seminar, or presentation! Again, a similar concept as the wedding or shower, but a nice sentiment to offer your attendees. This can be combined with a catchy phrase such as "Thanks for helping us grow!" or "Because of you, we are experiencing blooming success!". May sound a little cheesy, but trust me: the recipients will love you for it!
Go all out and provide your wedding or shower guests with an entire "bulb buffet" to indulge in! Now a bulb buffet…many of you may be wondering what the heck is that??? One of the latest trends at weddings is having some sort of "cupcake" or "candy buffet" in which the couple's guests can pick and choose what they would like from a buffet of sorts. This not only eliminates the need to individually prepare favors for each and every guest, but it also insures that only the guests which want to partake in the favor do. A "bulb buffet" is no different! Instead of giving a bulb to every man, woman, and child who attends (which can get quite costly and labor intensive), set up a table of different varieties of bulbs! Provide a "menu" at the end of the table, listing all of the choices given. Next to each type of bulb, create a tag of some sort identifying that particular bulb and possibly giving some quick information about it. Then provide your guests with attractive bags or pails or boxes of some sort to take their selections home with them! It's up to you what you would like to offer to your guests: it could be bulbs all of the same color to go along with them of your event and maybe it's all tulips because that's the bride or mother's favorite color. The possibilities are ENDLESS! To make the planning of your first bulb buffet as simply as possible, the folks at Holland Bulb Farms have put together a "pre-made buffet" which can easily be ordered all at once and then set up however you'd like! This particular assortment is perfect for an event with 50-75 guests. Check out this fun, new item here.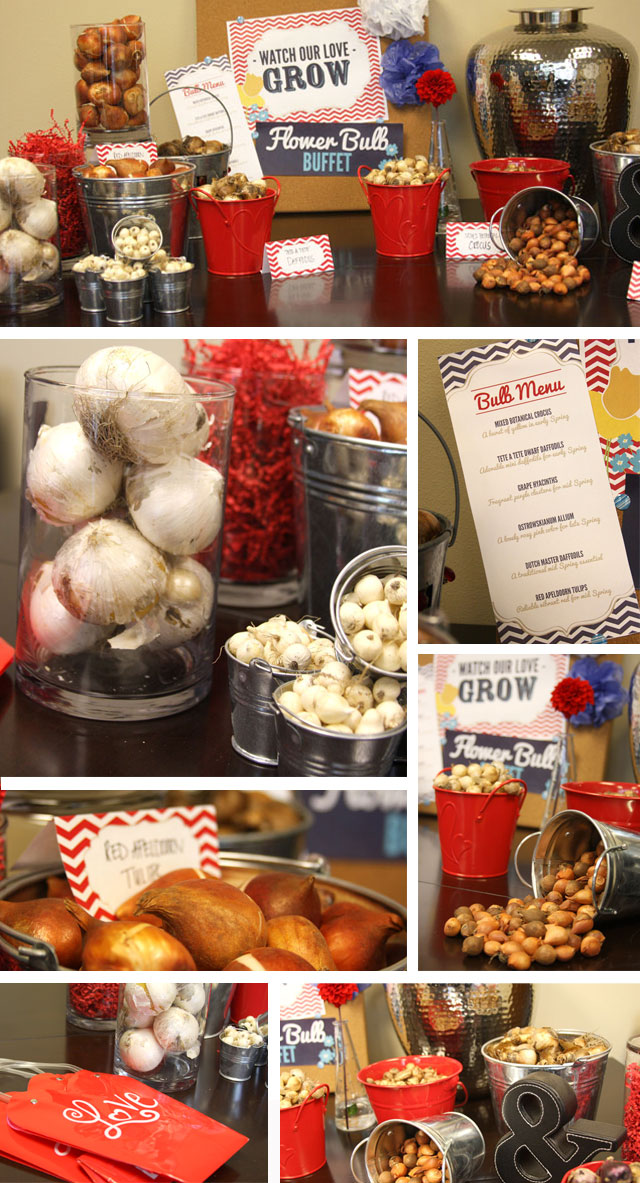 Regardless of which option you try, remember to educate your guests on what to do with the bulbs once they have them home. Provide brief instructions on a attractively designed tag or small card attached to the packaging. I guarantee you, your guests will NOT be disappointed!