When you go out walking after midnight in the moonlight you hope to see the flowers in your garden. Seeing flowers at night under the moonlight isn't always possible if the blooms aren't bright enough. Enjoy your garden from sunup to sundown and plant a moonlight garden of spring-blooming flowers this fall. Gardens provide relaxation and healing. To get the greatest benefit from your garden spaces plant flowers that amplify the relaxing effects of your garden day and night. Plant flower bulbs this fall that will create an enchanting moon garden in spring.
Create a Moon Garden with Flower Bulbs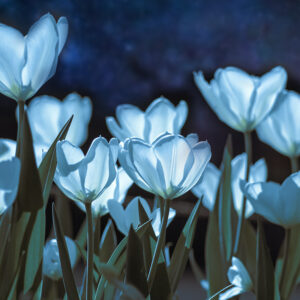 What is a moon garden? It is a garden space that incorporates flowers that can be seen at night. Most of the flowers in a moon garden are white, yellow, or bright enough in color that they appear to glow in the dark.  However, creating this look is not only about visible blooms. Fragrant flowers are an important part of the ambiance of a moonlight garden. Plants with interesting texture play a part in creating a wonderful night time outdoor space. Foliage that stands out with light and bright colors plays a role in creating an enchanting evening garden.
Creating a garden of fragrant and illuminated blooms in spring is a great way to enjoy the freshness spring offers. Ideally, your moonlight garden will glow from spring through fall. Completing a garden space takes time. Starting small by planning for one season is the first step into creating the space you want. Let's plan for a moonlight garden of spring blooms.
12 Spring Flowers for Moon Gardens
Exotic Emperor Tulips
Early blooming tulips with double white blooms illuminate at night. Exotic Emperor Tulips are among the earliest tulips to bloom in spring. Adding a group of 10-30 of these white tulips will ensure illuminated blooms early in the season. Exotic Emperor Tulips are classified as Fosteriana Tulips which are known to be reliable perennials.
White Prince Single Early Tulips
Regal and tidy is the look of White Prince Single Early Tulips. The medium stature of these tulips is appealing. They mature at 12-15″ which makes White Prince Tulips excellent for the front of your moon garden.
Mount Hood Daffodil
Starting out white with yellow centers as the blooms of the Mt Hood Daffodil age they develop into pure white flowers. Blooming mid-spring with trumpet-shaped blooms adding Mount Hood Daffodils to your moon garden is an excellent choice
Thalia Daffodil
Pure white with fragrant flowers is the hallmark of the Thalia Daffodil. The combination of light flowers that are visible at night with fragrant blooms is a delight when on an evening stroll.
White Diamonds Daffodil Mix
If you want white blooms for weeks in your nighttime garden setting plant this mix of daffodils. White Diamonds Daffodil Mix will glow in the night with a combination of early, mid, and late blooming white daffodils.
Ivory Bells Fritillaria
This tall blooming fritillaria blooms with white bell-shaped blooms along the stem. Ivory Bells Fritillaria grows 30-36″ and should be planted in the middle to back of your moonlight garden. Fritillaria are sensitive to poorly drained soils. It is imperative that the soil they are planted in does not hold water.
Aiolos Hyacinths
Hyacinths are planted for their highly fragrant blooms. Aiolos Hyacinth produces white flowers that are visible in low light settings. Fragrance at night with clusters of white flowers are perfect for an evening stroll in your garden.
Ivory Floradale Darwin Hybrid Tulip
Large and opulent blooms are seen on the Ivory Floradale Darwin Hybrid Tulip. Like other darwin hybrid tulips, Ivory Floradale blooms with some of the showiest tulip flowers in spring. Known for being perennial the creamy ivory blooms will return to your garden for several seasons.
Sapporo Lily Flowering Tulip
Tulips from the lily flowering tulip selection have tall stems with elegant blooms. Sapporo Lily Flowering Tulip has stately pure white blooms with pointed petals that curve slightly. Enjoy the gleaming white blooms at night from these elegant beauties.
Perry's White Oriental Poppy
Blooming in late spring with showy white flowers Perry's White Oriental Poppy will light up your garden at night. Enjoy the sensational blooms this cold-hardy perennial displays late in spring while enjoying an evening on your patio. Oriental Poppies require soil that drains well; be sure to check how well your soil drains prior to planting.
Goldkist Bearded Iris
White blooms with yellow accents appear late spring to early summer on the Goldkist Bearded Iris. Thriving in sun during the day, this tall bearded iris will illuminate your moon garden at night with their unique blooms.
Mount Everest Allium
Globe shaped white blooms have texture and are visible in low light. Mount Everest Allium blooms at the end of spring with showy white flowers.
Enjoy Your Garden Day and Night
The white flowers in your moon garden will stand out during the day among colorful flowers and foliage. At night they will continue to put on a show. Whether you are enjoying an evening with family on the patio or taking a midnight stroll in the garden this moon garden will create a sense of calm and relaxation you can enjoy all spring. For a complete collection of moon garden flowers check out the Moonlight All White Garden Collection from Holland Bulb Farms
Bonus Design Tip:
To really make the white blooms glow and stand out at night accentuate the flowers with landscape lighting. Using solar landscape lighting is low cost and requires no special skills. However, on days without sun or in areas of low light solar lights may not work.
Consider having a landscape professional install landscape lights that are hardwired and run on electricity. Strategically placed path lights and up lights in the moonlight garden will help the white blooms stand out even more.