Do you have a hot spot in your garden? Or perhaps it's not a spot, but rather the whole garden is in a hot spot! If sun, heat, and dryness are factors in your yard you may find yourself standing in your yard with a hose for 8 hours. Once you have realized that this is no way to spend your time you may even resort to planting fake silk flowers. I don't want to see either of those situations occur as real flowers are far superior to fake flowers and spending 8 hours watering plants is no way to spend a day. If you need plants that like it hot, I am here to help with some heat and sun-loving suggestions!
In the United States, extreme heat can be experienced in tropical-like climates of southern states like Florida, Alabama, Louisiana, Georgia, and Southern Texas. Extreme heat can also be a factor in the desert climates of Arizona, Southern California, New Mexico, Nevada, and Utah. Another type of heat that is often experienced in the summer months is prairie heat, which is very common in much of the midwest. If you are located in Texas, you may experience prairie, desert or tropical heat, and so this list of heat tolerant plants will be especially helpful for gardeners in those regions. Whether you have tropical heat, desert heat or prairie heat follow along with suggestions for plants that will grow well for your type of heat!
5 Perennials that Thrive in Hot Conditions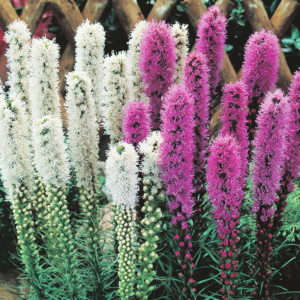 Liatris
is also known as Prairie Blazing Star or Gayfeather is native to states as far west and north as Minnesota to as far south and east as Georgia. Liatris tolerate heat, drought and poor soil; it has a low susceptibility to pest threats and it generally carefree. The vertical appearance and height of liatris can make it a great choice for the back of a perennial border where extra height is needed. The tall spikes of purple or white blooms attract butterflies and look nice as cut flowers in a vase as well.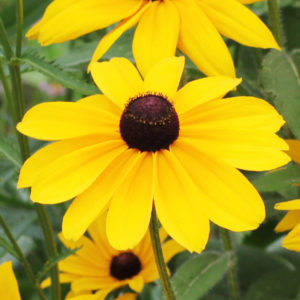 Rudbeckia
species and cultivars, often known by their common name as Black Eyed Susan are another heat-loving perennial native to prairie areas. These long-blooming perennials can be native to nearly the entire United States, depending on the species of Rudbeckia. Rudbeckia varieties such as Goldsturm and Little Star will shine brightly in your hot and sunny perennial garden. Black Eyed Susan bloom for a long time and, once established, tend to be drought tolerant.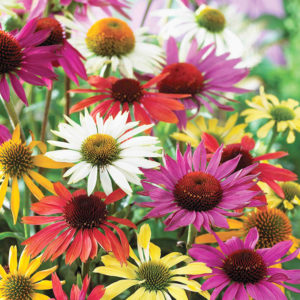 Coneflowers
are similar to Rudbeckia in that are native to the United States and have daisy-shaped blooms. These long-blooming perennials tolerate heat well, and, once established, are drought tolerant. Coneflowers are available in a variety of colors, most commonly purple but can be seen in yellow, orange, white and even green!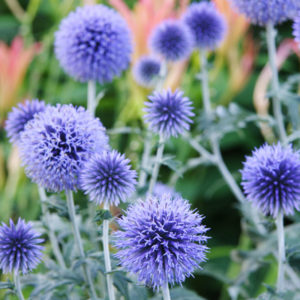 Globe Thistle
is another perennial which thrives in prairie settings. The unique globe shaped flowers form in late summer and really stand out in the garden. Globe Thistle tolerate dry conditions and put on a great show in the later months of summer when things really start heating up!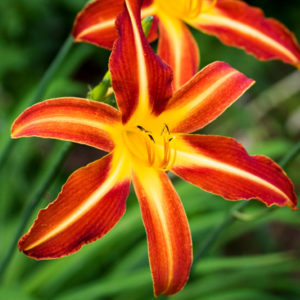 Daylilies
are easy to grow perennials that tolerate a wide range of conditions. If your location is hot, sunny daylilies will thrive there.  The color spectrum in daylily blooms is expansive; therefore finding a daylily that will work in your color scheme should be an easy task.  Daylilies bloom in mid-summer for several weeks. Some varieties of daylilies re-bloom which means once they start blooming in mid-summer they will continue blooming until late summer.
5 Summer Flowering Bulbs that Thrive in Hot Conditions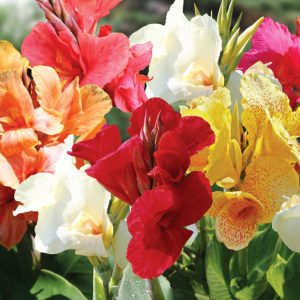 Canna Lilies
are built for the heat and provide a feel of the tropics!  Canna lilies thrive in hot climates that have a lot of moisture. They can be grown in most climates as an annual, however, gardeners in warm climates will be able to enjoy these bulbs as a perennial. When the cannas are first getting started for the season they require the soil and air temperatures to be rather warm. If the soil or air is too cold they will fail to sprout and often will rot in the soil. If your soil doesn't warm up until June it is best to start your cannas indoors in pots where you can monitor the temperatures better.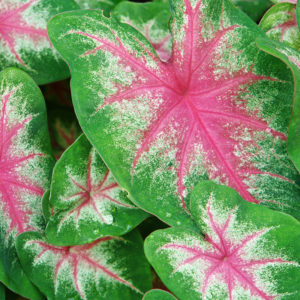 Caladiums
are similar to canna lilies which thrive in tropical climates. Known for their large showy leaves, these bulbs require warm soil and air temperatures in order to sprout. Once they are growing they thrive in warm summer temperatures. Caladium bulbs can take 8-10 weeks to sprout if the soil is not warm enough. Generally, the soil temperature should be above 55 degrees before you plant caladium bulbs.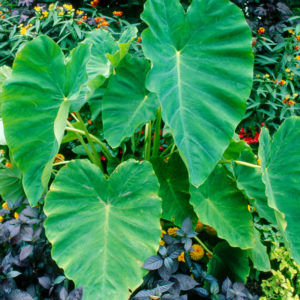 Elephant Ears
have large green leaves shaped like elephant ears, of course! Elephant Ears are also flower bulbs with tropical origins. Their large bulbs have a hard exterior which can cause them to take a longer time to sprout. However, when the temperatures warm up elephant ears are ready to get growing, and the leaves really thrive in the heat of summer.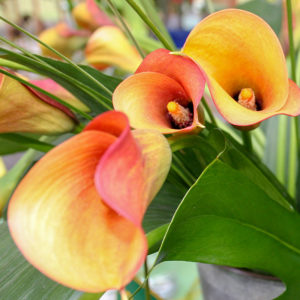 Calla Lilies
are a popular cut flower favorite for bouquets, but are also flower bulbs that loves the heat. Calla lilies don't need as much heat as cannas, caladium or elephant ear, but they will thrive in a warm summer with moist conditions. Calla lilies can be grown in pots or planted directly in the garden.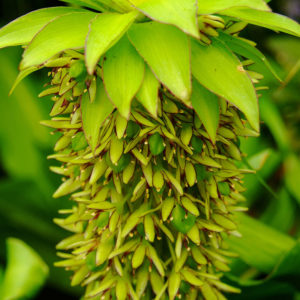 Pineapple Lilies
have blooms similar in appearance to the fruit pineapple, which automatically makes me think of a tropical paradise. If you live in a tropical paradise or just somewhere that gets hot Pineapple Lilies are a good choice!
Problem areas in the garden such as hot, dry and sunny areas don't have to be problems if you plant the right plants for the right location. Whether you live in a hot climate or are trying to fill a problem area in your garden this list of bulbs and perennials that like it hot can be helpful. Stay cool in the shade while watching your heat-loving bulbs and perennials rise up!