I've never been so happy to hear raindrops in my life. Here in the Upper Midwest, like much of the United States, we've been suffering from severe drought. According to the Wisconsin State Climatology Office, the southeastern Wisconsin area saw a combined total of less than 1″ of precipitation between June 18th and July 19th! It finally began to rain Wednesday evening and kept on until the wee hours of the morning (I know as I was up with my daughter at 3am ;)). As a child, I hated thunderstorms and still get a bit uneasy when one rolls in now. But this Wednesday evening I welcomed it with open arms!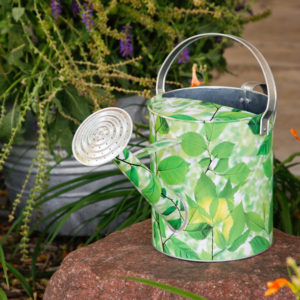 While I am hoping (like many others) that this rain "pattern" continues, we're far from out of the woods yet. Since this dry spell has many people turning to their hoses, sprinklers, and watering cans to keep their plants alive, I thought I'd share a few quick tips to keep in mind when watering:
The best time of day to water, whether it be the lawn or other plants, is early in the morning before the temperatures really heat up.
Water all plants (with the exception of lawn areas) as close to the root system as possible.
Aim to give all of your established plants (including trees and shrubs) at least one inch of water per week if this amount is not received through precipitation.
Willard & May, an amazing retailer of outdoor living products, recently asked me to write a blog, expounding on these tips in a bit more detail. You can read the full post here.
Have a great weekend and happy watering!