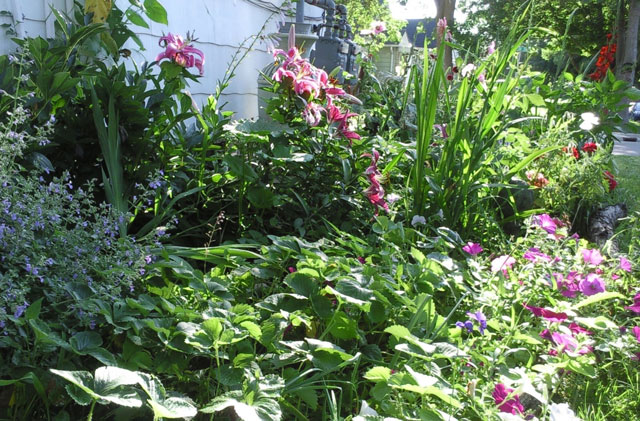 Some of you may remember back in July when Holland Bulb Farms brought back their oh-so popular "Trivia Month" on their facebook page. One of the trivia questions centered around my blog article "Garden Makeover: Bridget Edition" and promised the winner a blog post featuring THEIR garden! The lucky winner was Seth Denny, 24-year old of Austin, Minnesota.
The Gardener
Seth remembers his first gardening experience when he was just 4 years old. He recalls helping his mom dig up what soil he could from the garden and also recalls his first trip to the greenhouse. It was there that he picked out a Bergenia (GREAT choice!) and his love affair with plants began. He started his own gardening journey just last year when he moved into his current apartment. Seth gardens because of the joy it brings to himself and others. "No one can feel bad when they look into a sea of pink, purple, and white floral beauty!" he says.
Due to the third-shift nature of his job, Seth says he finds himself in his garden most often times in the early morning hours. What a beautiful time to be out in the garden! I have often fantasized about doing the same: sneaking out of the house before my girlies wake and getting some much needed garden therapy in before the day begins. Unfortunately for me, it never gets much past the fantasy 🙂 Seth's work schedule affords him almost all of the daylight he could desire and says he spends an average of 2 hours each day out in his garden performing various tasks of pruning, weeding, and watering. When he's not in the garden, he enjoys hiking and biking, and an occasional card or video game on the rainy days. He is also kept busy by tending to his aquariums and his two feline friends, Meg and Hermie.
The Garden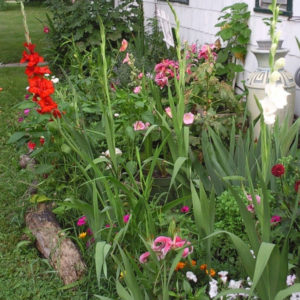 Seth's "apartment" is hardly one at all but a mid-nineteenth century farmhouse which has been converted into four separate dwelling units. What a great place to rent! Seth says that when he first moved in last April, the surroundings were nothing more than remnants of the previous dweller's work from many years ago. The landlady of the apartment is "one of the nicest people" Seth says he has ever met (lucky you!) and when he expressed interest in caring for the yard, she was delighted! The gardens were filled with a seemingly endless army of weeds, slugs, and ants, as well as terribly overgrown perennials. As Seth began to dig in June, he soon found more than fifteen thirty-pound cement slabs and many other various rocks surrounding the house. These structures, as well as the overgrown plants, all needed to be removed prior to planting anything substantial.
In this one short year, Seth has completely transformed his surroundings. He has removed the cement slabs and major rocks from the ground, making it a great place for new plants to take root. He has installed a flagstone walkway to replace the old crumbly sidewalk. He has extended the gardens to wrap all the way around the perimeter of the house, softening the look of the yard and blending this beautiful piece of history with the landscape. One section of his garden he has devoted to his strawberries and a few smaller shade annuals, bordered by hosta. He uses iris and hollyhock along with catmint and peonies as a backdrop to many of his garden areas. In the midsummer, a fragrance dances through the garden as a result of the Stargazer lilies Seth has placed throughout the taller-growing plants. He split the iris which were terribly overgrown and replanted seven individual plants which have since flourished. And let me tell you: this is one ambitious gardener! Seth tells me that he even successfully over-wintered his impatiens, geraniums, and mums from last year. I don't think I've ever even done THAT! Seth has also had great luck with using seeds, growing some Celosias up to his hip! He also concentrated on growing more vegetables this year in an attempt to save some money on groceries and was quite successful. (Take a look at the large tomato in the photo below.) He says he took full advantage of the "plethora of great deals" from Holland Bulb Farms to fill his garden. Now that's smart shopping!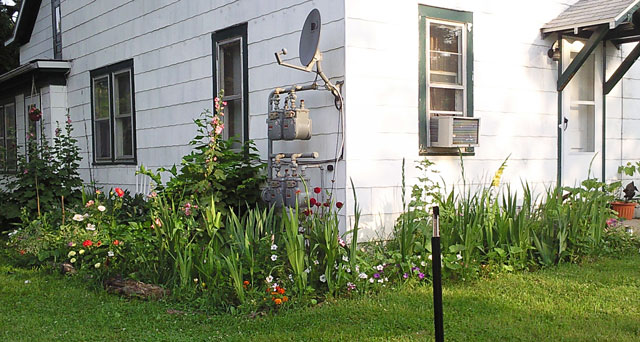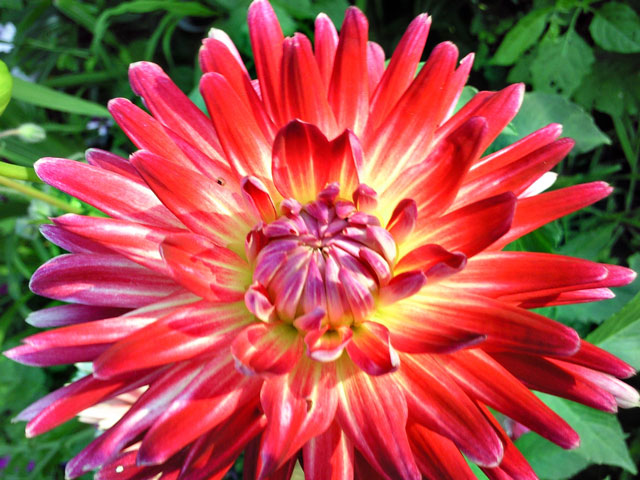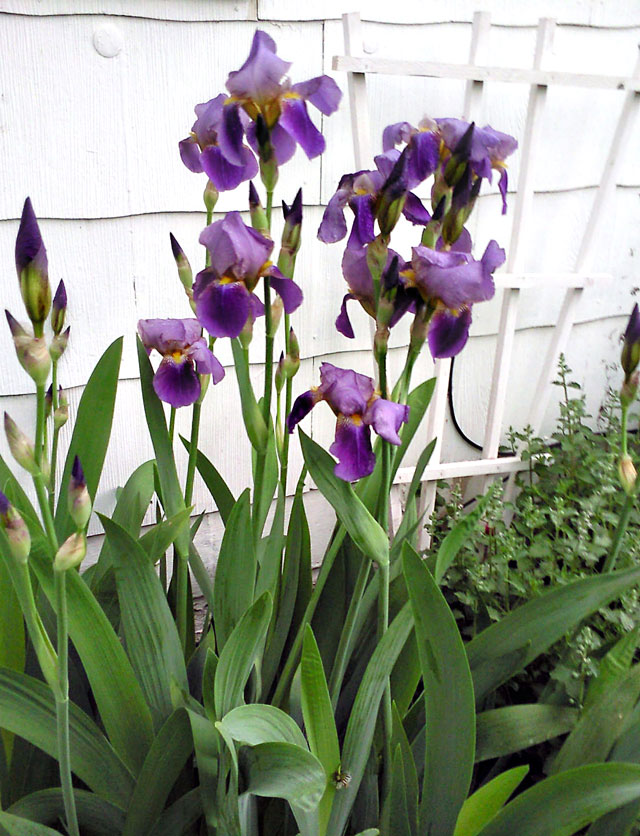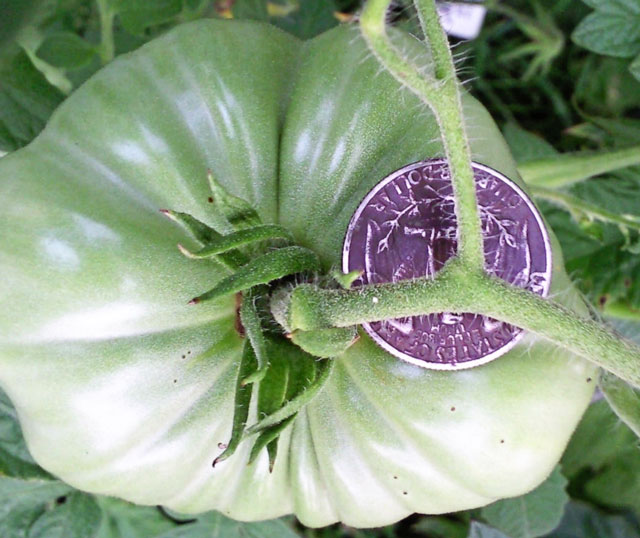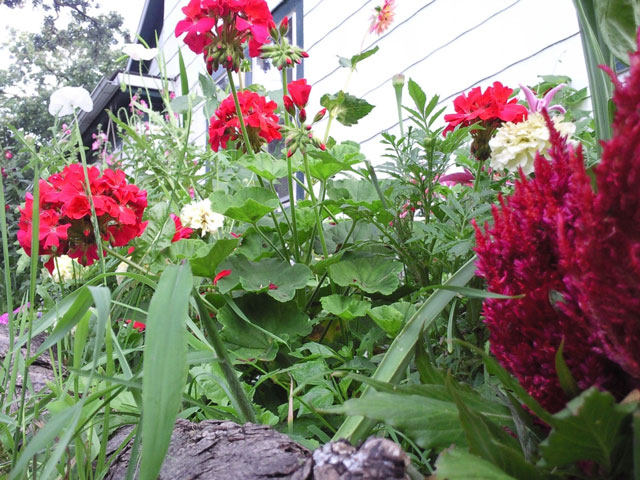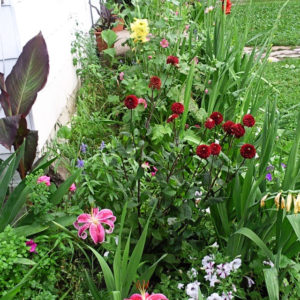 Perhaps the most interesting aspect of Seth's garden is the "micro-climate" he seems to experience. The foundation of the house has aged quite a bit and he feels that perhaps the heat loss around the house creates these warmer pockets along the perimeter. Some of his gladiolus returned this year, even though Seth technically resides in a Zone 4. He wonders if perhaps he could plant a semi-tropical perennial garden even in his Minnesota backyard. Based on the enthusiasm of this gardener, I expect that he'll try it!
All in all, I'd say that Seth Denny's story is truly one of success and inspiration. Not only has he found a hobby he truly enjoys, he has made his landlady extremely happy and has been showered by compliments from passer-by's as well as neighbors at how wonderful the yard is looking! Keep us the good work, Seth and keep us posted! Thank you for sharing your story.
Have a comment to share with other readers? Feel free to post below. Have a question specifically for Bridget? Feel free to email her at bridget@bulbblog.com!