Giant Crocus vs Species Crocus
Early in spring when the snow starts to melt and the earth wakes up, one of the first flowers to emerge is the crocus. Adored for their bright yellow, purple, or white blooms early in the season crocus are an essential fall planted bulb to add to your garden. Did you know that there are a few types of crocus? While they all have that classic crocus look with the small cup-shaped blooms and thin grassy like leaves—there are some notable differences between the different types of crocus. If you are planting crocus this fall you will want to read more to know the differences and determine what will work best for your garden.
When shopping online or at a garden store for crocus bulbs they commonly will be labeled as species crocus, botanical crocus or giant crocus. Subtle differences among the different types of crocus can have an impact on the outcome you are trying to attain when planting crocus in your garden.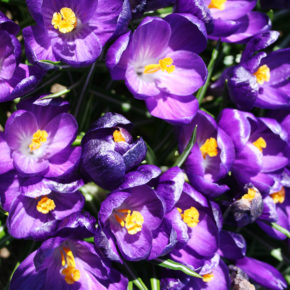 Species crocuses often are interchanged with the name botanical crocus. If you see a variety with either species crocus or botanical crocus in the name know that they are the same thing. Species crocuses are the first of the crocus to bloom in spring. Varieties of species crocus have 1" dainty flowers. Species crocuses are short in stature maturing at 6" or less. Due to their short habit and small flowers, it is best to plant species crocus in large groups of 10-15 bulbs per square foot. If you are trying to fill a large space such as a garden bed on a frequented walking path or rock garden, consider planting several hundred species crocuses for the biggest impact.
Crocus chrysanthus and its cultivars are typically what are referred to as species crocus. Popular cultivars of Crocus chrysanthus are 'Prince Claus' Crocus which has white and purple bi-color blooms. The outer petals feature purple which can be seen when the flowers are closed early in the morning. The white inner petals stand out on a sunny spring day against the golden yellow stamens and anthers.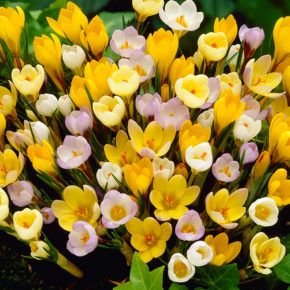 Ruby Giant Species Crocus which is Crocus tommasinaianus is another popular species crocus. Ruby Giant Crocus also sometimes called Tommies are popular for their 1" diameter red-violet blooms. Tommies are also noted to be one of the only crocus varieties that are resistant to squirrel attacks.
When in doubt of what species crocus to plant consider trying a mixed package of species crocus. Mixed packages will bloom in shades of white, yellow and purple early in the season. They will provide the best bang for your buck. When filling in a large area with crocus a mixed package of botanical crocus is the most economical and efficient choice.
I have always thought the term giant crocus was a bit misleading since all crocuses are small in size. I do sometimes imagine giant 15' tall crocus that would tower over me like something out of Alice in Wonderland. However, then I come back to reality and realize that in a literal sense they aren't towering giants, but they are called giant crocus because their blooms are larger than those of species crocus. Giant crocuses are also often called Dutch crocus as they are almost always cultivated varieties of Crocus vernus. Giant crocus is still one of the first flowers to bloom in spring but appears a few days to a week or so after the species crocus has emerged. The flowers on giant crocus are a bit showier, up to 3" in diameter when open during the day.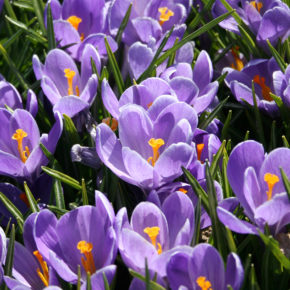 Popular varieties of giant crocus are Grand Maitre Giant Crocus which feature showy true light violet blooms with yellow stamens that complement the purple blooms.
I am a big fan of white flowers in the landscape as they are the punctuation mark for all the other colors. Jeanne d'Arc Giant Crocus is a pure white giant crocus with yellow stamens—if you are planting crocus, adding this white crocus to your garden is a must!
A combination of the two-crocus mentioned above is the King of the Striped Giant Crocus which has light violet-purple blooms with white stripes throughout the petals. The combination of these three crocus varieties is a great welcome to the spring season.
Early Flowers or Larger Blooms? Why not both!
The differences between species crocus and giant crocus may be subtle. They both bloom early in the season, and the flower size difference is noticeable but not drastic. Both species crocus and giant crocus have a place in the garden. To elongate the bloom season it is best to plant some species crocus and some giant crocus. They are small in size therefore, hundreds of crocus both species and giant can be planted in a relatively small space for enjoyment at the arrival of a long winter.