DIY Summer Project: Spray Painting Allium Flowers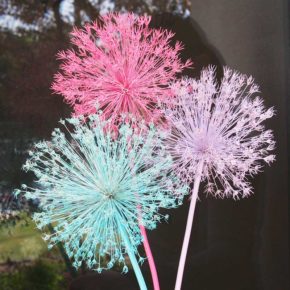 Paint and flowers, do they mix? Maybe–if you are thinking of an artist painting a vase of flowers. In most other applications paint and flowers aren't associated with each other…until now! A super easy and fun summer project is spray painting your allium flowers!
You may be wondering why would someone want to spray paint flowers? Allium flowers that are done blooming look like fireworks once they are spray painted. They can be added to vases for dried floral arrangements. Add some additional color and texture to a bouquet of fresh flowers from your garden by adding some colorful painted allium flowers. Brides who are looking for inexpensive centerpieces for their reception will love the color choices they have with painted allium flowers. Since spray paint is available in a large selection of colors, including metallic and glittery spray paint, the possibilities are endless!
Your painted allium flowers can also be used to extend color in the garden. The stems of allium flowers are hollow; therefore, it's easy to insert a stake such as a wooden dowel, garden bamboo stake or orange safety flag into the stem and stick the painted allium in the ground for an extended display of color.
Depending on where you are located your allium bulbs should bloom between May and June. After the allium bulbs are done blooming, they are preparing for dormancy and the flowers begin to dry. You will notice the stems and flowers turn a wheat color. Once the stems and flowers are dried the allium flowers are ready to be colored. Note: I have also spray-painted allium flowers and stems that were still green but no longer blooming and had great results.
Choose a Color Theme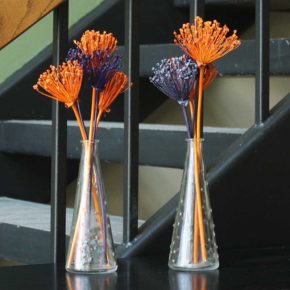 Before you head out to the garden to gather your allium flowers you will need some spray paint which can be purchased at your local home store. Before you purchase the paint for your allium flowers consider if you have a theme or color pallet you would like to implement. For a patriotic display, choose red, silver and blue as your paint colors. Holiday color themes like orange, black and purple work nice for Halloween décor. Traditional colors of Christmas such as green, red and silver are nice for your holiday centerpieces. If you have a daughter or granddaughter in your life who likes pink and purple, you could go with varying shades of pink and purple for her birthday celebration or even for room décor. Painted allium can also be added to your home for decoration—match the allium paint colors to colors in your living room, kitchen or bathroom.
Painting Allium
Decide on a color theme
Purchase spray paint
Head out to the garden and gather your allium flowers
Choose a location to paint the allium that is well ventilated
Determine what direction the wind is blowing and plan to spray with your back to the wind
Clean out any debris that has found itself in between the florets of the allium flowers
Hold the stem of the allium and start spraying the bloom while turning the bloom to fully cover all parts of the flower
Spray the stem as much as you can without spraying your hand
Rest the flowers on a flat surface where the flowers can dry
Alternative Allium Painting Method:
If you plan to use these in the garden you can insert the dowels, flags or other stakes into the stems prior to spraying. Stick the stakes/stems into the ground and spray at the location where they will stay outside. If you are spraying the allium while in the ground, you may want to use paper or cardboard behind where you are spraying to prevent overflow spray from getting on other surfaces.
Plant Alliums This Fall to Prepare for Next Summer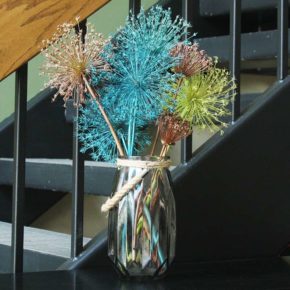 If you are wanting to try this project but don't have any allium planted, you can plan ahead for next year. Allium bulbs are hardy in zones 3-9. You will want to plant your allium bulbs in fall, between September and December depending on your location. Gardeners in colder climates will want to plant in September, October, and November. Gardeners in warm climates can plant as late as December or even early January.
Experiment with planting different varieties of allium to get even more shapes and textures which will add extra visual interest to your project. I suggest planting large Allium giganteum for the biggest allium blooms to paint. Purple Sensation Allium are an economical way to start gardening with allium as you generally get more bulbs per pack for a lower cost. The blooms of Purple Sensation Allium are medium-sized, but showy and will work well for painting. Mercurius Allium has upward facing petals that aren't as round, these are nice to mix in with the large round allium for a different shape. For an airy appearance, the large blooms of the Star of Persia Allium provide a more free-flowing and fun appearance!
Easy, Fun and Affordable Summer Project
Painting allium is so easy, and few supplies are needed for this fun summer DIY project.  This project would be fun to do with kids above the age of 10 (as long as you trust them to be responsible with the paint). It is also a fun project that can result in affordable long-lasting décor. Painted allium flowers can last for years which can be an enticing option for affordable holiday decorations that can used year after year. Plan ahead this summer and paint your allium flowers now for seasonal décor, wedding centerpieces or any other area you need some fun colorful shapes.