My Favorite Spring Things
Spring has almost come and gone in what seems like the blink of an eye! Now that the season is drawing to a close, I thought it might be a good time to review some of my "garden favorites" for all of the blog readers out there. After all, it's never too early to start planning your spring garden for next year, considering these bulbs will need to get in the ground shortly after the summer is over!
Drumstick Allium (Allium sphaerocephalum 'Drumstick')
These late spring bloomers are truly versatile! They produce 1-1/2″ diameter spherical blooms atop 24″ flower stems which age from green to a brilliant burgundy color. Plant them among a lower plant and watch them "hover" above. They look amazing in fresh flower arrangements and dry perfectly. They're also deer resistant!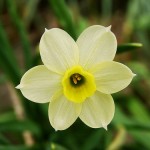 Minnow Daffodil  (Narcissus tazetta 'Minnow')
This dwarf rock garden daffodil could hardly be any sweeter in its demeanor–or its scent! This little one only reaches 6″ tall and produces a beautiful fragrance which can fill your entire landscape when used in mass plantings. This has definitely become a mainstay for me in my mid-spring garden borders as well as my bud vases located around my house! Also won't be eaten by deer, squirrels, or other pesky outdoor creatures…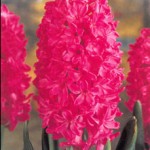 Jan Bos Hyacinth (Hyacinth orientalis 'Jan Bos')
Everyone's familiar with the wonderful fragrance, long bloom time, and full dense flowers of the hyacinth, but have you ever seen one this color? A photograph hardly does this gem justice with its absolutely striking hue of deep magenta. Growing 12-16″ tall, this is a great "mid-height" plant to fill between a short border and dramatic tall background. And don't forget: the rodents and deer won't bother these!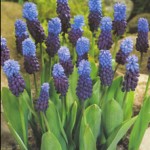 Bicolor Grape Hyacinth (Muscari latifolium)
What a fun new take on an old classic! This grape hyacinth is like no other with its "two-shade" bloom! The deeper violet contrasts nicely with the lighter blue while still retaining the familiar form and scent of the original. Use these little beauties in the border, in between other spring bloomers for added interest, or take advantage of their strong desire to naturalize and plant them among your lawn!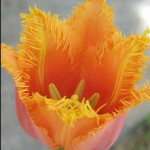 Lambada Fringed Tulip (Tulipa 'Lambada')
Perhaps the most impressive bulb I grew this year was this one: the Lambada Fringed Tulip. Never was I astounded by a tulip as I was by this one! The outer light peach colored petals transition to a brilliant tangerine orange-yellow at the fringed edges! This late spring bloomer will create a marvelous end to the season and make you think of the warm summer days ahead!
This is just a sampling of what I fell in love with this year in my garden. Check these all out by clicking on the photographs and start planning your fall garden TODAY! I can guarantee you, these great selections won't last long!
Have a question about which fall planted bulbs to plant in your garden or any other bulb gardening topic? Ask Bridget! Email her at bridget@bulbblog.com! If she features your question in a future post, you'll receive a Holland Bulb Farms coupon for your next order with Holland Bulb Farms!