Believe it or not, the spring planting season is just around the corner (this is definitely harder for some of us to believe than others!). In order to help turn all of our thoughts ahead to the days when the snow will disappear and the ground will thaw — yes, it WILL happen! — I will be featuring another one of my favorite spring planted bulbs or perennials each week. This garden selection will then become Holland Bulb Farm's Bulb Bargain for that one day ONLY. They'll also be featuring a unique shipping deal each week with the bargain which will also last for that one day only — it's a great chance to try something new or stock up on one of your faves! Check back each week or sign up for their newsletter to be notified each time I feature something different!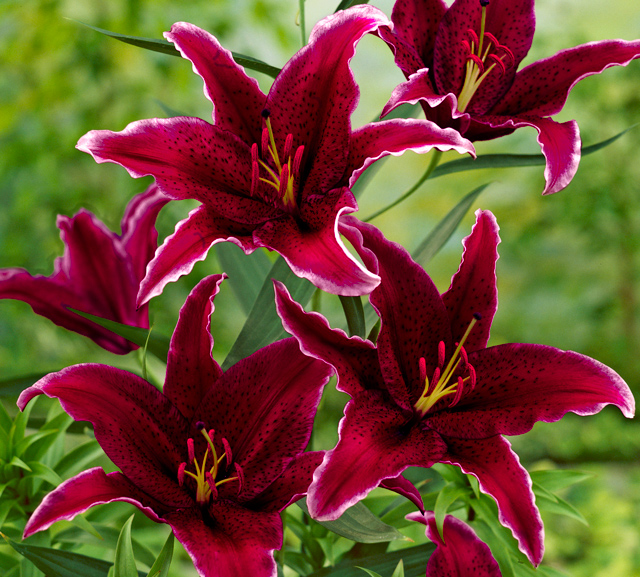 It's hard to find something not to love about this week's Bulb Bargain! These Sumatra Oriental Lilies have it all: colossal flowers, upright stems, alluring fragrance, and stunning color. My only complaint is that I wish their blooms would last all summer!
Unrivaled boldness and beauty: Unlike most of the commonly known oriental lilies which sing of pastels, the Sumatra has a deep, rich color. The intense burgundy blooms stretch far beyond the familiar and ordinary summer garden! Each petal is embellished with dark pinpoint spots and the white petal edges are slightly undulated, giving it even more depth and texture. I recommend using this lily some where it will be sure to be noticed and not among an extremely "busy" garden — against a simple green background of foliage really allows them to pop!
Alluring fragrance and upright stems: The enchanting fragrance and sturdy stems of these lilies are just some of the characteristics which make them perfect for a "nearby" garden — perhaps along a patio's edge or near an outdoor dining area. Don't sit outside as much as you'd like? Snip the stems and bring them indoors — they look exquisite all on their own or placed with blooms of white to play off the waving edges.
I am definitely finding a spot in my sun garden for these lovelies this year. After all, red is the favorite color of one of my daughters…she'll love this!