The plant world is always developing new and exciting cultivars and hybrids of plants. It is hard for me to keep up on all of the new developments in the plant world. When I do learn about a new group or type of plant it is very exciting. I will admit I was not up to date on the newest hybrids of peonies, which are the Itoh Hybrid Peonies. In spring of 2018 when Tulip World started selling Scrumdiddlyumptious Peonies I quickly learned about this amazing new type of peony. Itoh hybrid peonies have a lot of strong qualities; however, traditional herbaceous peonies have tremendous value and qualities as well. For some gardeners the traditional herbaceous peonies will be what is needed to enhance our gardens, for others, Itoh hybrid peonies will work better. If you are lucky you will have room for both herbaceous peonies and Itoh hybrid peonies. If you aren't sure which peony to plant, continue reading for more information on the differences between herbaceous and Itoh hybrid peonies.
Learn the difference between Herbaceous Peonies and Itoh Hybrid Peonies
Herbaceous Peonies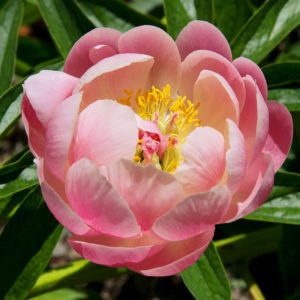 Let's start with the classic spring-blooming favorite, herbaceous peonies. With their large fragrant blooms, peony plants can live in the same location for 75+ years. First, they are called herbaceous peonies because their leaves and stems are herbaceous. This means the plants die back to the ground in the winter months. As opposed to a tree peony that has woody stems that remain present during dormancy. Herbaceous varieties of peonies grow in hardiness zones 3-8. Similar to certain fall-planted bulbs and lilac bushes, herbaceous peonies require cold temperatures in order to produce blooms. Therefore, herbaceous peonies are best suited to gardeners in northern and central states.
Herbaceous Peony Bloom Time and Growth Information
Herbaceous peonies will start blooming in late April through mid-June depending on the cultivar, location, and weather in that location. Like most plants, different cultivars of peonies will bloom at different times during their approximate bloom season.
Herbaceous peonies typically reach a maximum height of 2-3' with a similar spread. Their growth size and habit make them a great perennial for the back of a perennial border.  They are fairly prevalent and available, making them an affordable perennial option for your garden.
Herbaceous peonies bring great feelings of nostalgia. These long-lived perennials may have been at your grandparents or parents' house when you were a child, and they are still there decades later.  If you have a sunny location and 2-3' of extra space you want to fill in with some spring color an herbaceous peony may be what you are looking for.
Considerations for Planting Herbaceous Peonies
There are two concerns I often hear from gardeners about herbaceous peonies. The first consideration is that peonies attract ants, which is true.  It is common to see ants on peony blooms in your garden and in vases when you cut the blooms. However, the ants are gathering nectar from the blooms and are not harmful to plants or humans. Therefore, a few common ants shouldn't deter you from enjoying the beautiful and fragrant blooms that peonies provide.
The second concern is that after heavy rain the blooms often which creates a bit of a messy appearance.  The rain can certainly cause your peonies to lose their nice appearance. Learn how you may use stakes or tomato cages to hold up the blooms. While this will require extra work initially, being able to enjoy the blooms for many years is well worth it.
Itoh Hybrid Peonies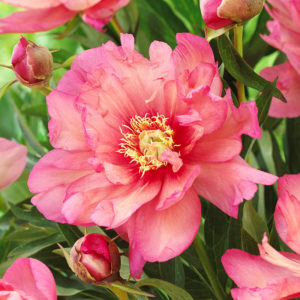 The new kids in the garden are the Itoh hybrid peonies. Itoh peonies are a cross between herbaceous peonies and tree peonies. First developed by Japanese horticulturalist, Toichi Itoh in the 1960s. It took decades for these hybrid peonies to become available to the mass public. These flowers are also referred to as intersectional peonies since they are crossed between herbaceous and tree peonies. These hybrid peonies are becoming more prevalent in nurseries and online retailers; they are a bit more expensive due to their tremendous qualities.
Itoh Hybrid Peony Bloom Time and Growth Information
Itoh peonies have many of the same qualities as herbaceous peonies like large, showy, and more often than not fragrant blooms. Like herbaceous peonies, Itoh hybrid peonies go dormant during the winter months. The characteristics Itoh peonies get from their other parent the tree peony include their sturdy stems. The advantage of the sturdy stems is it prevents them from drooping after heavy rain.
Itoh hybrid peonies also bloom later in the season and typically start to bloom when the herbaceous peonies are finishing their blooms for the season. The bloom time of Itoh hybrid peonies is also a bit longer than that of herbaceous peonies.
Growing 2-3' tall with a similar spread, Itoh peonies will take up about the same amount of space in your garden as herbaceous peonies. The color ranges I have noticed in the Itoh hybrid peonies are stunning and full of dimension.
Types of Itoh Hybrid Peonies
Varieties like Hillary Itoh Hybrid Peony have coral, peach, pink, and orange tones throughout. Scarlet Heaven Itoh Hybrid peonies have large 6" across single blooms in deep true red. Cora Louise Itoh Hybrid Peony has pale pink single flowers with a bright pink center, they are showy and slightly fragrant. With many colors to choose from and a later, longer bloom time it is no wonder Itoh peonies are taking the gardening world by storm!
A Peony for Every Garden!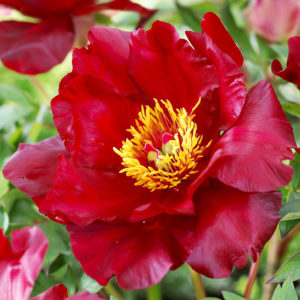 Peonies can be purchased as potted plants at nurseries and can also be purchased as bare roots for planting. Online retailers like Holland Bulb Farms and Tulip World sell peonies as a bare root for planting in fall as well as spring.  For spring planting of bare-root peonies, expect growth to appear that summer. You most likely won't see any blooms until the following spring. Since peonies are long-lived perennials up to 75 years or more, no need to worry if you have to wait a year or 2 for blooms, they will be around a long time.
Both herbaceous and Itoh hybrid peonies have a place and use in any sunny garden bed or border. The main differences between the two are the sturdiness of the stems, bloom colors, and bloom times.  Herbaceous peonies bloom earlier in the season whereas the Itoh hybrids bloom a bit later in spring and tend to have a longer bloom time.
If you really love peonies and have space for them my suggestion is to plant both herbaceous and Itoh hybrids to maximize bloom time. Herbaceous peonies are most commonly seen in shades of pink, red, white, yellow, and peach. Itoh hybrids are available in shades of those colors as well, but the variance of colors seen in the blooms is greater than that of herbaceous peonies, which tend to be more solid colors. Planting both Itoh hybrids and herbaceous peonies will have you reaping the rewards of their colorful, fragrant blooms for many weeks every spring for years to come.