Wow, it's hard to believe that it is the year 2019 already! It seems like 1999 and Y2K was just yesterday, but that is now 20 years ago. I suppose time flies when you are having fun! I have the most fun spending time out in nature and in the garden exploring new plant varieties. Retailers like Holland Bulb Farms are always adding new and exciting varieties of flower bulbs and bare root perennials. On my list of gardening goals and to-do's is always to add new bulbs or perennials into the garden. I have taken a close look at Holland Bulb Farms's new bulbs and perennials for 2019. Although it was hard to just pick 10, I selected 10 items that excite, delight, intrigue, and impress me!
Top 10 Bulbs and Perennials for Spring Planting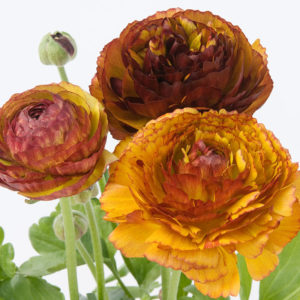 Ranunculus, also known as Buttercups make some of the BEST flowers for cutting gardens to bring into your vases and bouquets. These tender perennials also grow well in pots! Southern gardeners will love the fact that ranunculus are perennials, and will return for several seasons. Cafe Au Lait Ranunculus is a new variety of buttercup. The blooms have the classic rosy paper-like appearance that all buttercup flowers are loved for and feature a mix of different shades of orange with picotee petals. Fun fact: when a flower such as Café Au Lait or certain begonias have the word picotee in the name it means that the edges of the petals have white. If you enjoy rustic, hardy colors try out the Café Au Lait Ranunculus.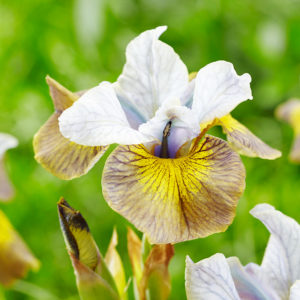 When I first saw the picture of the Peacock Butterfly Siberian Iris Uncorked I was stunned by the beauty of the flowers! Siberian Iris are tough and hardy perennials, which is extremely appealing! Uncorked Siberian Iris stands out among other Siberian Iris with the shades of blue, yellow and deep purple. Like all iris varieties in the Peacock series, Uncorked has detailed and unique purple veins on the falls that really stand out. Even before the flowers open the tight buds display the diversity of colors found in this unique Siberian Iris. With the upright habit of Siberian Iris I would mix Peacock Uncorked near a water's edge, or plant 3-5 per area for a stunning mass grouping.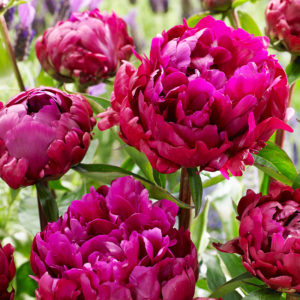 Sometimes things that are old like fanny packs, cassette tapes, record players and plant varieties become new and exciting to younger generations. That is the case with the Peter Brand Peony; although this peony was created in 1937, it is new to the Holland Bulb Farms Spring selection for 2019. I have always enjoyed peonies, as they hit me hard with nostalgia (lilacs and tulips do the same). When enjoying the peony blooms in late spring, I tend to be drawn to the dark and bold blooms. Peter Brand Peonies do not disappoint when it comes to bold blooms with their fully double, large and fragrant blooms!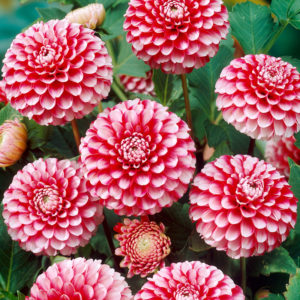 Another old variety that is new to Holland Bulb Farms is the Little William Dahlia. Introduced in 1954, it has been gaining popularity as all ball and pompon dahlias are. Whenever I see pompon and ball-shaped dahlias I have a compulsion to touch them, because they look too perfect to be real. Little William Dahlia features shades of red, light red and pink, giving it a multi-dimensional look. Another bonus of this Little William Pompon Dahlia is that it doesn't get too large. Reaching a maximum height of 2.5' it is easy to fit these flowers into any space in the garden, or even in a large pot on your patio or deck! Bold, colorful and multi-dimensional are the words that sum up this delightful Little William Dahlia!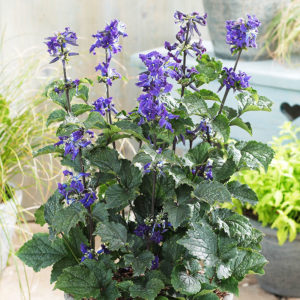 A clematis that doesn't grow as a vine is a new concept to many, and one of the reasons China Purple Clematis made my top 10 list for 2019. The bell-shaped blooms bear resemblance to a clematis vine but are slightly smaller in diameter. Forming an upright bushy clump, China Purple Clematis fits well in a sunny border, or planted in groups of 3-5 plants. Blooming late in summer, this sun-loving easy to grow perennial needs a spot in every garden!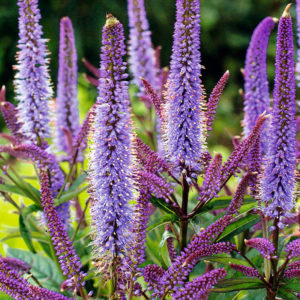 Cupid's arrow definitely hit me when it comes to the Cupid Culver's Root! Culver's Root are perennials of the genus Veronicastrum. Veronicastrum species such virginicum are native Northeastern United States and is a cultivar of Veronicastrum virginicum which shares a similar appearance to their relatives Veronica, also known as Speedwell. I'll stop with the plant name talk (even though I thoroughly enjoy it). There are a few reasons I really like the Cupid's Culver's Root. One, it attracts butterflies. Two, it blooms from mid-summer through early autumn. Three, it tolerates moist soil and clay soil. Four, it's low maintenance and an easy to grow perennial. Five, the flowers are great for cutting and vases! Need I say more, the Cupid Culver's Root is a must-have addition to your sunny perennial garden!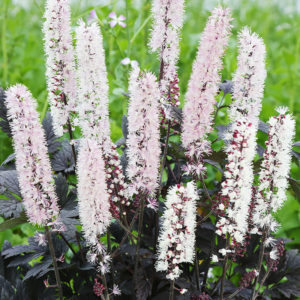 I have had a soft spot in my heart for all varieties of Snakeroot (formally classified as the genus Cimicifuga, now Actaea) since I first saw them at the garden center where I used to work.  The finely dissected foliage was the biggest appeal to me; the foliage adds a unique attractive texture to the garden. As a horticulture student at Milwaukee Area Technical College in one of my perennial classes held at the local botanical garden, there was a mass planting of Snakeroot.  The white blooms in this grouping of Snakeroot really lit up at dusk! Chocoholic Snakeroot is exciting because of the dark purple/bronze leaves plus it has fragrant light pink blooms. And like all Snakeroot varieties Chocoholic performs well in shade and moist soils, making it an excellent problem solver for difficult garden spots.  Make room for Chocoholic Snakeroot in your shade garden as this upright perennial grows 3-4' tall with a slightly smaller width near 2-3,' so it needs plenty of space to show off its blooms and foliage! Bonus fact: Snakeroot (Actaea species) are also often called Bugbane as a common name, due to the fact that the flowers' scent is said to repel certain insects like mosquitoes!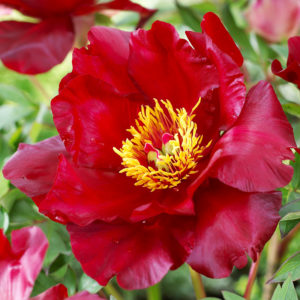 Within the last 12 months, I have learned about Itoh hybrid peonies, and they sure have a high potential to be great garden plants. The Scarlet Heaven Peony is a dramatic Itoh hybrid peony variety with large, up to 8" diameter deep, sultry red blooms that are accented by golden centers. Itoh hybrid peonies are intriguing because they have the best features that herbaceous peonies offer, as well as the best of tree peonies. Scarlet Heaven Peony is cold hardy, has robust stems – so no staking is required – and unique red blooms that are fragrant. Like other peonies once established Scarlet Heaven Peony will live a long time, and require little to no maintenance.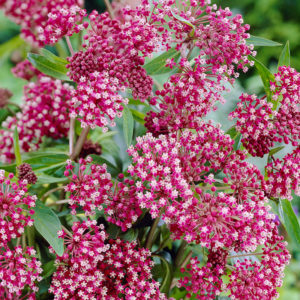 Plants that attract butterflies to my yard and neighborhood are important, and at the top of my favorite plants list! Soulmate Swamp Milkweed is a very important host plant for Monarch Butterflies during their larval stages. Soulmate Swamp Milkweed features lovely rosy pink blooms in mid-summer, grows 3-3.5' tall and works well when planted in the middle of the garden bed or along a border. Plant with other plants that attract butterflies, like Butterfly Weed, Purple Coneflower, and Bee Balm if you want lots of butterflies in your yard. Holland Bulb Farms also offers a complete Perennial Butterfly Garden Collection for those of you who really want a lot of butterflies in your yard.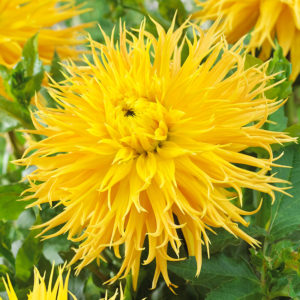 2019 has been called "The Year of the Dahlia" by the National Garden Bureau, therefore I HAD to pick a Dahlia to be the #1 plant I am excited for in 2019! Encore Dahlia is bold with large up to 8" across and more golden blooms! These large yellow blooms are going to wow, impress and amaze your friends, family and even folks driving by your house.  To get the most out of your Encore Dahlia,be sure to pinch the sides buds as they form. Pinching the buds will train the dahlia to grow one central stalk which encourages the largest blooms up to 8-10" in diameter!
Get Excited for 2019 with New Garden Plants!
It was not an easy task to narrow down my top 10 favorite bulbs and perennials for 2019! My yard is mostly shaded so I may not be able to plant all of these varieties at home, but maybe some friends and family members will plant some for me to enjoy! I am most certainly going to find a spot for the Chocoholic Snakeroot, as I do have lot's of shaded areas to fit this wonderful perennial. What perennials or bulbs are you planning on adding to your garden in 2019?