Oh. Deer! Is one way to respond when you see deer munching on your flowers and plants in the garden. These four-legged furry animals are not typically seen as friends to most gardeners. Deer in the garden can cause plenty of damage to your trees, shrubs, perennials, and bulbs. Since I am not a deer it is hard for me to say what attracts them to certain plants more than others. Perhaps it is the sweet scent of lily blooms they are attracted to?  Or maybe the lush, green leaves of the hosta just really wet their whistle? While we may not know why they choose certain plants to feast on, we do know there are plants that they tend to stay away from. If deer are making your garden their buffet continue reading for my top 12 deer resistant perennials & flowers:
Top 12 Deer Resistant Perennials & Deer Resistant Bulbs
All the perennials and flowers in this list bloom in summer (June, July, August or September). Keep in mind if deer are really hungry, they will eat anything, even plants with thorns or toxic components. Therefore, if deer are prevalent in your yard you may want to protect your most valuable plants with a deer repellent such as Liquid Fence.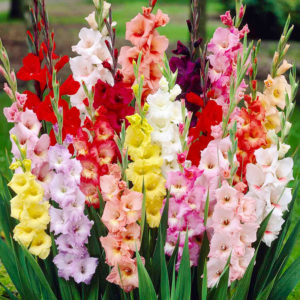 Typically seen in flower arrangements gladioli are a popular summer-blooming bulb. Gladiolus come in an array of colors and even different flower sizes and heights. The range of colors found in the gladiolus flower is expansive ranging from various shades of red, pink, orange, white, yellow, purple and green. Solid color gladiolus flowers are popular, but two-toned gladiolus are unique with added color! Deer tend to stay away from these mid-summer blooming favorites and are safe to plant if deer are a concern.
Buttercups, also known by their botanical name Ranunculus are delightful summer flowers! The papery blooms of buttercups are fully double and make excellent cut flowers, as well as nice potted plants. These deer resistant summer-blooming bulbs are rarely if ever harmed by deer. Buttercups are commonly sold as a mixed package, but there are unique deep purple and rustic orange buttercup varieties available as well! If you are looking for an adorable sun loving bulb to add to your deer resistant garden the buttercup will definitely fill you up!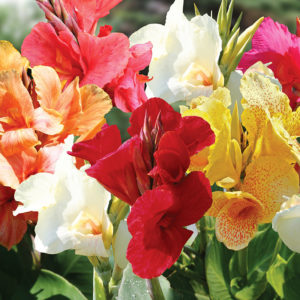 Canna Lilies have a tropical appearance in both their blooms and the large green leaves on the bulbs. Thriving in full sun with plenty of water, canna lilies can be grown in a wide range of landscape applications. Dwarf varieties of canna lilies perform well in large containers for your patio. If you want a tall screen in your yard that is not permanent but will fill in fast canna lilies can provide a lot of height in a short amount of time. Blooming all summer with attractive leaves, turn the heat up in your garden with tropical canna lilies. Deer tend to steer clear of canna lilies and are safe to plant in your garden if deer visit often.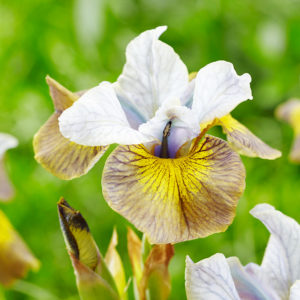 Siberian Iris are similar to the popular Bearded Iris, and both are deer resistant! Bearded Irises are available in nearly every color of the rainbow, which is a huge draw for many gardeners. Siberian Iris aren't available in as many colors; however, their blooms are still vibrant. Siberian Iris will produce true blue flowers, deep rich flowers, lemon yellow flowers and even some blooms that look tie-dyed! These hardy perennials bloom in early summer atop tall grass like leaves! Siberian Iris look great in a planting bed, but also near water's edge. Plant your Siberian Iris in full sun and be sure to keep them well watered once established.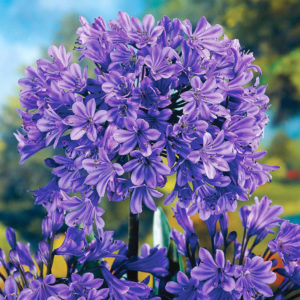 A true blue flower! Whenever flowers bloom in true shades of blue it is special, as this is a rarity in the flower world. Agapanthus, also known as Lily of the Nile bloom with clusters of tall blue flowers in early summer. Gardeners with deer problems in warm climates like zone 8 and above will be able to grow Agapanthus as a perennial. That shouldn't leave gardeners in colder climates feeling left out though. Agapanthus grows well as a potted plant, making it a great addition to your deer resistant collection of plants in any hardiness zone.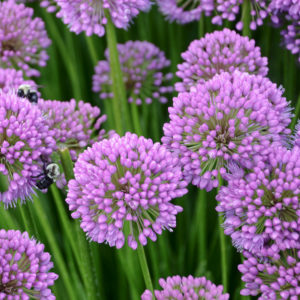 When you think of Allium you may think of the fall planted favorites that grow from a bulb-like Purple Sensation, Giganteum and White Giant. However, there are also Allium that grow from a perennial root like Millennium Allium and Blue Eddy Allium. Planting perennial alliums in spring that bloom in mid-summer can help extend the allium bloom season. Both fall-planted allium and spring planted allium are deer resistant, and bloom in early or mid-summer!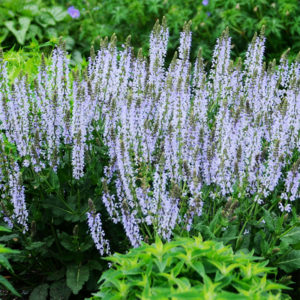 Often referred to as Perennial Sage due to its relation to Sage you use for cooking, perennial Salvia is an easy-to-grow deer resistant favorite! Blooming in early summer, this easy-to-grow perennial will continue to bloom all summer if the spent blooms are removed. Another bonus about salvia is that it doesn't grow too big. Reaching a height of 18-24″ this mound shaped perennial has a place in any sunny garden that has a deer problem.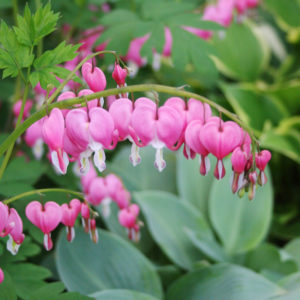 Bleeding Hearts are a spring-blooming flower; however, if planted in enough shade they will continue to bloom into early summer. Deer tend to stay away from these nostalgic perennial favorites. If the deer are eating all of your hostas in your shade garden adding Bleeding Hearts to the area will help keep it looking more full.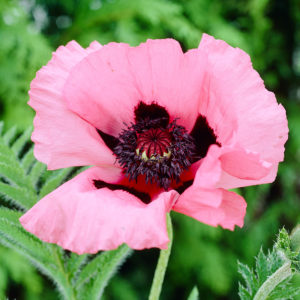 Blooming in early summer these ephemeral perennials put on a show in early summer and then disappear for the rest of summer until next season. Their hairy leaves and bright colored blooms keep the deer at bay. Oriental Poppies can be planted in spring or fall and come in an array of bright red, orange, pink and white blooms. Oriental Poppies require well-drained soil and protection in winter; applying a light layer of mulch to your poppies in fall is advised.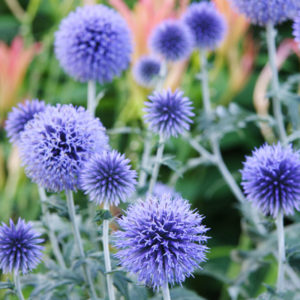 Globe Thistle is a unique perennial that has an interesting flower shape and bloom. The true electric blue blooms are globe shaped and appear mid-summer. Even though the name of the plant has thistle in it, these are welcome plants in your garden that attract butterflies but deter deer from feasting. Grow Globe Thistle in full sun, and soil that drains well. Once established, Globe Thistle is drought tolerant.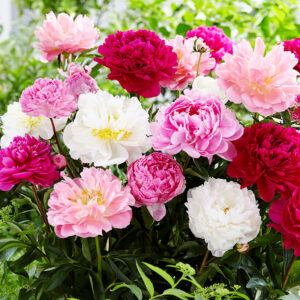 Perhaps it's the fragrance of the blooms that keep the deer away or maybe something in the leaves deer don't enjoy! Peonies bloom in early summer with showy blooms in shades of pink, red, coral, yellow and white. Plant your peonies in full to part sun, with soil that drains well. If deer come near your house peonies are a nice foundation plant that will not be bothered by deer, plus they also work well mixed into a perennial border.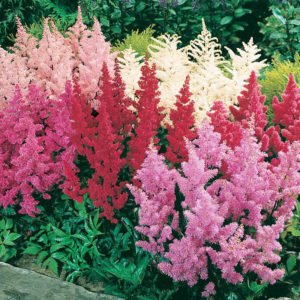 Astilbe are shade loving favorites that are fairly easy to grow as long as they are provided enough moisture. If you want to add color to your shade gardens Astilbe are a wonderful flowering perennial that bloom in shades of red, pink, and white. Blooming at various times throughout summer these deer resistant shade perennials are a must-have addition to your shade garden.
Keep the Deer Away With Repellants, Deer Resistant Plants and Home Remedies
For homeowners and gardeners with heavy deer populations using repellents and planting deer-resistant varieties may not be enough. Installing a fence may be necessary if the deer seem to be relentless.
 In addition to using repellants and planting deer-resistant perennials and bulbs, some home remedies may also seem to help. Home remedies I have learned from other gardeners include using a motion activated sprinkler to startle the deer or hanging cd's from your trees as the reflective light will scare the deer off. Many gardeners swear by cutting Irish Spring soap into smaller pieces and placing them in an old pair of pantyhose and placing them in the garden. Planting Marigolds can help deter both bunnies and deer in your perennial and vegetable garden.
No matter what you do try to keep the deer out, it is always good to switch your methods and keep trying new ways and new plants. If you have any home remedies to keep deer out, or favorite deer resistant plants leave a comment here, as we would love even more suggestions to deter and repel deer from the garden.