Connecting with nature is important for your health and happiness. When I see butterflies, bees, hummingbirds and other flying friends in my garden it brings a smile to face. Even my dogs are fascinated by the intricate and delicate butterflies that come visit my the annuals and perennials in my backyard.
Beyond bringing happiness to kids and adults of all ages, butterflies play an important role in the environment. Butterflies are one of the many pollinators that help keep our ecosystem reproducing and flourishing.
If you have at least 6 hours of sun in your garden you can do your part and add plants to your garden that will attract butterflies and most likely a few other pollinators as well! To get started, all you need is 1 plant and you should see some beautiful butterflies in your garden. If you aren't sure where to start, perennials are a nice way to add butterflies as you plant them one year and they will continue to return for several seasons. This means you will be providing a place for butterflies not just for this summer, but hopefully many summers to follow.
Top 12 Perennials for Butterflies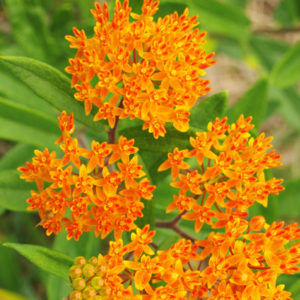 Ascelpias tuberosa
The name says it all: Butterfly Weed, a plant the butterflies just can't get enough of! This native plant grows in most regions of the United States and is one of the top perennials for attracting butterflies to your garden. Clumps of yellow-orange flowers form in early summer and continue through mid-summer.  The clusters of blooms provide nectar for butterflies, and monarch butterflies feed on the leaves and stems.

Echinacea purpurea 'Magnus'
Purple Coneflower are native perennials throughout the central and southern United States. In my garden and at garden centers I have seen loads of butterflies flock to the purple coneflower. This long-blooming perennial has purple blooms that start blooming in early summer and continue through late summer. Easily grown in moist well-drained soil, remove spent flower heads throughout the season to encourage more blooms. The variety, Magnus, is a popular coneflower for garden settings with purple blooms that radiate from the center of the daisy-like flower.

Liatris spicata
Prairie Blazing Star, also commonly known as Gayfeather due to its clusters of feathery purple blooms is a durable perennial native to most of the United States. Found in meadows and prairie areas, it forms clumps of tall purple blooms. Monarchs love to enjoy the nectar Liatris blooms provide! If you are looking for a tall plant in your sunny perennial garden, Prairie Blazing Star is a great choice!

Sedum x 'Autumn Joy'
Blooming late in the summer, sedum is an important nectar source for butterflies.  Not only does Autumn Joy Sedum attract butterflies to your garden, but it is also very easy to grow and drought tolerant once established. The clusters of blooms which start out light pink mature to red late in the season, providing a nectar source when other butterflies favorites may be done blooming for the year.

Asclepias incarnata 'Soulmate'
Vanilla scented clusters of pink blooms appear in mid-summer on the Soulmate Swamp Milkweed. Monarch butterflies and their larvae find Milkweed to be an important source of food and nectar. Growing best in full sun with soil that is moist but drains well, if you want butterflies in your garden planting Soulmate Swamp Milkweed is a must!

Rudbeckia hirta
Another long blooming perennial native to prairies and meadows throughout the United States. The yellow blooms with brown centers appear in mid-summer and keep going into early fall. Not only are Black Eyed Susan important for butterflies, but the dried seed heads are also attractive to birds to feed in in fall and winter.

Panicum virgatum 'Heavy Metal'
When you think of butterflies you most likely think of flowering perennials and annuals; however, ornamental grasses are important to the butterflies as well. Ornamental Grasses play an important role in the larval stage of butterflies and caterpillars, providing a home for larvae to live and develop.  Switch Grass is a native grass in prairie areas. Heavy Metal Switch Grass is a cultivated variety that is known to have attractive fall foliage and an upright clumping habit. In late summer when the plumes appear they look like fireworks exploding. Switch Grass is the host plant for skipper butterflies.

Veronicastrum virginicum 'Cupid'
The tall clusters of violet-purple blooms are an important source of nectar for butterflies and bees. Cupid Culver's Root performs best in moist soils in sunny locations. Growing up to 3′ tall this deer resistant perennial is easy to grow, showy and butterflies love it!

Allium senescens 'Blue Eddy'
This variety is a spring planted perennial allium that grows from a root as opposed to popular fall-planted allium varieties, which grow from bulbs. Blue Eddy has spherical clusters of blooms starting late summer into fall, these blooms attract bees and butterflies, some of the most important pollinators in the environment. Forming clumps that max out at 12″ tall, Blue Eddy is the perfect addition to the front of a garden bed where you want late summer blooms and butterflies!

Monarda x 'Fireball'
Fireball Bee Balm is a compact variety of bee balm with bright red clusters of showy flowers. This butterfly friendly perennial also will attract bees and hummingbirds to your garden. Reaching a maximum height of 12-18″ this compact perennial is a must have for any sunny garden that needs a bold splash of red to brighten it up!

Phlox paniculata 'Blue Boy'
Like all other tall phlox, butterflies enjoy the clusters of blooms late in the season on the Blue Boy Tall Phlox. The clusters of blue/purple blooms which are lightly fragrant will attract butterflies such as black swallowtails to your perennial garden in mid to late summer!

Echinops ritro 'Veitch's Blue'
This is a unique and showy perennial with true blue globe shaped blooms. Don't let word thistle in the name of this sun-loving perennial deter you from planting. Growing up to 4′ tall, Veitch's Blue Globe Thistle fits well in the back of the perennial border for a unique and fun accent that butterflies love, and deer don't!
Easy to Grow Perennials Attract Butterflies
Attracting pollinators is something we can all do in our homes and gardens to help the environment and local habitat. Most of the plants in our list above are easy to grow once established, with the main requirements being sun and also soil that drains well. Having butterflies visit your garden is exciting and a sign of a good local ecosystem. To ensure the pollinators in your garden have a place to live, be sure to not use pesticides that have neonicotinoids, as they are detrimental to pollinators such as bees and butterflies. Suppliers like Holland Bulb Farms source all of their bare root perennials from various growers in Holland, where neonicotinoids are banned. Therefore when shopping online for a safe place to buy perennials for pollinators you can sure that the roots you get from Holland Bulb Farms will be safe and healthy for the bees, butterflies and hummingbirds in your garden. I hope you can attract loads of butterflies to your gardens to amaze you, your kids and even your furry four-legged friends!