Natural Blue Flowers: Unique, Extraordinary and Rare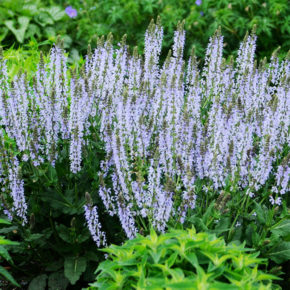 Blue is the color of the sky and oceans; blue is seen all around us in nature when we look up and when we look to the sea. A place that blue is not so common in nature is in the garden. True blue flowers are rare, which makes blue flowers in the garden highly desired.
When thinking of summer flowers that are true blue a couple come to mind: delphiniums, veronica, salvia, and Siberian iris. When I think of spring flowers that bloom in shades of true blue plenty more come to mind.
Garden Design With Blue Flowers
Before choosing what blue flowers to add to the garden there are some design tips to consider. Cool colors such as lavender and true blue make garden spaces appear larger. Small space gardens will benefit from the addition of blue flowers to enhance the space.
You can create a monochromatic garden by planting various shades of blue flowers in the same area. Monochromatic gardens create an impact on the eye by the volume and consistency of one color growing in one area.
Variety is the spice of life and if you prefer your garden to have a variety of colors that is fun too! Colors that look good when planted with blue flowers are: blue with yellow, blue with red, blue with purple, blue with orange and blue with white. With blue blending well with so many colors the color blue almost acts in a similar way that green does in the garden. Meaning that both are considered colors but their ability to blend well with most other colors in the garden has them behaving like a neutral color. For spring blooms, combining blue blooms with red tulips, yellow daffodils, purple tulips, orange fritillaria or white allium is easily done.  Not sure what blue flowers to plant this fall? Continue reading for a complete list of the best blue flowers!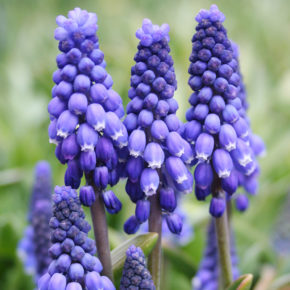 Blue Grape Hyacinths are one of the most popular blue spring-blooming flowers. Grape hyacinths are also commonly referred to by their botanical name Muscari. These easy to grow bulbs bloom mid-season typically when the tulips and daffodils are blooming. Grape Hyacinths are low growing reaching heights of only about 4-6″. The close to the ground habit of muscari and their ability to multiply make them a top choice for natural settings. Blue Grape Hyacinths are used in lawn plantings for a dramatic blue display among blades of green grass. Wooded garden areas look enchanting with sweeps of blue muscari planted on the edges. The spiky clusters of blue flowers are small so it is best to plant muscari in large groups. Planting 14-18 muscari bulbs per square foot will provide the biggest color impact from near and far.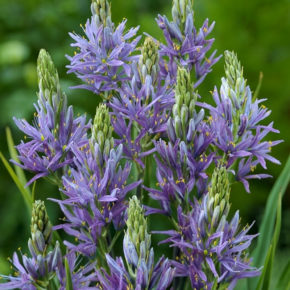 Also known as Wild Hyacinth the star-shaped blooms of Camassia are a true electric blue. Whispy in nature, the flowers bloom late in the spring season after the daffodils and tulips have put on their display. Camassia is native to North America and can be found in meadow areas. Maturing at 16-22″ Camassia works well mixed in with perennials or planted in front of peonies. The blue flowers complement blooms of light pink and true pink peony blooms.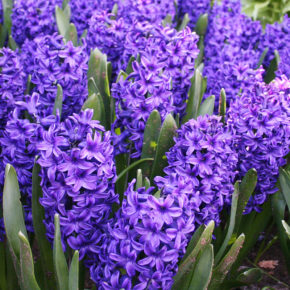 Hyacinths are among a small group of flowers that produce true blue flowers in more than one shade of blue. Blue Jacket Hyacinth is a deep and bold blue flowering hyacinth. Hyacinths have highly fragrant blooms that can fill a room with their sweet perfume. Blue Jacket Hyacinths are a lovely addition to border plantings and make a classic combination when paired with yellow daffodils and white tulips.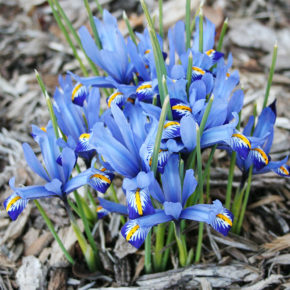 Harmony is created in the early spring garden with these adorable dwarf Dutch Iris. Dwarf Dutch Irises are low to the ground early spring blooming flowers. Often appearing shortly after the crocus in your garden these intricate flowers add a pale blue to the garden.  Harmony Dutch Iris are short in stature, therefore, it is best to plant at least 10-15 bulbs per square foot for the biggest impact. Planting Harmony Dutch Iris near the edge of your planting bed ensures the beauty of the light blue flowers that are speckled with white and yellow can be viewed by all. Harmony Dutch Iris is a splendid addition to a monochromatic blue garden. These Dutch irises look nice planted with blue jacket hyacinth, and muscari.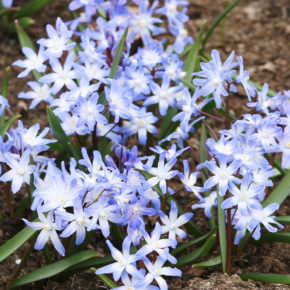 Glory of the Snow are in my top 3 favorite spring blooming flowers! I enjoy the blue flowers that appear on these ground cover bulbs–but the bloom time is really my favorite part of Glory of the Snow. The name says it all – these glorious blue flowers appear so early in the season they are often seen blooming through the snow. Short in stature Glory of the Snow reach heights of 4-6″ maximum making them another great bulb to plant in lawns, as well as natural wooded areas.  To see the first blooms of the spring season be sure to plant the naturally light blue Glory of the Snow in your garden this fall.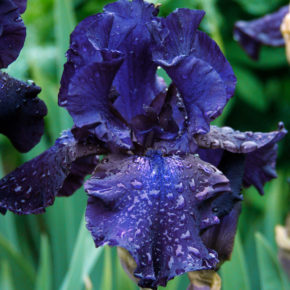 One of the tallest true blue flowers on our list is the Blueberry Bliss Bearded Iris. Deep, dark true blue flowers appear in late spring to early summer on this stately iris. Before the flowers open the buds take on a deep, dark blue appearance that is rarely seen in the garden. Bearded Irises thrive in full sun locations and look best planted in the middle to back of a perennial bed. Plant Blueberry Bliss Beard Iris in groups of 3-5 rhizomes for a stunning display of bold, deep, and true blue blooms.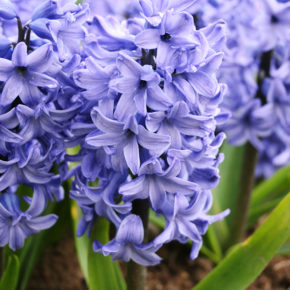 Blue Star Hyacinth is a star of light blue blooms in the spring garden. The flower form and fragrance of Blue Star Hyacinth are the same as the Blue Jacket Hyacinth. The pale blue blooms of Blue Star Hyacinth pair well with the bold blooms of Blue Jacket Hyacinth. For Dutch themed garden plant Blue Star Hyacinths, Blue Jacket Hyacinths and white hyacinths to represent the popular Dutch delft blue art. Blue Star Hyacinth also looks nice when planted with other true pastel blooms like Design Impression Tulips, World Friendship Triumph Tulips, and Pink Pearl Hyacinths.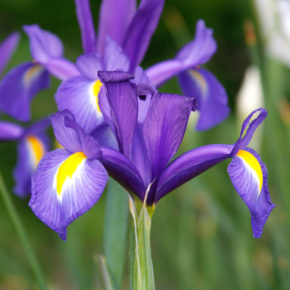 This tall Dutch Iris blooms later than the Harmony Dwarf Dutch Iris mentioned earlier. The blue blooms on this slender iris have yellow accents for added color and dimension. Dutch Irises grow from true bulbs as opposed to rhizomes (rhizomes are what bearded iris grow from). A key feature to the Blue Diamond Dutch Iris is the late spring bloom time. Dutch iris bloom after the tulips and daffodils are done flowering, and right before allium flowers start to bloom. Planting Dutch iris will help to ensure a continuous flow of blooms after the daffodils and tulips are done, and before the allium and bearded iris start blooming.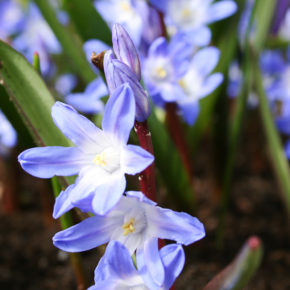 Blue flowered ground covers with spring blooms are available in a few options, with Siberian Squill being one of the options. Siberian Squill grows 4-8″ tall with true blue star-shaped flowers in early-to-mid-spring. They are similar to glory of the snow in appearance, but the blooms appear later and are a darker blue. If you have a wooded area where you'd like to plant something try planting a combination of Siberian Squill, Muscari and Glory of the Snow for plenty of blue blooms early in the spring season.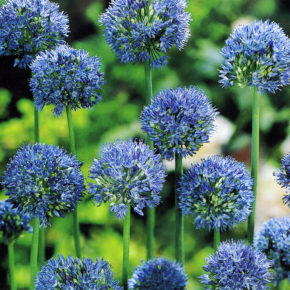 This blue flower is top of the list for most unique blue flowers. Allium blooms are most likely to be purple, pink, white or yellow. They can be a dense cluster of tightly packed flowers formed in a sphere shape or loose airy clusters of flowers.  Blue allium has 2″ sphere-shaped light icy blue flowers that appear late in spring. For the biggest impact in the landscape, it is best to plant  5-10 blue allium bulbs per square foot. Companion plants for blue allium are Purple Sensation Allium, White Giant Allium, Immortality Bearded Iris, Blueberry Bliss Bearded Iris, and Mercurius Allium.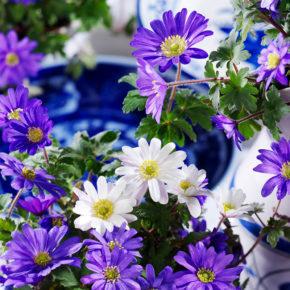 While this flower may not be exclusively blue, the Grecian Windflower does produce blue blooms. Typically when purchasing Grecian Windflower you will get an assortment of pink, white and blue flowers. However, blue tends to be the most dominant in the mix. Also, only blue anemone are available on occasion with true blue daisy-shaped anemone blooms. Growing only 4-8″ tall these blue beauties are another ground cover bulb that can be added to wooded areas or planted under trees for an ocean of blue flowers blooming.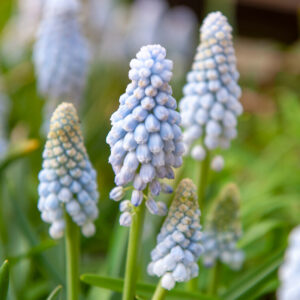 If you like the color that traditional muscari offers, you will want to add the light blue color seen in Baby's Breath Muscari. This is another low growing bulb that works great for natural areas and groundcover under trees and shrubs. Baby's Breath Muscari complements the traditional dark blue flowers of grape hyacinths, as well as the blue star-shaped blooms of squills. Add additional color range to the blue flowers in your garden by planting Baby's Breath Muscari.
Why so blue? More like why not plant more blue flowers?
The versatility of blue flowers is one of the best parts of blue blooms which makes planting them a must for gardeners. In addition, the fact that blue flowers are rare is an added incentive to add them to your garden. Fortunately adding blue flowers to your spring assortment is easy peasy, since so many fall-planted flower bulbs have blue blooms. If you were to plant one of each of these 12 blue flower bulbs listed above you would have blue blooms in your garden from early spring all the way through late spring. Whether you are creating a sea of blue by only planting blue flowers or planting blue among the yellow and red tulips you can't go wrong with this unique garden color.