Endless Color Combinations
All the colors! It seems that if you can think of a color or combination of colors you can find it in a bearded iris bloom. Bearded Iris bloom in colors not often seen in the garden. You can find true blue iris, red iris, as well as dark purple that is so deep it is almost black.  The color combinations in the blooms are endless!  The garden combinations you can create in your garden with other late spring blooming perennials like: columbine, peony, oriental poppies, allium, bleeding hearts, and siberian iris are magnificent!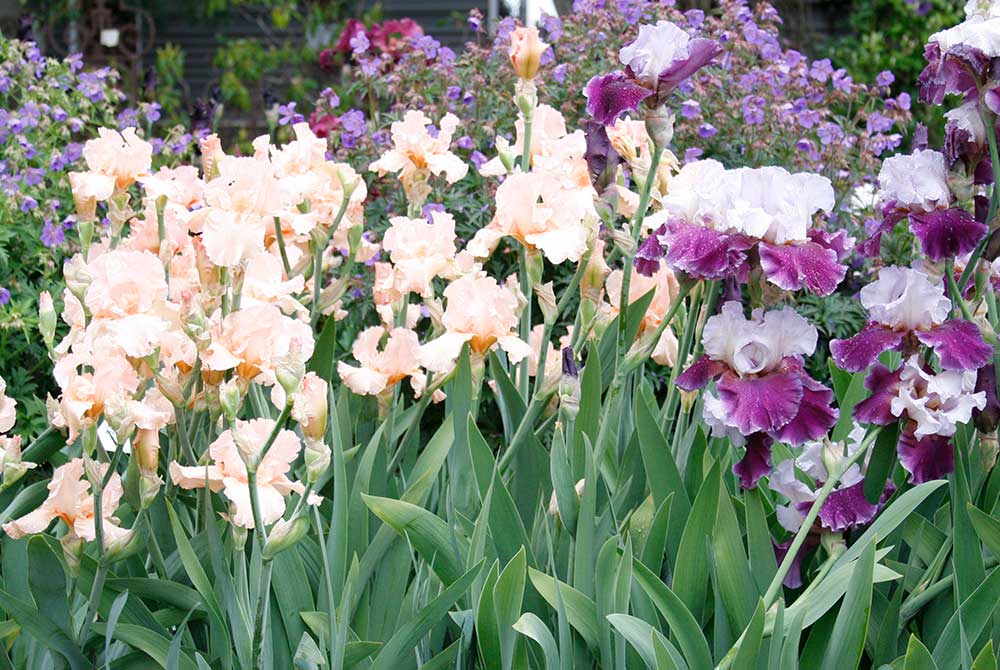 Top 7 Bearded Iris:
Sarah G., Graphic Designer at Holland Bulb Farms,  says the Champagne Elegance is her favorite: "These flowers don't command all of the attention, but will add a soft and classy mood to your garden. They are especially nice because they bloom in both spring and fall. More Bloom Times = Happier Gardeners"

6.) War Chief – Radiant ruby tones with glimmers of violet and a bright yellow beard make the War Chief a valiant contender for our top bearded iris of 2018! War Chief Bearded Iris is a favorite among gardeners; they love the deep red color and large blooms.  Try planting (3) War Chief Bearded Iris with (5) Perry's White Oriental Poppy at the base for a contrasting spring color combination.
5.) Immortality– Oh to bloom forever, that is the dream! This repeat blooming white bearded iris is a long standing favorite! White blooms are the punctuation marks of your garden, and Immortality Bearded Iris is the perfect punctuation for the late spring garden.
Julie B., Garden Expert in training at Holland Bulb Farms, says she likes Immortality Bearded Iris because "It is re-blooming, the bloom is very large and showy, and it will stand out beautifully in any garden!"

4.) Blueberry Bliss– If you want to bring bliss to not only your garden, but your neighborhood, be sure to add some Blueberry Bliss Bearded Iris to your garden. True blue is very rare to be found in flowers in the garden. Bulbs like Muscari, and Siberian Squill offer true blue, but are much lower to the ground. If you want some height and true blue blooms in your perennial garden, the best choice is Blueberry Bliss Bearded Iris.  Can't get enough blue in your garden? Holland Bulb Farms has a Blue Blooms in Spring Collection that lets you indulge in an assortment of blue spring blooming bulbs.
3.)  Beverly Sills– She blooms in late spring and then she blooms again in fall. Re-peat blooming bearded iris are highly sought after. Why settle for blooms in spring? When you can have blooms in fall and spring. Beverly Sills Bearded Iris is a time tested favorite. If you are new to bearded iris gardening, and don't know where to start, start with Beverly Sills; she will enchant you with her peachy pink ruffled blooms.
2.) Anvil of Darkness– The deepest and darkest purple you will see in your garden. Anvil of Darkness is billowing with depth and character. We love the Anvil of Darkness because of its deep, rich and dramatic blooms. To get the most out of the Anvil of Darkness Bearded Iris plant with bright yellow or white iris such as, Bold Look Bearded Iris, Winterfest Bearded Iris, or White van Vliet Dutch Iris.
Kellie J., Operations Manager at Holland Bulb Farms, says the Anvil of Darkness Bearded Iris is her favorite: "I really like the anvil of darkness bearded iris because I like the dark purple color and when it is starting to bloom, it looks like a quill pen with ink."
1.) Imbroglio– There is no doubt or confusion that Imbroglio Bearded Iris our favorite purple Iris for 2018. The Pantone Color of the Year for 2018 is Ultra Violet.  Imbroglio Bearded Iris has tones of Ultra Violet throughout, which made it the clear winner! The blooms take on shades of violet, lavender, orchid, and pale blue all highlighted by the orange beards. Imbroglio would look stunning planted with Avalon Sunset Bearded Iris and Goldkist Bearded Iris, the white, purple, orange and gold tones in all 3 varieties will really play off each other well.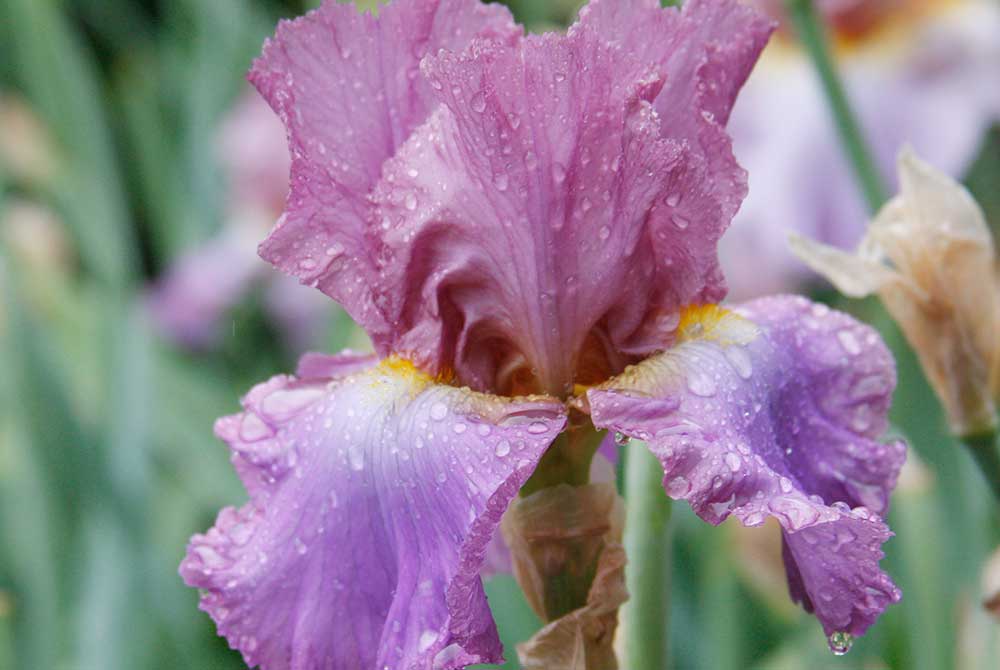 Did your favorite iris make our list?
Our top 7 Bearded Iris for 2018 have been selected! Many of the bearded iris that made the list are long standing bearded iris favorites. Others on the list are newer selections, and should be considered as additions to your perennial bed or garden border.  Some of our selections may not be your favorites, as garden flowers are viewed differently by everyone. Leave a comment with your favorite bearded iris, or submit a photo of your favorite bearded iris here.
Read more on How to Plant Bearded Iris 
Love bearded iris? Shop from over 25 colors of bearded iris at Holland Bulb Farms!