Timing is everything. Combine timing and planning and you are more likely to be successful in your endeavors. When it comes to planting bulbs in the fall planning and timing matter. Plan by purchasing your bulbs in spring or summer when the prices are the best + the availability is close to 100%. Flower bulb retailers like Holland Bulb Farms will reserve the bulbs on your order and ship them at the appropriate time for planting. However, you may see bulbs in home goods stores as early as August, and think this indicates they should be planted in August. Like how retailers put Christmas items out in July, it's the same for flower bulbs, too early for most. This begs the question when is it too early to plant bulbs in fall?
Best Time to Plant Fall Bulbs
First, let's address the main question. Is there ever a time it's too early to plant bulbs like tulips and daffodils. Yes, planting when the weather and soil are hot, can be detrimental to the growth and health of flower bulbs. If the temperatures are in the mid-70s, 80s, 90s, and above it is best to hold off on planting fall bulbs until the temperatures ease up. Planting too early can lead to fungal problems, rotting, and premature growth.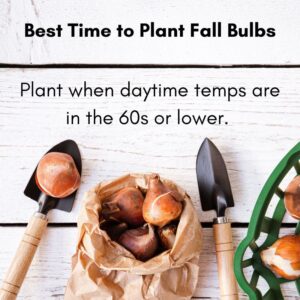 This is not to say you shouldn't purchase fall-planted bulbs early in the season. There are plenty of good reasons to buy fall bulbs in summer. If you do get bulbs when the weather is still hot, even if it is during the fall months, they store easily. Store flower bulbs in a dry location that is cool and dark. This will prevent sprouts and any fungal issues that could arise from too much moisture. If they were shipped in a box, open the box and inspect the bulbs. Be sure to note any bad bulbs and contact your supplier. Remove bad bulbs from the pack, so they don't impact the other healthy bulbs in the pack.
Fall-planted bulbs like tulips, daffodils, hyacinths, allium, and crocus that bloom in spring do best when planted during cool weather times. It is better to plant these bulbs when the air and soil temperatures are closer to freezing vs hot and humid. The ideal time to plant fall bulbs is when the daytime temperatures are in the 60s or lower. Plant before the ground is frozen solid for the winter.
Planting Bare Root Perennials in Fall
Bare root perennials that are planted in fall don't follow the same guidelines as flower bulbs. Bare root perennials need to establish roots prior to the ground freezing for winter. Therefore, they should be planted 6 weeks before the ground is frozen sold in winter. Spring planting may be a better option for bare roots in cold zones like 3 and 4.
What fall bulbs can be planted early?
Luckily, there are some bulbs that are considered fall-planted bulbs that benefit from late summer planting. Bearded iris grows best when planted in late August and September. Lycoris also benefit from being planted in late August and September.
For best results wait til fall
For the overall health of bulbs, it really is best to wait. Even if you see them in the store, wait to plant them. If you purchased them online for pre-order, trust that the retailer you bought from has your best interest at heart. They will send the bulbs when it is getting close to the best time to plant. Fall-planted bulbs like cool temperatures at planting and when they are dormant. Even in spring, these same bulbs bloom best in cool and mild temperatures. To say fall bulbs are cool is an understatement, they live the cool life!