If you thought I was going to teach your amaryllis how to play the trumpet or enjoy a little jazz flute I am sorry to disappoint with the news that I can't teach those things. I don't know how to play the trumpet. I like to use the term "jazz up" when adding a little something special to my wardrobe, dinner or garden. Amaryllis bulbs are a festive favorite for winter planting and this blog is all about jazzing up your amaryllis planters!
How to Plant Amaryllis Bulbs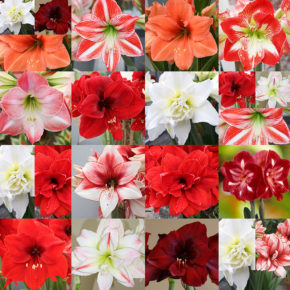 Amaryllis bulbs have large, showy blooms 4-12 weeks after planting, and are very easy to grow. Amaryllis bulbs are sold in a variety of ways to suit a variety of planting skill levels.
Waxed amaryllis are the easiest way to grow amaryllis. To grow waxed amaryllis all you need to do is place the waxed amaryllis on a table or steady surface and watch it grow.
Amaryllis enthusiasts will enjoy buying a specialty amaryllis bulb and planting it in their favorite container. Specialty amaryllis bulbs tend to have larger blooms or double blooming flowers in an array of colors from two-tone to deep red, to shades of pink, white, and orange.
People who want to grow an amaryllis bulb and have all the supplies to do it at their fingertips will love growing amaryllis from an amaryllis kit! Amaryllis kits are a popular holiday gift as they come with everything needed to grow beautiful amaryllis. Amaryllis gift kits come with soil, a container for planting and of course an amaryllis bulb– you just need to add water.  Some amaryllis kits come with decorative containers, like the Premium Amaryllis Gift Kits that Holland Bulb Farms carries.
Other amaryllis kits come with a basic plastic container that will do the job of growing your amaryllis however, the containers lack spirit, pizazz, and jazz! For fun and crafty DIY projects continue reading for some inspirational ideas to jazz up your amaryllis containers.
10 Ways to Jazz Up Your Amaryllis Containers
Say goodbye to your ho-hum amaryllis containers with 10 ways to jazz up your amaryllis containers this winter.
P.S.>>>>For more tips on growing amaryllis check out this recent blog post that has all the information you need to grow healthy amaryllis this winter.